« Bush's Fault-- New Orleans Declined Offer To Fill Empty Train With Hundreds of Evacuees
|
Main
|
CNN: "Storytelling" »
September 11, 2005
Bumped: Another "Inadvertant" Feature of Flight 93 Memorial: Crescent Points Towards Mecca (CONFIRMED, with Update)
According to the Qibla finder, which goes according to the shortest route (in this case, over the North Pole), the midpoint of the "Cresent of Embrace" points directly towards Mecca, if you imagine an arrow nocked in the "bow" of the crescent.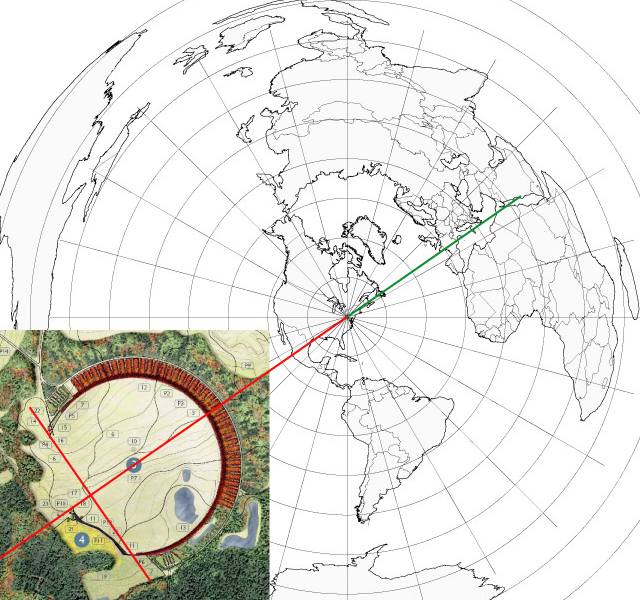 Thanks to Aaron of Lifelike Pundits for that graphic.
More Credit: I'm sorry, but I don't know who should properly be credited with the pic. Aaron of Lifelike Pundits sent it to me, but Politicalities credits it to "Etaoin Shrdlu," by way of "Zombie."
Incidentally, Politicalities calculates the angle of the crescent mathematically and finds that the line bisecting its midpoint interesects with Mecca with an error smaller than 1/580th of the arc of a circle. A fair amount less than one degree.

SarahW at Blue Merle first caught that the "Crescent of Embrace" actually points directly to Mecca... Go there for the complete explanation. And for a link to the Qibla finder, so you can prove this to yourself.
Is the Marxist designer of this "memorial" going to tell us that's yet another inadvertant coincidence, based only on the fact that he finds this particular Mecca-pointing tilt of the crescent "aesthetically pleasing"?
Edits: This post has been edited to remove my initial confusion and stupidity and caveats about this being unconfirmed and speculative. It is now quite confirmed.
And I apologize to the reader who suggested the "great circle" route to Mecca, which I scoffed at.
The Crescent Points to China, Not Mecca?: Nope, not according to that picture. The FAT PART of the crescent is not quite centered on the crescent; indeed, if you take the midpoint of the *fat part* of the crescent, that doesn't point to Mecca. Conceded.
But the midpoint of the whole crescent, starting at one slender tip, ending at the other, does seem to point straight to Mecca.
Coincidence? Or design?
Okay, yes, it's quite possible this is a coincidence. But this guy's whole bio and his statements about his "art" suggest a lefty, and I'm just having trouble believing an architect dealing primarily in symbolism (the whole dealio is intended to be symbolic -- forty trees for forty victims, windchimes to symbolize the rings of their last phone calls, etc.) missed the symbolism of the crescent, and then just happened to accidentally point it towards Mecca to boot.
What If A Known Right-Wing Architecht Had Done This?: I would suggest in that case the left, currently scoffing at this, would be having a fit, because they would read the monument and pointing the finger of blame at Mecca.
And, just in case you're curious, I'd be against that too. It's inappropriate in a memorial to the dead to have any stealth political messaging going on.
But Let's Assume... that this all is inadvertant and coincidental. The left wouldn't allow that a memorial was accidentally designed to suggest the shape of a cross; whether inadvertant or not, the symbolism is there.
A lot of lefty po-mo deconstructionists deny the author's primacy in interpretation, and say that any reader can read any symbolism into a text he likes, pretty much.
So even if the "author" of this memorial is telling the truth-- hey, that symbolism is still there.
One reader points out, sagely, that a memorial should spark discussion about those being memorialized. Well, that being the case, this designer has failed miserably, because no one -- no one -- is talking about the courageous dead of Flight 93. Everyone's talking about that crescent.
Coincidence or design, inadvertant or stealth politcal messaging -- either way, it's simply inappropriate to have this symbol at the deathsite of those killed by Islamofascist radicals.
Make it a full circle with three breaks in the trees to allow entry. (I say three, not four, because four entrances would sketch out the points of a cross, and then the left would be screaming holy hell, wouldn't they? Suddenly symbolism would be quite important to those currently denying it.)
I still think it's a sorta crappy abstract tree-huggy design, but trees are nice enough, and it's certainly better than the other crap designs offered.
And, By The Way... For those who say "the families chose this design," well, again, only a few representatives of the familes of the dead were on the panel to choose a design, and further, as can be seen from this article, the other designs were just plain ugly. Typical abstract post-modern avant-garde-ism, with a bit of Soviet Futurist design tossed in for good measure.
If the families want trees and windchimes, fine by me. But I'm having trouble with the left's resistance to a circle over a crescent. Is there some particular reason they're determined to have their crescent?
It's a little odd that they can say the crescent means absolutely nothing at all and yet get so angry over the suggestion that it be replaced by an uncontroversial (and, frankly, more apprpriately symbolic) circle.
If the crescent means nothing, then why not swap it with another shape that also means nothing?


posted by Ace at
08:54 PM
|
Access Comments