« Asshole Comic Artist [Say Anything]
|
Main
|
Who Here Wants Some Cowbell? [Dave at Garfield Ridge] »
January 29, 2005
Never Too Late To Slice Like a Hammer (WuzzaDem)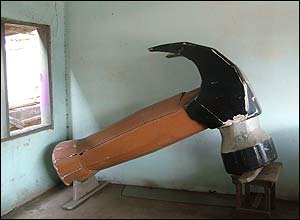 Via BBC News:
Think it's crazy to shell out anywhere between $5,000 and $20,000 for a casket? What if I told you I could get you a really cool coffin shaped like a hammer, or even a uterus for just $400? OK, maybe you don't want to be buried in a female organ. How about a beer bottle? Pineapple? Cocoa bean?
Just hop a plane to the Teshi, a suburb of Accra in the African nation of Ghana, and you can pick up a wicked bitchin' coffin shaped liked fish, mobile phones, hens, roosters, leopards, lions, canoes, pineapples, cocoa beans or even an elephant. Cars are also quite popular (Mercedes and Cadillacs are favorites), as is the Bible.
Pictures are a must-see, looks like they're getting ready for a scaled-down version of The Rose Parade.
Article here, more pictures here.
Posted by John from WuzzaDem.

posted by Ace at
06:19 PM
|
Access Comments