« Hey I'm Back to Posting!
|
Main
|
Soooooo..... (JFW) »
January 27, 2005
Boxer Gone Wild (WuzzaDem)
Dave from Garfield Ridge, one of my fellow guest-bolggers here, posted on Barbara Boxer's upcoming novel here, and wonders if more literary powerhouses are waiting in the wings of Congress.
Over at InDC Journal. Bill managed to get his mitts on a couple of excerpts.
"Mrs. R' at Are You Conservative has discovered that the feisty California Senator is also hawking a script (hey, maybe Ace will run into her at Sundance). Here's an excerpt from her post. See the whole thing here.
Warning: This preview is rated 'DU', for Democrats Unhinged.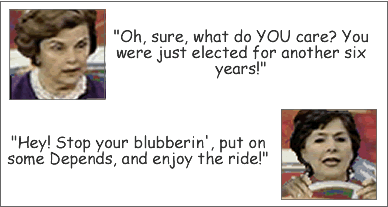 Posted by John from WuzzaDem

posted by Ace at
08:46 PM
|
Access Comments