« The New York Times and CBSNews: House Propaganda Organs of the DNC
|
Main
|
Niedermeyer-- Dead! Zarqawi Aide-- Dead! »
October 26, 2004
A Bit o' Optimism
Some of you think I'm being a nervous Nelly. Well, I'm just telling you my gut, which frankly changes week-by-week. If you want to prove me wrong-- vote.
But just to inject a little optimism into the discussion, Hugh Hewitt interviewed the indispensible political analyst Michael Barrone, a man who has a reputation that's more important to him than political pimping. He says that Bush could win 35-36 states.
That's not as big a statement as it may read at first blush; for one thing, a lot of things could happen. I could, for example, be hired on as Paula Zahn's guest-host for election week.
For another, we already know (or at least we hope!) that Bush is going to win a majority of states, but many of those states are pretty small.
Still, sounds kinda good to me.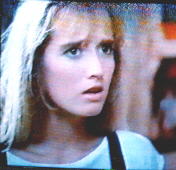 I'm confused. How can you be both
so insightful and so goshdarn funny at once?
You're like James Spader in Tuff Turf, only
hotter, and without the slightly
Cornelius-from-Planet-of-the-Apes nostrils.
Update: Hugh Hewitt also links an article further exploring John Kerry's continuing insistence on posing as a "real man" and "regular guy" who "really digs this crazy new sport of 'Base-Ball' that's so popular with the masses" and yet who continues incorrectly announcing the scores of Red Sox games.
He reminds me of Dennis Finch from Just Shoot Me, a geeky guy lying to his wife in an effort to appear more manly. When Finch was actually exhibiting his prized Abyssinian at a cat-show, he claimed to have been playing rugby. "It was rough stuff," he said. "Lots of blood. I scored two tabernacles and a walkabout."
Go Sox! Really knock those tabernacles out of the park.
Is There Such a Thing as Too Much Kim Richards: CNN/Gallup/USAT have Bush up by 8, 51-43, in Florida.
Oddly enough, Florida is shaping up to be semi-safe for Bush.
That CNN article is pretty funny. Although the main hed announces their own poll shows Bush beating the crap out of Kerry, a sub-hed is quick -- too quick, one might say -- to announce that other polls show the contest tighter.
Once again, the liberal media seems to be rather begrudging about their own polls when they show the wrong man ahead.


posted by Ace at
01:56 AM
|
Access Comments