« Michael Moore is Fat: It's About Time Someone Said It
|
Main
|
Congrats to Bill from INDC »
October 25, 2004
Polls: Mixed With Edge to Bush Kim Richards and Why She's Still Hot (With Some Poll News)
CNNGallupUSAToday: Bush by 5 with likelies 51-46, by 2 among registered.
Zogby: In ten Battleground states, Bush holds most 2000 Bush states, and picks up a couple of Gore states (New Mexico, Iowa, Wisconsin), but may lose Colorado. OTOH, Most polls seem to show Bush ahead in Colorado, and Kerry is scaling back his advertising there.
Washington Post Tracking poll: Kerry ahead 49-48.
But most importantly of all, the one poll that's consistently predicted the winner since 1956 -- the Weekly Reader poll of school-aged children, not yet young enough to vote. They're decisively in favor of Bush:
Hundreds of thousands of school students ranging from first grade through to 12th grade (aged six to 18) gave the incumbent president the nod in a poll published Monday by Connecticut-based Weekly Reader magazine.

More than 60 percent opted for Bush over Democratic challenger John Kerry (news - web sites), who only won one state, Maryland, in the underage mock election.
It sounds kinda silly, polling underage children who don't know much about anything about their political preferences. Obviously, they're just going on looks and charisma and personality and gut.
But then, that's what a lot of adults vote on, too. And what we find appealing as children doesn't change that much as we grow older. When I was nine, I would have killed or died to be with Kim Richards from Hello, Larry and of course Tuff Turf.* (Misspellings in titles are always a sign of a quality motion picture.)
I don't know that that's changed very much since then.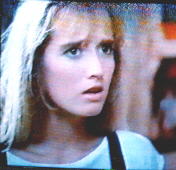 Gosh, Ace, you're so smart. Explain to me again
why Andrew Sullivan is a bitchy little ninny.
Thanks to GregS for the last tip.

* Well, okay, I think she's probably most famous for Escape from Witch Mountain too, but she was just a little kid.
Update: Was sure I'd already have a dozen guys telling me how much they still loved Kim Richards. Either it was just me, or I really have gotten too old.
You know who else is hot? Donna Reed. Yuhp, there. I said it.
Random Celebrity Connection Update: Bud Tugley (if that is his real name) tells me in a comment that Kim Richards Paris Hilton's aunt.
Well, look, I guess there were some very rich guys watching Hello, Larry and Tuff Turf when they were growing up, too. I guess one of them was able to execute his life's ambition and bag her.
Damnit.
Kinda makes Dan Snyder look like a piker, doesn't it?
And Yet Another: Sharkman sends some quality cheesecake.
Important Announcement: Kim Richards is the new good-polling-news cowbell.
Please note this for your records.

posted by Ace at
06:22 PM
|
Access Comments