« Graphic Violence
|
Main
|
See No Sarin, Hear No Sarin, Speak No Sarin »
May 19, 2004
Goober?!?! But I Hardly Even Know Her!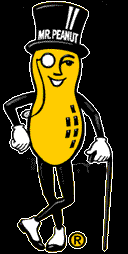 Mr. Peanut's Top Ten Euphemisms for "Doin' It"
10. The shell game
9. Roastin' and toastin'
8. Visiting old man Macadamia
7. Doin' the funky filbert
6. Almond joy
5. Makin' marzipan
4. nougat-diving
3. Honey Dippin'
2. The Mexican Hat-trick
...and Mr. Peanut's #1 Euphemism for Doin' It...
1. gettin' "brittle"
Thanks to JFH who tossed us "goober." We changed the title of this post, for the better, to work in a goober joke.



posted by Ace at
01:56 AM
|
Access Comments