« Devon Archer: Hunter Biden Wouldn't "Overtly" Say That He'd Use His Dad's Power to Help His "Business" Associates, But That's Clearly What He Was Suggesting to Them
|
Main
|
Quick Hits
Including: llegal Chinese Biolab Is Operating Inside the US, With Owners Who Have All Disappeared...
And of Course It Was Subsidized by Gavin Newsom »
August 04, 2023
Pulitzer-Prize-Winning Historian: Obama's Letters to a Former Girlfriend Confessed Fantasies of Having Sex With Men
I'm so shocked my hair is standing on end and I'm ready to audition for that upcoming Yahoo Serious biopic! (Though they'll probably give the role to a disabled nonbinary woman of color.)
There is a fascinating passage in Rising Star, David Garrow's comprehensive biography of Barack Obama's early years, in which the historian examines Obama's account in Dreams from My Father of his breakup with his longtime Chicago girlfriend, Sheila Miyoshi Jager. In Dreams, Obama describes a passionate disagreement following a play by African American playwright August Wilson, in which the young protagonist defends his incipient embrace of Black racial consciousness against his girlfriend's white-identified liberal universalism.
The argument was used by Obama in Dreams from My Father to excuse himself for having dated a white woman, claiming that he didn't like her white-centric worldview. This caused him, in his telling, to reconnect with his black Roots and then date Michele.
But Obama's account was false. What really sparked the argument was their viewing of a museum exhibit about infamous Nazi Adolf Eichmann. A (black) mayoral aide in Chicago was at that time quoting Louis Farrakhan and making the usual litany of antisemitic smears against Jews.
What sparked the breakup was Obama's refusal to condemn antisemitism or black racism more generally.
Yet what Garrow documented, after tracking down and interviewing Sheila Miyoshi Jager, was an explosive fight over a very different subject. In Jager's telling, the quarrel that ended the couple's relationship was not about Obama's self-identification as a Black man....

At the time that Obama and Sheila visited the Spertus Institute, Chicago politics was being roiled by a Black mayoral aide named Steve Cokely who, in a series of lectures organized by Louis Farrakhan's Nation of Islam, accused Jewish doctors in Chicago of infecting Black babies with AIDS as part of a genocidal plot against African Americans. The episode highlighted a deep rift within the city's power echelons, with some prominent Black officials supporting Cokely and others calling for his firing.

In Jager's recollection, what set off the quarrel that precipitated the end of the couple's relationship was Obama's stubborn refusal, after seeing the exhibit, and in the swirl of this Cokely affair, to condemn Black racism. While acknowledging that Obama's embrace of a Black identity had created some degree of distance between the couple, she insisted that what upset her that day was Obama's inability to condemn Cokely's comments. It was not Obama's Blackness that bothered her, but that he would not condemn antisemitism.

No doubt, Obama's evolving race-based self-consciousness did distance him from Jager; in the end, the couple broke up. Yet it is revealing to read Obama's account of the breakup in Dreams against the very different account that Jager offers. In Obama's account, he was the particularist, embracing a personal meaning for the Black experience that Jager, the universalist, refused to grant. In Jager's account, the poles of the argument are nearly, but not quite, reversed: It is Obama who appears to minimize Jewish anxiety about blood libels coming from the Black community. His particularism mattered; hers didn't. While Obama defined himself as a realist or pragmatist, the episode reads like a textbook evasion of moral responsibility.
And Obama wrote about it with his gloss precisely so that if this woman ever came forward with the true story, he would say that he has proof she was lying: His own book says so, and how can you doubt the word of Barack Obama?
...


Scholarship aside, there is another reason to assume that Jager would be less likely to misremember an incident involving race and antisemitism than Obama. As it turns out, Jager's paternal grandparents, Hendrik and Geesje Jager, were members of the Dutch resistance, whose role sheltering a Jewish child named Greetje in their home for three years led to their recognition as Righteous Among the Nations by Yad Vashem. In that context, at least, it seems quite likely that Jager would remember the particulars of a fight with Obama related to antisemitism, and be turned off by his response--while Obama's version of the fight has the feel of an anecdote positioned, if not invented, to buttress the character arc of the protagonist of his memoir, which positioned him for a career in public life.

Perhaps the most revealing thing about Jager's account of her fight with Obama, though, is that not one reporter in America bothered to interview her before David Garrow found her, near the end of Obama's presidency As Obama's live-in girlfriend and closest friend during the 1980s, Jager is probably the single most informed and credible source about the inner life of a young man whose election was accompanied by hopes of sweeping, peaceful social change in America...
I think you just solved your own mystery about "why did no reporter bother to interview this woman and find out if the Boy Emperor was lying about his background."
The idea that the celebrated journalists who wrote popular biographies of Obama and became enthusiastic members of his personal claque couldn't locate Jager--or never knew who she was--defies belief. It seems more likely that the character Obama fashioned in Dreams had been defined--by Obama--as being beyond the reach of normal reportorial scrutiny. Indeed, Garrow's biography of Obama's early years is filled with such corrections of a historical record that Obama more or less invented himself. Based on years of careful record-searching and patient interviewing, Rising Star highlights a remarkable lack of curiosity on the part of mainstream reporters and institutions about a man who almost instantaneously was treated less like a politician and more like the idol of an inter-elite cult.
Here's the stuff about Obama being a closeted gay man. Well, supposedly, his homosexual longings only went as far as fantasy.
Color me skeptical.
Yet when it came out six years ago, Rising Star was mostly ignored; as a result, its most scandalous and perhaps revelatory passages, such as Obama's long letter to another girlfriend about his fantasies of having sex with men, read today, to people who are more familiar with the Obama myth than the historical record, like partisan bigotry. But David Garrow is hardly a hack whose work can or should be dismissed on partisan grounds. He is among the country's most credible and celebrated civil rights historians--the author of The FBI and Martin Luther King, Jr. and Bearing the Cross (which won the Pulitzer Prize for Biography) and one of the three historian-consultants who animated the monumental PBS documentary Eyes on the Prize, as well as the author of a landmark history of abortion rights, Liberty and Sexuality.
The writer of the article, David Samuels, speculates why this biography by a Pulitzer-Prize-winning biographer was completely ignored. I never even heard of it.
He notes that it came out in 2017, after Trump dominated the news, always. And of course hackish liberal reporters aren't going to rat out Obama's secret gay sex life, least of all after they all became "Resistance Journalists."
But he also points out that Obama's post-presidential life was dedicated to preserving the Mythos of Obama that he (and Bill Ayers) had created:
By then, it was clear to any informed observer that the Obamas' continuing presence in the nation's capital was not purely a personal matter. To an extent that has never been meaningfully reported on, the Obamas served as both the symbolic and practical heads of the Democratic Party shadow government that "resisted" Trump--another phenomenon that defied prior norms. The fact that these were not normal times could be adduced by even a passing glance at the front pages of the country's daily newspapers, which were filled with claims that the 2016 election had been "stolen" by Russia and that Trump was a Russian agent.

Given the stakes, then, it seemed churlish to object to the Obamas' quiet family life in Kalorama --or to report on the comings and goings of Democratic political operatives and office-seekers from their mansion, or to the swift substitution of Obama as party leader for Hillary Clinton, who after all was the person who had supposedly been cheated out of the presidency. Why even mention the strangeness of the overall setup, which surely paled next to the raw menace of Donald Trump, who lurched from one crisis to the next while lashing out at his enemies and probably selling out the country to Vladimir Putin?
He points out that the DC GOP turned to interrogating the FBI over the scandalous election-rigging hoax called "Russiagate."
But wasn't there someone leading the FBI, a "president" if you will, who was instrumental in perpetrating a massive propaganda psyop on the country?
But while the attention of Republicans in Washington turned to questioning the FBI, more careful observers could not fail to notice that the FBI had hardly acted alone. After all, Russiagate had not originated with the Bureau, but with the Clinton campaign, which having failed to get even sympathetic mainstream media outlets like The New York Times and The Washington Post to bite on its fantastical allegations, was reduced to handing off the story to campaign press apparatchiks like Slate's Franklin Foer and Mother Jones' David Corn.
Read the whole thing! But I bet you already clicked over to Tablet to do just that.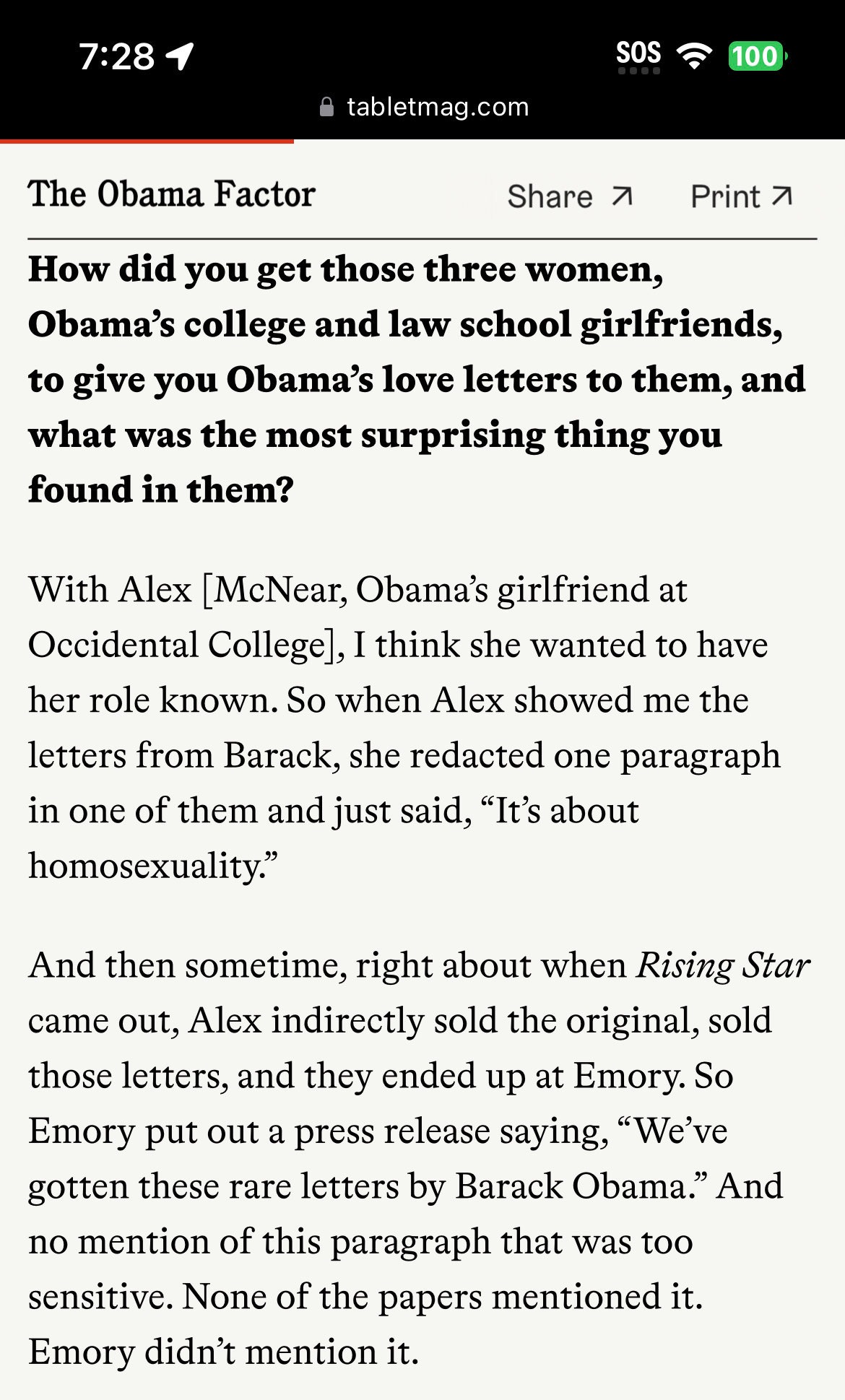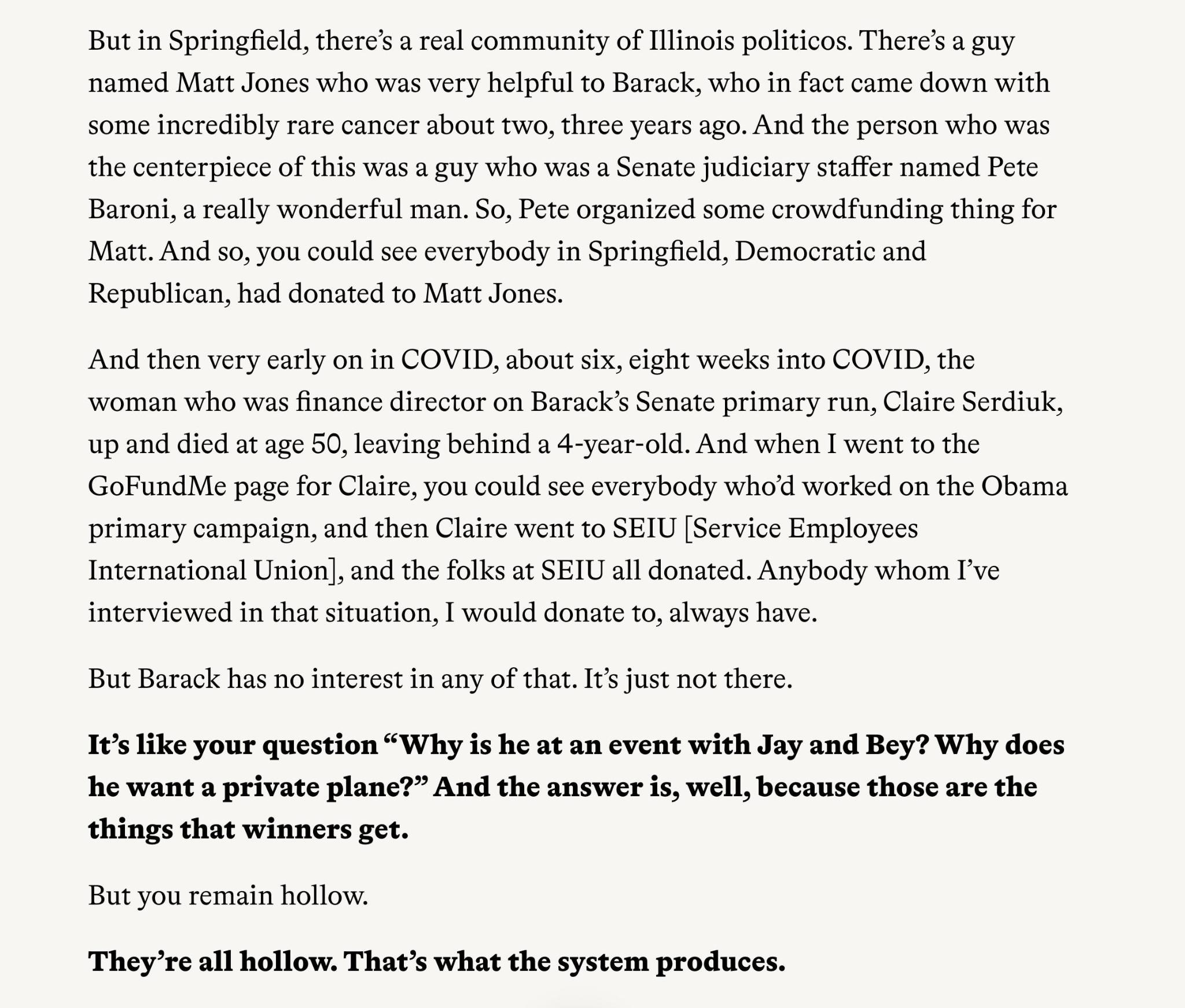 Related? About Obama's chef who "accidentally drowned."
An anonymous caller tipped police about the drowning.
The story became one of palace intrigue due to the anonymous 911 call, the location of the Obamas at the time of the incident, and the former president's injuries at a golf course not long after the event. He was sporting bandaged hands and a black eye. It might be a coincidence, but the drowning has sparked many conspiracy theories and accompanying fact-checks, which don't mean anything. The liberal media destroyed the 'fact check' beat when weaponizing these pieces against the Trump presidency.

posted by Ace at
01:00 PM
|
Access Comments