« Kyle Shideler: Excuse-Making for, and Even Justifications for, Trans Extremist Violence Will, of Course, Lead to More Trans-Extremist Violence
|
Main
|
FEC Commissioner to Soros Prosecutor Bragg: We Already Looked at Trump's Payment to Stormy Daniels. It Violated no Election Laws or Reporting Laws. »
April 07, 2023
Fired Disney Chairman Ike Perlmutter: Disney Fired Me Because I Dared to Say They Should Not Get Into Politics, But Should Keep Their Focus on Profit Instead of Propaganda
From Hot Air, quoting the WSJ:
In a rare interview, the 80-year-old Mr. Perlmutter spoke to The Wall Street Journal about his dismissal from Disney last week, his relationship with Mr. Iger, and missteps he feels Disney has made in recent years.

Disney is legendary for the loyalty it engenders in most typical employees. But Mr. Perlmutter was no typical corporate employee, nor did he act like one. If he didn't like what he saw from leadership, he picked up the phone and aired his concerns to powerful allies like former CEO Bob Chapek and activist investor Nelson Peltz.

When Disney was battling with Florida Gov. Ron DeSantis, Mr. Perlmutter said he called him, too. "Ron, you're right. Disney doesn't have the right to get involved with politics."

...

"I have no doubt that my termination was based on fundamental differences in business between my thinking and Disney leadership, because I care about return on investment," Mr. Perlmutter said.
Bob Iger was ambushed at his shareholder earnings report meeting this week, as several Racist Homophobes asked him why Disney was burning shareholder money by emphasizing Groomer Indoctrination over actual entertainment and return-on-investment.
Before that, he ranted about DeSantis, who he, at least, does not believe to be a "Mannaged Principal Globalist" who all the corporatists just love.
Disney's Bob Iger takes aim at DeSantis and says his 'retaliation' against the company is 'anti-Florida' - as he vows to pump $17 BILLION into theme park creating 13,000 jobs (even as company lays off THOUSANDS)

Disney's CEO Bob Iger, 72, has slammed Ron DeSantis' recent decision to do away with the company's self-governing privileges in the state

It comes as a new board handpicked by Ron DeSantis to oversee Disney's self-governing district says a backdoor agreement has left the board powerless

Made between Iger and the on-the-way-out board this year, the deal transferred much of the district's power back to Disney for the next 30 years

By Alex Hammer For Dailymail.Com


Disney's CEO has slammed Ron DeSantis' decision to do away with the company's self-governing privileges in Florida - calling the maneuver 'retaliation' to the park's opposition to his 'Don't Say Gay' bill.

Longtime boss Bob Iger decried the Republican governor for getting 'very angry' over the company's position, slamming his DeSantis' actions as 'anti-Florida' during Disney's an earnings call Monday.

...

When questioned about DeSantis and his supposed 'retaliation,' the entertainment boss obliquely called the governor's actions un-American, claiming they flout the First Amendment.

'Any action that thwarts those efforts simply to retaliate for any position the company took sounds not just anti-business but it sounds anti-Florida,' said Iger when asked if the very public struggle between the parties should worry shareholders, since it will see the company forced to fork over millions in state taxes each year.

...

'Obviously in taking the position, the governor got very angry about the position Disney took, and it seemed like he decided to retaliate against us - including naming the new board to oversee the property and the [park] business.'
Actually, he did not say "[park] business." He just said the new board would "oversee the property and the business," thus eliminating, by this word choice, any distinction between the district and the business itself.
It should be remembered that this district is not just Disney property -- it's a place where people live and, supposedly, vote for local laws. Iger is basically admitting that, in his mind at least, Disney actually owns this district and the people within it. He sees no distinction between the district and "the business." It's all the same.
Just before the Reedy Creek district was transferred back to normal democratic control, its board members all voted to give Disney all powers over the district, just as they were being replaced.
DeSantis has ordered an investigation into those board members and Disney as well, perhaps for conspiring with them or even bribing them.
Ron DeSantis's hand-picked board overseeing Disney's district is now preparing a legal battle against the company over the board's alleged inability to effectively manage the district due to actions Disney took to reclaim power, the Orlando Sentinel reported on March 29. The governor also today ordered an investigation into the board that previously oversaw Disney's district for "self-dealing" and other "ethical violations."
I've heard that this might end up costing Disney "billions," so they'll do everything possible to keep control over this land.
But DeSantis is weighing imposing even greater costs on Disney for their corrupt evasion of the law: He's considering imposing big hotel taxes on them, and making the roads to Disney toll roads.
Florida Gov. Ron DeSantis on Thursday promised a new round of action against Disney in his ongoing dispute with the entertainment giant, including looking at the taxes on Disney's hotels and imposing tolls on roads that serve its theme parks.

The DeSantis administration is also examining if a recent agreement approved between a Central Florida board that had been controlled by Disney and the company runs afoul of the state's growth laws, according to senior administration officials. One of those laws explicitly states that development agreements must be modified or revoked to comply with laws even if the law is passed after the agreement was executed.
Disney's woke agenda is already destroying shareholder value:
The company is now trading 30 percent lower than its pre-Covid numbers and 87 percent below its 2021 peak.
Shareholders interrogated Iger about Disney's "not-so-secret Gay Agenda," as one gay propaganda officer admitted.
Iger defended taking divisive political position after divisive political position, and vowed to keep on doing it, claiming Disney had to push "its values," despite these obviously not being Disney's values, but Iger's and his woke executive corps'.
He did some double-talk and said that he would keep focus on "entertainment" while pushing Disney's "values," but refused to give an inch on pushing his radical Not-So-Secret Gay Agenda.
One shareholder asked if it was smart of Disney to take political stances that represent a small portion of Disney's customer base. Iger said that there are gray issues that they have to determine wether or not they should weigh in on, but that when they take a position, there is a true reason why and it almost always directly affects their business or people. He noted that for decades, corporations in America have expressed themselves on various issues and that the country is better for it. He cited WWII and segregation and stated Disney is "guided by a sense of decency and respect."

Another shareholder specifically expressed anger about Disney partnering with organizations such as the San Francisco Gay Choir, citing a satirical song they performed two years ago. They asked if it would be beneficial for Disney to "abandon" the LGBTQIA+ community.

Iger answered by talking about Disney's 100 years of stories aimed to entertain all types of families all over the world and how proud he is of those stories. He noted that they have touched people's hearts and infused them with good values about heroes, family, friendship, good triumphing over evil, and tomorrow always being brighter than today. Regarding recent criticism about "agenda-driven content," he said their primary mission is to entertain and continue to have a positive impact on the world.

He said that Disney should be sensitive to the fact that parents have different levels of comfort with the content they create for their children. But that they strive to tell stories that reflect the world, and greater respect and acceptance, to carry on Walt Disney's legacy of spreading joy for everyone.
You can listen to the questions about Disney's woke agenda, and Iger doubling down on divisive woke propaganda, at Midnight's Edge.

Meanwhile, the only Star Wars product people actually enjoyed in the past ten years -- The Mandalorian -- turned to total crap in its third season. No one is talking about it, no one is tweeting about it.
And, according to the site Sportskeeda, barely anyone is watching it. Its ratings have dropped off a cliff: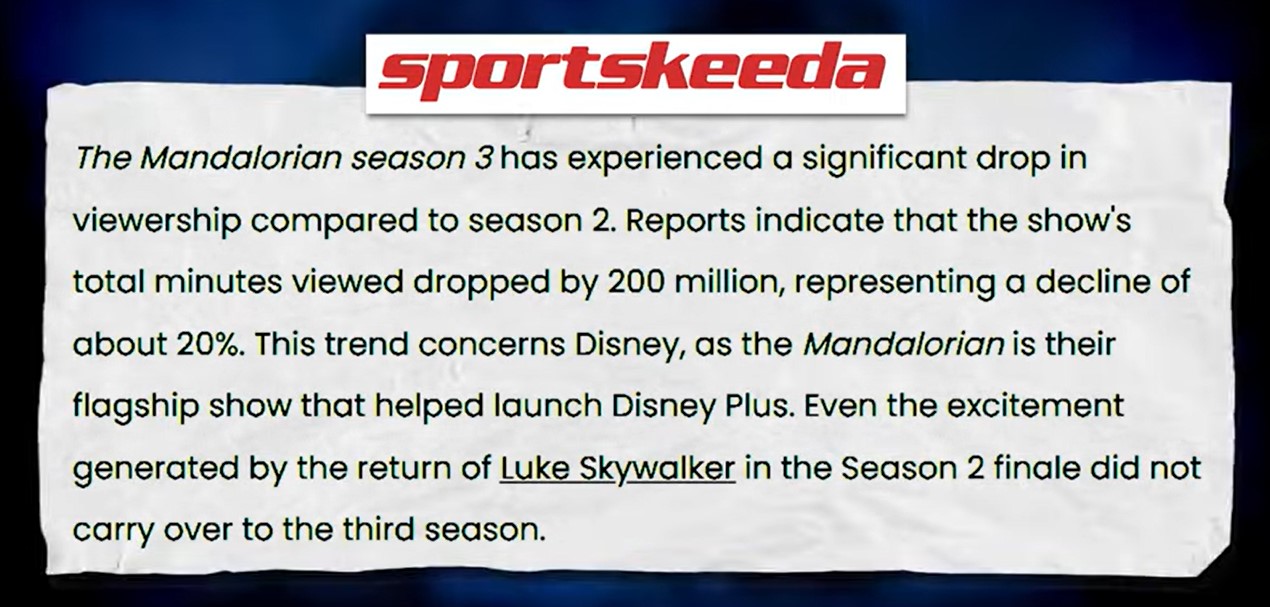 CosmicBookNews says the show's ratings have dropped 40% from last season.
This may be why: Just as Disney Marvel thought the way to attract Young, Diverse Viewers to She-Hulk was to have Megan Thee Stallion show up to vulgarly twerk with a superhero, they now decide that they can attract a Body-Diverse audience by having cameos by fatties Jack Black and Lizzo.
Both of these people read their lines like they just walked in off the street in exchange for a free bucket of KFC Extra-Crispy.
The Critical Drinker @TheCriticalDri2

Not gonna lie, I'm pretty glad I called it quits on the Mandalorian a few weeks ago.
Nerdrotic summed up the death of the last Disney Star Wars hope. He notes that the Man-dolorian has been sidelined for the Woman-dalorian. Of course.
Although, it could just be that Pedro Pascal is leaving the show, and they're passing the torch (or the "Darksaber," in this case). And no big loss on that.
But why replace him with a woman? Hasn't Disney Star Wars done enough of that? Wasn't this property purchased by Disney so they could have some "boy properties" to go along with their Princesses? Why are they determined to turn Star Wars and Marvel into just moar Disney Princess Properties?
One last bit of Disney news speculation based on rumor:
Diktor Von Doomcock (possibly a fake name) heard that Kevin Feige has been summoned into Bob Iger's office and given strict budget limits for Marvel movies and shows going forward: No more than $150 - $175 million per movie, and if the directors couldn't make that budget, they should "find other work."
And no more than $75 million per TV series.
At about the same time, Kamran Pasha heard that Kathleen Kennedy was trying to shift Iger's attention from the failures of her LucasFilm department to Feige's Marvel department.
Those were both rumors, but they put them together and came up with this speculation: Kathleen Kennedy knows that Iger has to sell either Marvel or Disney, and so she's trying to throw mud on Marvel to get them to sell that unit, not her LucasFilm unit.
They base this speculation on the notion that Iger is laying down the law with Marvel, but not with Disney. As if he knows Disney is beyond saving, and doesn't even want to set up parameters going forward, because he knows Disney will not be going forward with LucasFilm at all.
Possible? Sure, but based on the prior claims that she was already being Volunterminated (volunteered to be terminated), why would she care if Star Wars were sold or not? Maybe there's something in her contract that treats her poorly if Star Wars is sold, but isn't it usually the other way around? Don't you usually get a buy-out if the company is bought?
And that's it for Disney Drama today.

posted by Ace at
04:05 PM
|
Access Comments