« Daily Tech News 17 February 2023
|
Main
|
Mid-Morning Art Thread »
February 17, 2023
The Morning Report — 2/17/23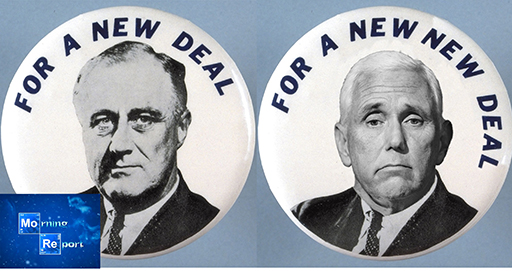 Good morning kids. There are a lot of new, and mostly infuriating, developments in a number of top stories, yet one thing jumped out at me that just speaks volumes about the reality of who and what have run this country since at least the end of World War 2. And run it into the ground. And I couldn't think of a better phony stooge to spout it than Mike Pence:
"Now we literally have a paralysis in Washington, D.C., that says we're never even going to talk about reforming 70% of the federal budget. That's what entitlements, Social Security, Medicare, Medicaid are all in that cash. And we simply are not going to restore the fiscal health of this nation by simply nibbling at the edges of the federal budget. I submit to you that we have to have a conversation about reforming entitlements in the days ahead. I think we can replace the New Deal programs with a better deal.. I think in Social Security, you can keep all the promises that you made to seniors. You can people that will retire within the next 20 years. No changes, but to give options to younger Americans to invest a portion of their Social Security in a private savings account and get a better deal, I think is an idea whose time will come."
Ah yes. a NEW New Deal! The Better Deal! Even newer and deal-ier than before! Who the fuck is this asshole kidding? Meh, nobody. Leftists love them their phony government programs that help no one despite the illusion of free money, and sadly far too many who are supposed to be on our side of the divide regard the word "entitlements" as the Holy of Holies.
I'll cut Pence a little bit of slack, insofar as yes all these programs are going to crash and burn and they do need to be addressed. Of course, the Dems use that as the Tsar Bomba of all political weapons to twist that as "taking away your entitlements!" And so, the issue fades away until the next round of alarms from the actuaries sound, usually during or just before a campaign season.
Beyond language, the broader issue is the nature of government itself. And in that highlighted quote, Pence perhaps unintentionally revealed a number of things that I have been trying to hit on for a long time, primarily the illusion of a two-party system; of a true opposition party to those who have set us on a course for "fundamental transformation," i.e. disaster, since Woodrow Wilson.
Since the end of World War 2, the GOP has gradually become a party that shed its identity as that of champions of small government and the free market. If you go back to Ike in the 50s, he and the GOP did nothing to try and reverse the metastasis of the bureaucracy that started with the New Deal. Of course for, 40 years starting in the middle of his first term, the Democrats controlled the purse strings, the USA was a more or less united country (stay tuned for the civil rights era and Vietnam) and had an economy that made Detroit the third most prosperous city in the world. And then came the Great Society/War on Poverty, followed on by Nixon creating the EPA and a few other nightmarish commissariats and the rest is history.
No, Mike Pence. We do not need a party that only oppose Democrats because they think they're better managers of an ever-growing central government. We need a party whose main goal is the complete dismantling of the central government and the return of political power to the states and ideally back to the individual citizen. On top of that, we need people who can articulate that premise and why it is necessary!
And speaking of the EPA and why it is necessary to wrest control of power and hand it back to the people, look no further than East Palestine, Ohio.


Footage of Sen. J.D. Vance (R-OH) disturbing a creek bed in East Palestine, Ohio, and causing chemical bubbles to rise to the surface garnered millions of views as the nation becomes increasingly concerned about the fallout from the nearby Norfolk Southern train derailment.

In footage posted by Vance on Thursday afternoon, the newly elected lawmaker stood next to a small creek in East Palestine. Beyond the "dead worms and dead fish" he observed in the water, Vance used a stick to disturb the bottom of the creek; moments later, an oily sheen of chemicals emerged to the surface of the water.

"This is disgusting," he commented. "The fact that these chemicals are still seeping in the ground is an insult to the people who live in East Palestine. Do not forget these people" . . .

. . . The footage comes after federal and state officials insisted that the water in East Palestine is currently potable. The EPA said that "test results from the village's municipal well sampling showed no water quality concerns," while Governor Mike DeWine (R-OH) announced that tests conducted by the Ohio EPA revealed "no detection of contaminants in raw water from the five wells that feed into East Palestine's municipal water system." He added that the agency is "confident that the municipal water is safe to drink". . .

. . . Vance also challenged EPA Administrator Michael Regan, who visited East Palestine on Thursday, to drink the tap water his agency claimed was safe. "If I was living here, I would drink the bottled water for now. Better safe than sorry, especially because it's being provided for free," he told reporters. "That's the advice I would give, and again, the residents are going to make their own decisions on this."
J.D. Vance sure did hit the ground running. He's looking like a champ in the very early going. Safe to drink? The bastard child of Predator and the Toxic Avenger wouldn't drink that with Gene Simmons' tongue and Kamala Harris swallowing. Mike DeWine. More like Mike "D" Whine.
So long as we're on the subject of "entitlements," if you look at the federal and state budgets for their respective EPAs, no doubt the money taken out in taxes adds up to a tidy sum. Are they not entitled to not be exposed to cancer and have potable water? I guess not.


And where is the federal government? As of this writing, no disaster declaration has been made by Joe Biden. And according to Ohio Gov. Mike DeWine, the Federal Emergency Management Agency (FEMA) is refusing to offer any assistance.

"Ohio Governor Mike DeWine spoke with officials at the White House early this morning to address the need for federal help," DeWine's office said in a statement. "As a result of this conversation, the Governor has requested assistance from the U.S. Department of Health and Human Services, Health and Emergency Response Team, and the CDC to provide on-the-ground assistance in East Palestine."

"The DeWine Administration has been in daily contact with FEMA to discuss the need for federal support, however FEMA continues to tell Governor DeWine that Ohio is not eligible for assistance at this time," the statement continued. "Governor DeWine will continue working with FEMA to determine what assistance can be provided."
Say, what?! One of the biggest environmental disasters in American history and the citizenry are not eligible for assistance? I guess eligible and entitlement are two different words. Meaning, they forfeited their eligibility by overwhelmingly voting for Donald Trump in 2020. In any case, East Palestine is not a "chocolate city" like New Orleans.
And Mike Pence talks about a Better Deal, as Mike DeWine assures us about the Ohio EPA's proclamation that the water is totally safe. There's your GOP, ladies and gents. You have nothing to fear from a big government because we'll run it better!
But rest assured, the EPA is concentrating on truly serious work, like abolishing ovens, gasoline powered automobiles, natural gas and fossil fuels, the cattle industry, plastics, paper and anything else Greta Thunberg gets offended by, and replacing them with windmills that kill whales and endangered birds and the view as well as batteries requiring strip mining of strategic materials by slave laborers in China and whatever third world shit holes along its global belt road it controls. If the Chinese agree to export the materials at all.
Of course, the EPA is loaded with top men!


A review of the list of impacted cars does not indicate that any of the cars containing vinyl chloride lost their loads due to a breach or leak. Each entry contains the note, "car did not leak/cars vent product through the PRD and ignited/vent and burn performed." At some point, the railroad intentionally vented and ignited all of the train cars containing vinyl chloride. Why? Why burn 155,000 gallons of a toxic chemical if the train cars containing them were not breached?

As it burns, vinyl chloride transforms into phosgene and hydrogen chloride. A 15 minute exposure of air contaminated with more than .2 parts per million of phosgene is considered unsafe. Children are particularly vulnerable to phosgene gas. If all five railcars containing vinyl chloride are being burned, this amounts to approximately 155,000 gallons of precursor to phosgene. This explains the enormous plume of dark smoke that photographs and videos show billowing from the wrecked train cars and a nearby trench used as an improvised burn pit. . .

. . . Some have suggested that the accident stemmed from railroads cutting costs in safety-related measures. . .

. . . But others have questioned whether the bad bearing could have resulted from an act of sabotage. The "conspiracy theory" calls to mind recent arrests for sabotage of electrical facilities. 

Transportation Secretary Pete Buttigieg has drawn condemnation for waiting nearly 10 days before issuing a public comment on the disaster. Like many in the media, Buttigieg found himself fixated on the recent Chinese balloon incursion. Buttigieg did not mention the Ohio disaster during his appearances on Sunday talk shows on February 5, two days after the crash continued to burn. 

Although Buttigieg flew 18 times on taxpayer-funded private jets since taking office, he has not, as of the time of writing this, visited the site of the disaster.
Phosgene gas by the way was used during World War 1 as a chemical weapon and, IIRC, it gave a certain Austrian corporal his distinctive voice.
Meanwhile, yet another derailment of tank cars occurred in Michigan. And, lest we forget, we have a wide open southern border where more than just Latin American peasants are flooding in by the million to collect their "entitlements" from Tío Azucar while picking grapes. Meh, why blame the Islami-kazes when we have our own psycho homegrown environmental terrorists?
Take your "Better Deal" and shove it, Pence. And save some space for Nikki Haley.
Have a good weekend.
ABOVE THE FOLD, BREAKING, NOTEWORTHY
"The government has noticed that the people have noticed that its ranks are filled with self-serving propagandists and liars. . . When people wake up in raw anger, real change is never far behind."
Constant Government Lies Spark Resistance Movements

"So what exactly did Bris and Saran mean? And were there others at the World Government Summit who agreed with them?" (a bris is when they cut your yutzick, and saran is nerve gas - jjs)
World Government Summit Panelist Says 'Shock' Needed for 'Transformation' of 'International Order'

Lloyd Billingsley: "Slain DHS whistleblower now under investigation for 'contraband' and 'possible violations of U.S. Codes'. . . The FBI is preparing to occupy new headquarters twice the size of the Pentagon and bigger than the Kremlin. Embattled Americans should expect more stagecraft, more entrapment, and more operations like the one involving Philip Haney."
Who Killed Philip Haney? The Mystery Continues
OHIO DERAILMENT, TOXIC CHEMICAL DISASTER
NOTE: The opinions expressed in the links may or may not reflect my own. I include them because of their relevance to the discussion of a particular issue.
ALSO: The Morning Report is cross-posted at CutJibNewsletter.com if you want to continue the conversation all day.
Follow us on Twitter: @CutJibNews
Follow us on Instagram: @Cutjibnewsletter

posted by J.J. Sefton at
07:47 AM
|
Access Comments