« Project Veritas Sting Catches Pfizer Employee Seemingly Admitting the Company Is Deliberately Mutating Covid
|
Main
|
CNN: Biden Lied When He Claimed He "Invited" the FBI to Search His House.
He Merely Allowed Them To -- And They Were Considering a Warrant If He Refused. »
January 26, 2023
Freshly Leaked Video Shows Totally-Not-a-Federal-Agent Ray Epps Leading the Protesters to Breach the Fence on January 6th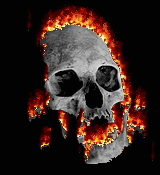 To see this well, you'll have to expand the video (below the fold) to full screen.
Ray Epps is shown within a red circle. He is wearing a grayish/tawny jacket and a red cap. He's also wearing a brown backpack, which you can see when he turns his body.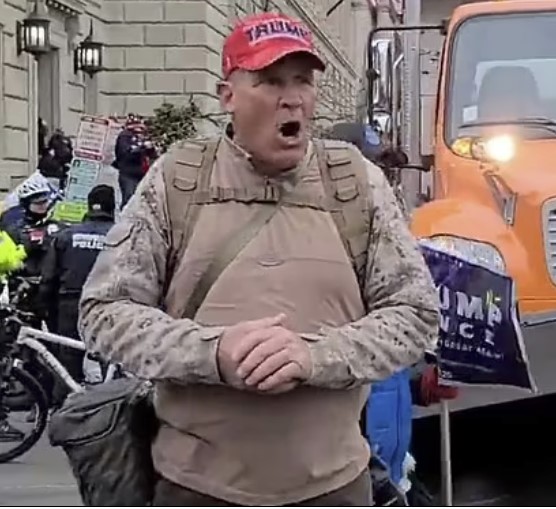 Now, we know this is him, because we already knew he breached the fence on January 6th: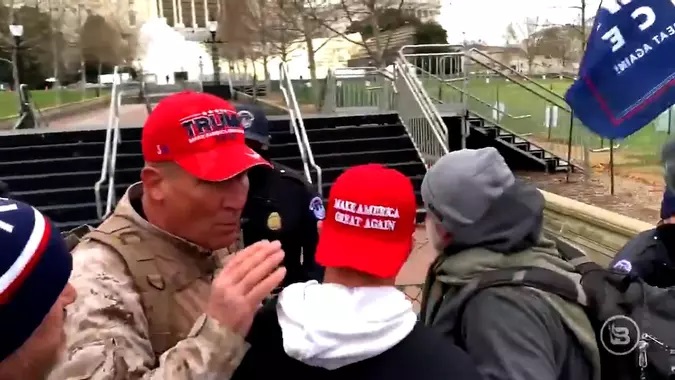 Even the Washington Post admits that: They published this video last January, in 2022, admitting that Ray Epps was seen to enter the Capitol grounds.
But -- and here's the new news -- the Regime and its mouthpieces like the Washington Post insist he entered "after" others had breached the fence.
Video shows Trump supporter Ray Epps breaching the Capitol grounds following the destruction of secure fencing on Jan. 6.
Someone else actually took down the fence. Not Good Old Totally-Not-an-FBI-Agent-Provocateur Ray Epps.
That's how they excuse him from prosecution.
Strange how that doesn't excuse the many other people convicted of "parading" on January 6th, who also only entered after the fence was down.
Defenders of Ray Epps contend he has not been arrested because he didn't break the law during the Capitol riot, but a woman caught on video standing next to him is facing up to a year in prison for being in a "restricted area" -- something Epps was also filmed doing.

Raechel Genco was seen on video standing just feet away from Epps on Jan. 6 as he whispered into the ear of her boyfriend, Ryan Samsel, who promptly led a mob that stormed a police barricade.

This new video shows Epps leading the crowd to the fence, and is among the first dozen people to go through the fence.
It should also be noted that the "insurrection" entered the Capitol grounds peacefully -- the cops seem to have opened the fences for them, or at least permitted the protesters to open the fences.
In fact, if you go to 0:55 in the video -- it sure looks like Good Old Ray, the Non-Fed, actually walks up to the cops first and asks them to open the fence for him -- which they do.
But Epps isn't a fed. I mean, he merely led the crowd to the fence, then told the cop to open the fence so that he and the protesters could walk into supposedly-restricted grounds.
And then the FBI and the whole of the Regime claimed: But he only entered after The Real Insurrectionists "destroyed" the fence! He was an innocent man, just swept up in the moment!
No -- he orchestrated it. He is seen clearly telling the cops to open the fence -- which they promptly do, for some reason.
Blow up the video to full screen: