« Good Guy With a Gun Kills Bad Guy With a Fake Gun
|
Main
|
Cuddle-Up Cafe »
January 09, 2023
Quick Hits
Breaking: The DOJ is preparing to cover up -- or as they call it, "investigate" -- reports of classified documents that have been at the Biden Center from his VP years.
FaceBook asked the Biden Administration what propaganda lies they should publish to cover the clots associated with the vaccines.
Facebook requested talking points from the Biden administration to "get ahead" of the possibility that people might be less likely to get a COVID-19 vaccine after evidence emerged that the Johnson and Johnson (J&J) single-dose vaccine might cause life-threatening blood clots in some rare cases, according to emails obtained by the New Civil Liberties Alliance (NCLA).


A Facebook staffer -- whose name is redacted in compliance with a court order -- discussed ways to potentially modify Facebook's algorithms or provide "context" to posts from White House-approved sources with White House Director of Digital Strategy Rob Flaherty, according to the emails.

"Re the J+J news, we're keen to amplify any messaging you want us to project about what this means for people -- it obviously has the risk of exacerbating vaccine hesitancy, so we're keen to get ahead of the knock-on effect," a Facebook staffer wrote to . "Don't hesitate to tell me -- or via your teams -- how we can help you provide clarity/reassurance via Facebook."
They totally weren't Government Actors.
Victoria's Secret CEO Amy Hauk is getting the boot after just eight months as the brand's stock plummets, and no one has any idea why.
A father has legally changed his gender to "female" in a bid to gain the favorable legal treatment women get in custody battles over children.
A father has legally changed his gender identification in an attempt to gain custody of his two young daughters following a bitter split from his wife.

René Salinas Ramos, 47, is now listed as female on official documents in his native Ecuador -- despite the fact he still identifies as a cisgender male in his everyday life.

The desperate dad claimed he made the drastic decision due to the justice system in his country which he said typically benefits mothers in custody cases.

"Being a father in this country, Ecuador, is punished and I'm only seen as a provider," Ramos told local outlet La Voz del Tomebamba. "What I have been looking for is to give the love and protection that a mother can give her children."

Ramos alleged that his daughters currently live in an abusive environment with their mother -- and claimed he hasn't seen his children in more than five months.

"The laws say that the one who has the right is the woman. As of this moment, I am female. Now I'm also a mom, that's how I consider myself," Ramos told media assembled outside the city of Cuenca's Civil Registry office on Dec. 30. "I am very sure of my sexuality. What I have sought is that I want to be a mother, so that I can also give the love and protection of a mother."

Rep. Dan Crenshaw
@RepDanCrenshaw

Right now a handful of Republicans are holding us hostage from completing our mission: serving our country. Let's hope that changes soon and we can start taking the fight to the Democrats, where it belongs.
Last week, Tucker Carlson blasted Crenshaw's as "the snarling face of the Donor Class."
Dan Crenshaw @DanCrenshawTX

Unclutch your pearls. It's a figure of speech. You can't insult, slander, and hold everyone hostage with no way out - and not expect me to punch back.

Grow thicker skin.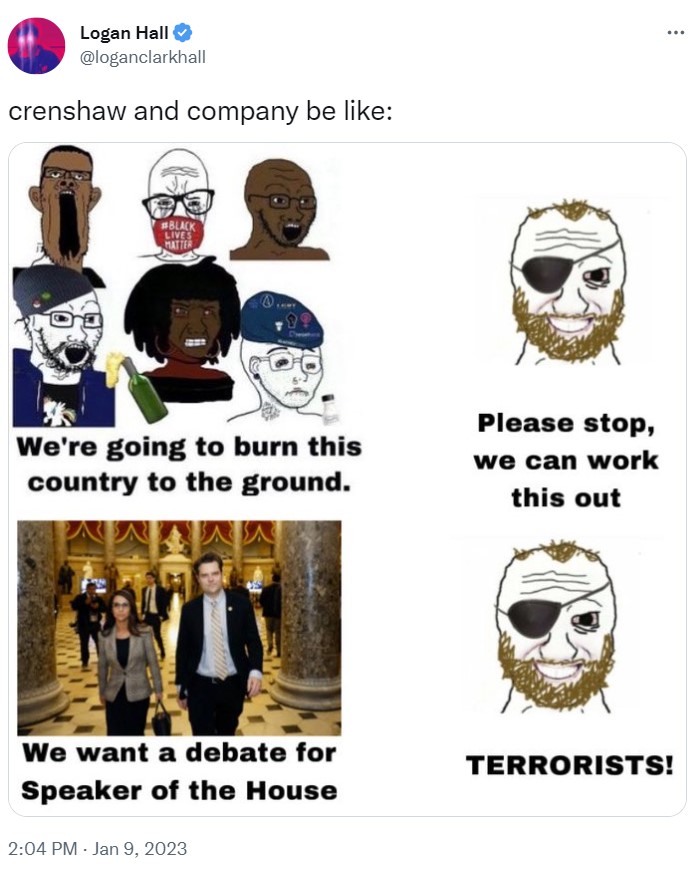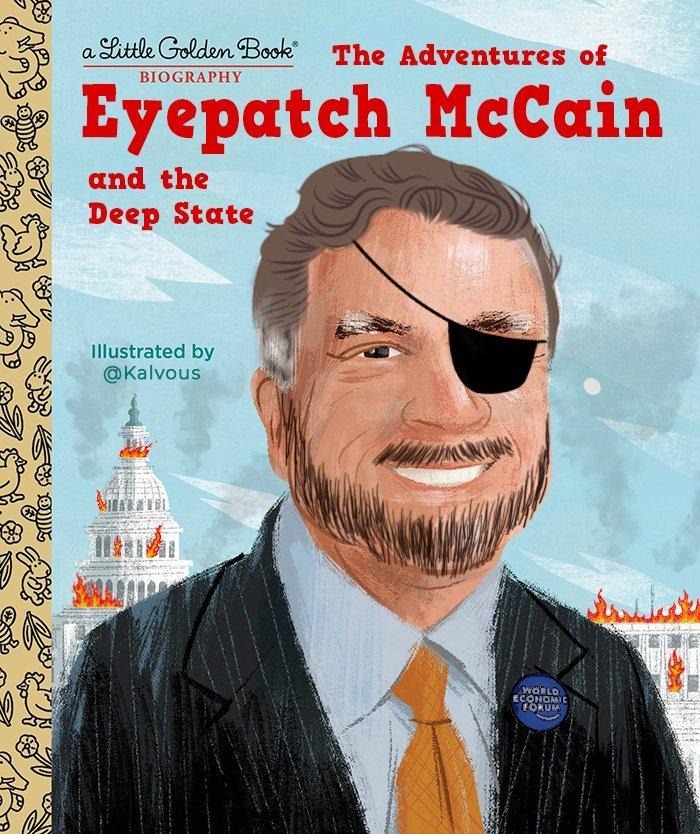 Seems like Eyepatch McCain agrees with Leslie Stahl of 60 Minutes -- basically, the "chaos" we witnessed last week in the House was some kind of "national embarrassment." An insurrection by House members, if you will.

Guess who has been chosen to hold the Deep Staters of Homeland Security to account?
Not Eyepatch McCain. Unbelievably enough.
Rep. Mark Green, R-Tenn., was selected by the House Steering Committee Monday to chair the House Homeland Security Committee in the new Republican Congress.

Green was picked over Rep. Dan Crenshaw, R-Texas, who drew complaints from House GOP members last week for implying some of his conservative colleagues were "terrorists" for delaying the start of the new Congress. Crenshaw apologized for that remark on Sunday and said his remark that "we cannot let the terrorists win" was a "turn of phrase."

Green said he would use his leadership position on the committee to fight for a stronger border.

"For the sake of our national security and homeland security, we must secure our border," Green said in a statement to Fox News Digital. "We have no choice. We will empower our brave CBP agents to do their jobs and hold President Biden and Secretary Mayorkas accountable for the crisis that they created."
Tom Fitton: Twitter was acting as a deputy agent of the government, acting as an agent of Senator Mark Warner "at the behest of Hillary."
Or, as David "I Use My Mouth Real Pretty" French calls it, "jawboning."
Some commenters say the "new Church Committee" will accomplish nothing.
The New York Times is worried enough to begin pre-spinning it.
Ben Domenech @bdomenech

The NYT is purposefully spinning. The NSBA used the "domestic terrorism" label to describe that incident and others in a letter drafted with admin input, which was then used by Merrick Garland to issue his baseless directive to the FBI and US Attorneys.

posted by Ace at
06:12 PM
|
Access Comments