« Daily Tech News 22 November 2022
|
Main
|
Mid-Morning Art Thread »
November 22, 2022
The Morning Report — 11/22/22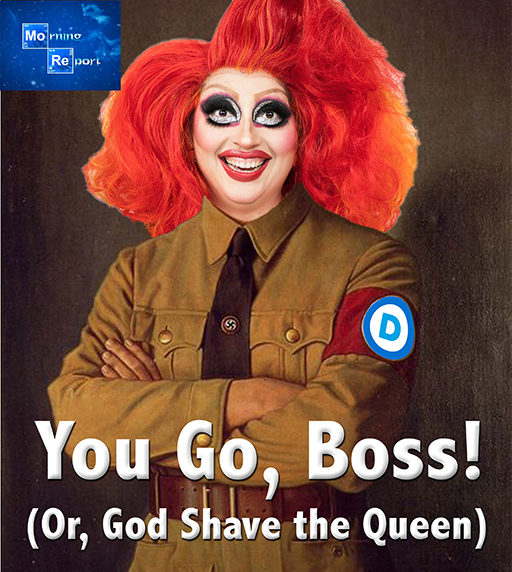 Good morning, kids. Tuesday and I guess the theme for today is the preservation of the narrative. Sure enough, in the wake of the mass shooting at a Colorado nightclub that caters to the homosexual crowd, the militants who use homosexuality as victimhood cover to help in the overthrow of our nation and society have indeed come out from the woodwork to hurl the accusations and attacks at us.
When the news broke that an armed man had entered Club Q, an "LGBTQ" nightclub in Colorado Springs, at about midnight on Saturday, on the eve of something called the "Transgender Day of Remembrance," and had proceeded to kill five people and wound at least twenty-five, one thing seemed all but certain. It was too early to know what had motivated the perpetrator, Anderson Lee Aldrich (who apparently was arrested last year, after a "brief standoff with law enforcement," for making a bomb threat against his mother). But it seemed a safe enough prediction that the usual "LGBTQ" activists and their allies in the media would soon be spinning this atrocity to their advantage.

Sure enough, within a few hours, Colorado's largest daily, the Denver Post, had posted an article in which one Elizabeth Hernandez linked the murders to "hateful rhetoric directed toward transgender people and the broader LGBTQ community." The recently re-elected Congresswoman Lauren Boebert, stated Hernandez, "has been vocal against LGBTQ and transgender issues, including in a June tweet saying 'Take your children to CHURCH, not drag bars' and a 2021 speech on the House floor during which she warned of 'young girls across America who will have to look behind their backs as they change in their school locker rooms just to make sure there isn't a confused man trying to catch a peek.'" Hernandez also noted the controversy surrounding "all-ages drag shows at public libraries and other locations" and a Colorado librarian who was "fired from her job for planning LGBTQ youth programming."

What do all of these specifics cited by Hernandez have in common? Simple: not a single one of them is about hatred for transgender people or anybody else. They're all about legitimate questions of public policy. Questions about whether small children should be encouraged to attend drag shows and stuff dollar bills into the drag artists' panties. Questions about whether teenage boys claiming to be girls should be permitted to use girls' locker rooms and showers. Questions about the proper ages at which children should be taught about various aspects of sex and sexual orientation – and whether they should be introduced at all to gender ideology, a cockamamie new set of propositions that deny biological reality and that might well have been designed with the explicit intent of confusing the hell out of small tykes. . .

. . . Hours after the atrocity at Club Q, its Facebook page still featured an announcement of an "all-ages drag brunch" that had been scheduled for Sunday. One of the comments included in the thread below the announcement was by Andy Humm, a veteran gay activist and broadcaster. "Blood on the hands of Republicans who spent $50 million on ads this election cycle targeting drag queens and transgender people," Humm wrote. "Looking at you Ron DeSantis and Marco Rubio and Kari Lake. Decent people MUST speak up against this hate!"

Humm, who's pushing 70, has been a prominent figure in the gay media and in queer-left activism for decades. Not until the latter part of his career were transsexuals – newly re-branded as transgender persons – merged into the gay-rights movement and "gay and lesbian community" under the new LGBT label (which soon enough became LGBTQ, LGBTQI, and so on). No gay person that I know of voted for this change; I never heard it debated or discussed. But professional gays like Humm, whose modest career as a "gay broadcaster" was threatened by the rapid mainstreaming of gay people in America (which, for example, all but eliminated the gay bookstore), went along with it.
Interesting and rather an ironic twist that transexuals and pederasts are now parading around in the skin-suit of mainstream homosexuality and demanding respect. Whatever one feels about it, homosexuality as either a lifestyle or sexual preference has more or less been tolerated to the point of being accepted by average Americans. Just like blacks at the end of the 50s "leaving the plantation," so to speak, the Left couldn't afford to lose an important "victim" bloc and so begat the importation of millions of peasants from south of the border to replace their ranks. Same thing here. I might add that homosexuals and transsexuals, despite the propaganda represent a fraction of the population. Yet, their lifestyle influences a disproportionate amount of young people who, if not actively gay curious, are supportive of the group as victims being oppressed by evil American society. Can't afford to lose a victimhood bloc, so replace it with another. And when transsexualism becomes mainstream, the next victims will be pedophiles. Lather, rinse, repeat.
But the common denominator here is Judeo-Christianity, western civilization and America as founded as the existential threat and enemy that must be utterly annihilated. As more and more of a militant anti-American attitude becomes mainstreamed into government and the public discourse across all sectors of society, wrong-think will be punished. The concept of "you will be made to care" is well on its way to either being codified as law, or failing that adopted as a standing principle for employers and businesses. Bitterly ironic that someone like Jack Phillips has his life destroyed for the principle of refusing to serve someone because it goes against his beliefs while the very same principle will be used against you if you do not accept theirs. And yet, that is exactly what is happening.
An Air Force cadet in charge of Diversity and Inclusion sent an all-hands email reminding cadets from "homophobic/transphobic families or areas" that they were expected to provide "support" in the wake of the Club Q shooting.

The Sunday email obtained by the Daily Caller explained that:

"For those who may be from homophobic/transphobic families or areas, LGBTQ+ friendly places like Club Q provide a welcoming environment that doesn't exist everywhere. This direct attack on a LGBTQ+ club indicates how prominent the risk is to being LGBTQ+, and I hope that you are more than willing to provide support and check in with those around you, regardless if they are part of the LGBTQ+ community or not. The atmosphere created within USAFA is a crucial aspect of feeling included as a LGBTQ+ cadet, especially during this time. . . "

. . . A concerned cadet parent told the Daily Caller, "while the Club Q shooting was a horrible unnecessary attack on people who do not deserve it, it is not right to attack USAFA cadets' families calling them homophobic and transphobic without any proof; especially since they had absolutely nothing to do with the shooting. Representing the entire USAFA leadership, this cadet insinuates that uninvolved cadets, their supportive families, beloved hometowns, and safe places of worship have contributed to this insane violence. Such accusations are unacceptable and inexcusable."
I like that. "Homophobic or transphobic areas." You mean, any place that voted for Trump? Or any place that has a church or synagogue that preaches the unadulterated, unambiguous word of God as written in The Bible? Or just any place that refuses to allow men dressed in drag to have access to women's restrooms?
We're no longer merely "defining deviancy down," as one of the few decent Democrats and classic liberals Daniel Patrick Moynihan stated. We're defining deviancy as normal and anyone who refuses to take the knee gets kneecapped.
It all boils down to probably the greatest bit of writing Ace ever published:
Our speech is violence. Their violence is speech.
Look at what they're doing to Trump — AGAIN. Now that the GOP is set to take over the House and gain control of the J6 kangaroo court, look at what Merrick Garland is doing. The GOP's fecklessness aside, Garland's reaction is telling. It's literal obstruction of justice to prevent the revelations that what happened at the Capitol on that day was perpetrated by agents and agents provocateur of the FBI and Democrats.
If the illusion and blood-libeling of Trump as literally Hitler who attempted to overthrow the government after Joe Biden's 82 million-vote landslide gets even a tiny crack in it . . . Well, I'd say the Democrats would be wiped out but they have ways of "fortifying" themselves, IYKWIMAITYD.
ABOVE THE FOLD, BREAKING, NOTEWORTHY
Julie Kelly: "It's beyond ironic that the mouthpiece for a regime proceeding with yet another punitive and vengeful investigation into Donald Trump wants to be shielded from an inquiry into her own misdeeds."
Jen Psaki: Investigations for Thee But Not for Me

Robert Spencer: "The kid gloves with which everyone has been treating Urooj Rahman are entirely understandable. She herself set it all in motion when she claimed that she was a childhood victim of 'Islamophobia,' and her lawyers had argued that her long record of activism for 'social justice' should be seen as a mitigating factor. It worked, of course. Rahman never really had to worry at all. She didn't have anything heinous or dangerous on her record such as support for Donald Trump, pro-life advocacy, or skepticism about the complete honesty and veracity of the 2020 presidential election."
Besotted Judge Calls Leftist Muslim Lawyer Who Firebombed Police Car a "Remarkable Person"
CIVIL WAR 2.0: J-6 FBI FALSE FLAG "RIOT" & AFTERMATH, LEFTIST PERSECUTIONS, DEMOCRAT PUTSCH, AMERICAN DISSOLUTION
NOTE: The opinions expressed in the links may or may not reflect my own. I include them because of their relevance to the discussion of a particular issue.
ALSO: The Morning Report is cross-posted at CutJibNewsletter.com if you want to continue the conversation all day.
Follow us on Twitter: @CutJibNews
Follow us on Instagram: @Cutjibnewsletter

posted by J.J. Sefton at
07:32 AM
|
Access Comments