« Hurricane Ian Diminishes In Intensity to Category 2, But Sweeps Over Central Florida with Massive Flooding;
DeSantis: "Basically a 500 Year Flood Event"
|
Main
|
Biden Now Blames the Hurricane and Mom and Pop Gas Stations for the High Gas Prices His Strategy of Deliberate Scarcity and Suppression of Oil Production Is Causing »
September 29, 2022
Top of Mind: The Leftwing Propaganda Media Actually Asks Karine Jean-Pierre What Was Going on In the Demented "President's" Mind When He Called Out "Where's Jackie?," Searching For a Dead Woman's Ghost
I covered this yesterday, but missed the most embarrassing part of any Biden scandal -- the simpleton Karine Jean-Pierre's hapless attempts to talk the Administration out of it.
Don't lie, Karine! You're bad at it! Your stupid peabrain can barely keep track of simple reality! It has no chance of contriving a consistent false "alternate facts" reality!
In case you missed it, Biden asked "Where's Jackie? Jackie, where are you?"
Congresswoman Jackie Walorski died eight weeks ago in a car accident. Biden issued a press release mourning her loss and ordered flags lowered to half mast.
Furthermore, a video tribute to her noting her untimely death played at this very event before Biden spoke.

Several "journalists" -- I might actually have to remove those quote marks, or reduce them to single-quote 'pop marks' -- actually bothered to ask about Biden's turn as a Ghost Whisperer.
You have to watch this. It actually becomes contentious. The lapdog press actually points out that Biden's little "mental lapses" are becoming more frequent, and continue demanding to know what is going on. And they do not accept this idiot's answer -- which consists only babbling the same memorized, stupid answer, that she was on "top of [his] mind" and this for some reason caused him to call out for her and search the room for her, and this is perfectly normal and "routine" -- and keep demanding she offer a real answer.
"That's not an unusual situation" to think a dead woman is physically present in a room. Well, no -- not at her funeral.
Note that Karine Jean-Pierre keeps giving the same "top of mind, it's all very normal" answer and then picking a friendly journalist to ask a question to get her out of this. But then a couple of reporters later, another gets back to the same question again.
James Rosen said, "I have John Lennon top of mind just about every day but I'm not looking around for him anywhere." LOL. But he's with conservative-leaning Newsmax so no credit to the awful propaganda media.
Even though a bunch of reporters asked about the "president" and his clearly dying brain, and his stupid brainlet Diversity Hire simpleton also had no response except to keep babbling the same non-answer -- I bet you this didn't lead on any leftwing news network, did it?
Katie Pavlich @KatiePavlich

No explanation about why Biden didn't just ask for her, but searched for her in the crowd a month after issuing an official White House statement honoring her death.

September 28, 2022
It was "top of mind," Katie. What part of that meaningless phrase, babbled incessantly by an idiot who is treating it like a life preserver saving her from drowning in a sea of her own stupid, isn't getting through to you?
Now, while these reporters asked about it at the White House press briefing, thousands of local papers were not even informed that this happened in the pool report about the actual event.
The pool reporter is a rotating position. He or she writes up a press conference for the use of all media outlets who could not be present -- local media, for example.
The pool reporter is therefore an important position -- and if the pool reporter is a rabid socialist determined to protect a leftwing demented president from embarrassment and chooses to intentionally omit the most newsworthy part of an event, than many local newspapers and TV stations may not know about it.
Hard leftwing lunatic Alex Nazarayan chose to deliberately omit the "Where's Jackie?" part of the event from his pool report.
Why?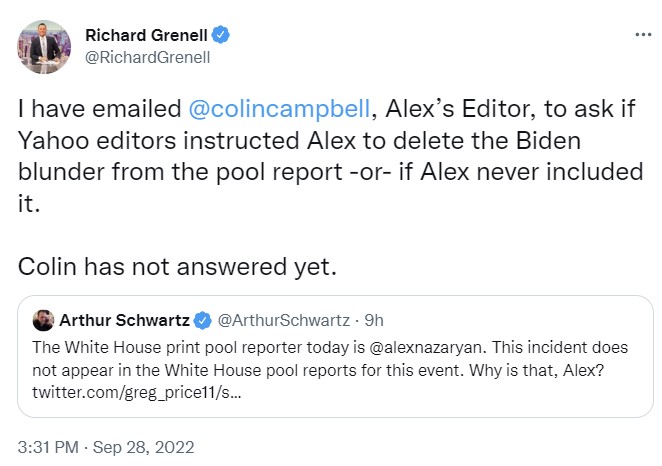 Here's a representative tweet from Alex Nazarayan's feed: He didn't like the implication from a Jeopardy question, and Alexandria Donkey-Chomper's quote in that question, that gulags were part of socialism.
He rushed to defend socialism's honor. Real socialism has never been tried!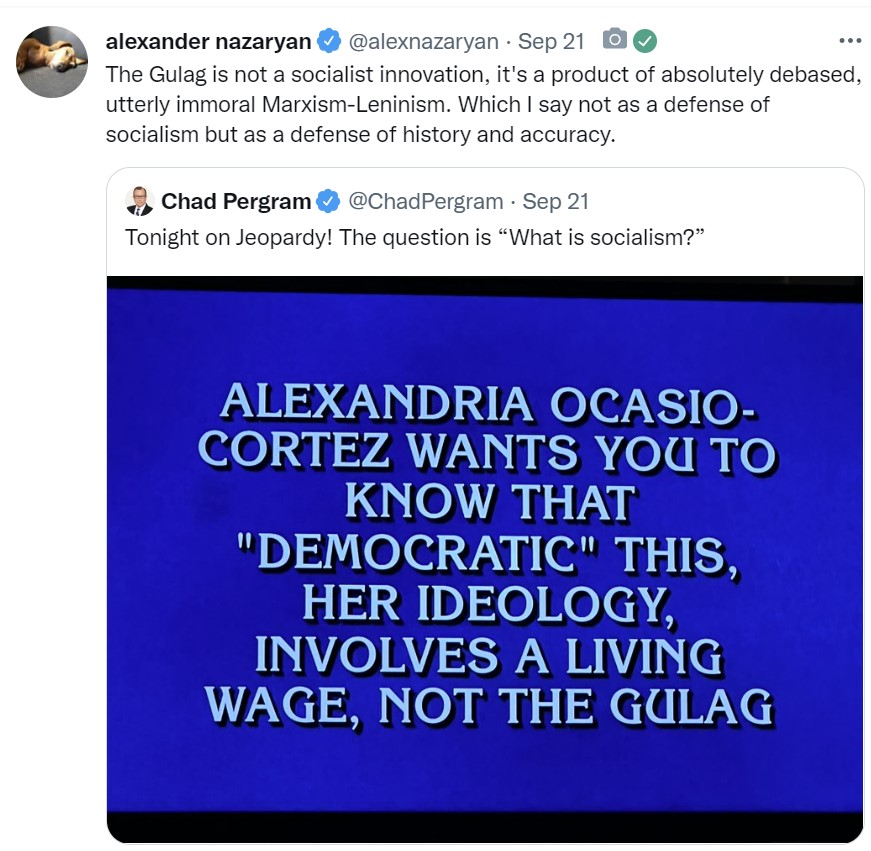 He claims there that he's not saying this to defend socialism. Oh, no. He just wants to be accurate.
But not accurate in his pool report about Biden showing his horrifically-frightening dementia.
But after the event, Alex had more corrections he wanted to make. When Greg Price pointed out that a tribute to Jackie Walorski was played at the event, which of course mentioned her untimely death, Alex Nazarayan was Johnny-On-the-Spot with details, claiming he could "confirm" that Biden was not, repeat not, "on site" when that video tribute was being played: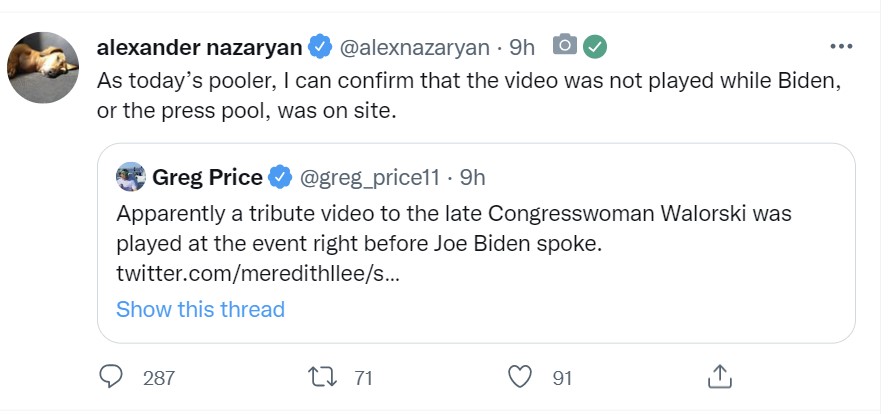 But what can Alex possibly mean by that? He wasn't physically with the "President," so he doesn't know where Biden was and when he arrived "on site." He doesn't know if, for example, Biden was backstage behind the curtains while the video tribute was being played, and could hear the presentation discussing her death.
When he says "I can confirm he was not on site," does he mean that the very honest, very fact-based Karine Jean-Pierre told him Biden wasn't 'on site' during the presentation, and he believes her, because she is full of Revolutionary Virtue?
That is what this little Communist C*** means, isn't it?
And say, Alex, since you're want to be so, so accurate about these details--
Can you explain, again, why this entire episode was not "on site" in your pool report?

posted by Ace at
01:03 PM
|
Access Comments