« THE MORNING RANT: Utterly Predictable Fraud at "Zero Emission" Vehicle Startup, and the Prominent CEOs Who Fell for the Hoax
|
Main
|
Whistleblowers: Woke FBI Is Forcing Agents to Contrive "White Supremacy" Crimes Where None Exist to Prop Up Joe Biden's Political Midterms Narrative That "White Supremacy Is the Greatest Danger Facing America;" Bureau is "Rotted At Its Core" »
September 16, 2022
On Private FaceBook Group, Martha's Vineyard Residents Demand The Illegals Be Removed to Somewhere With Lower Property Values... While Also Attempting to Virtue Signal About How Much They Love the Illegal Aliens
They want to help. It's just that they can't.
They don't have the "social services infrastructure." Only places for The Poors have that, so can't we bumrush these bums back to Bumsville with the other bums?
The Martha's Vineyard (MV) residents really, really, really want to help the illegals... to go somewhere other than Martha's Vineyard. They're Amazing!!!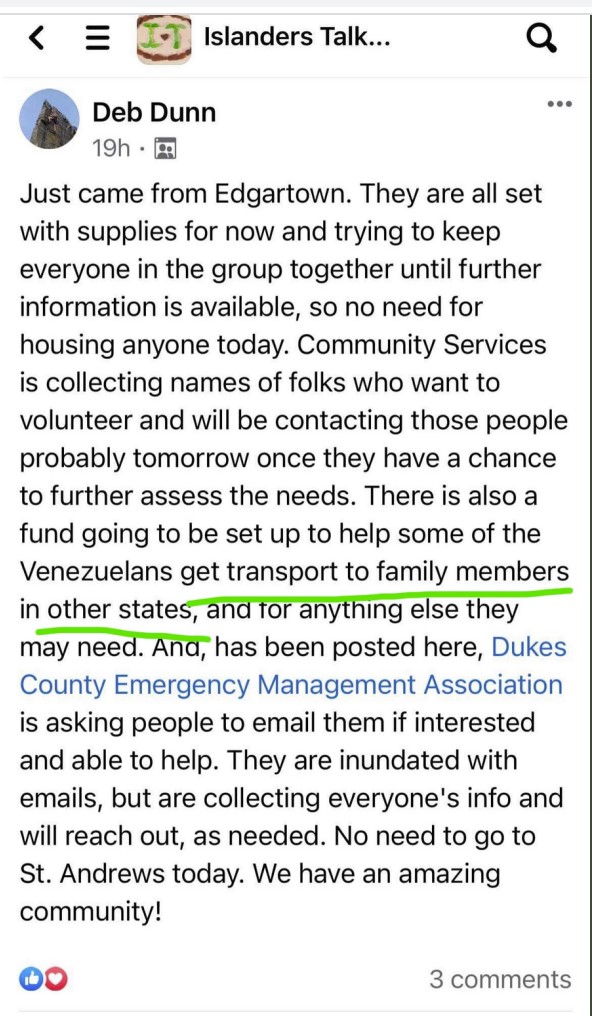 The message boards have been discovered by outsiders. Below, a Very Concerned Resident demands these bums be shipped off to the slum areas of Boston posthaste. When an outsider asks why she doesn't just welcome the illegals, she snaps back that they have welcomed the illegals.
They're specifically welcoming the illegals to get their culos on a bus to Boston.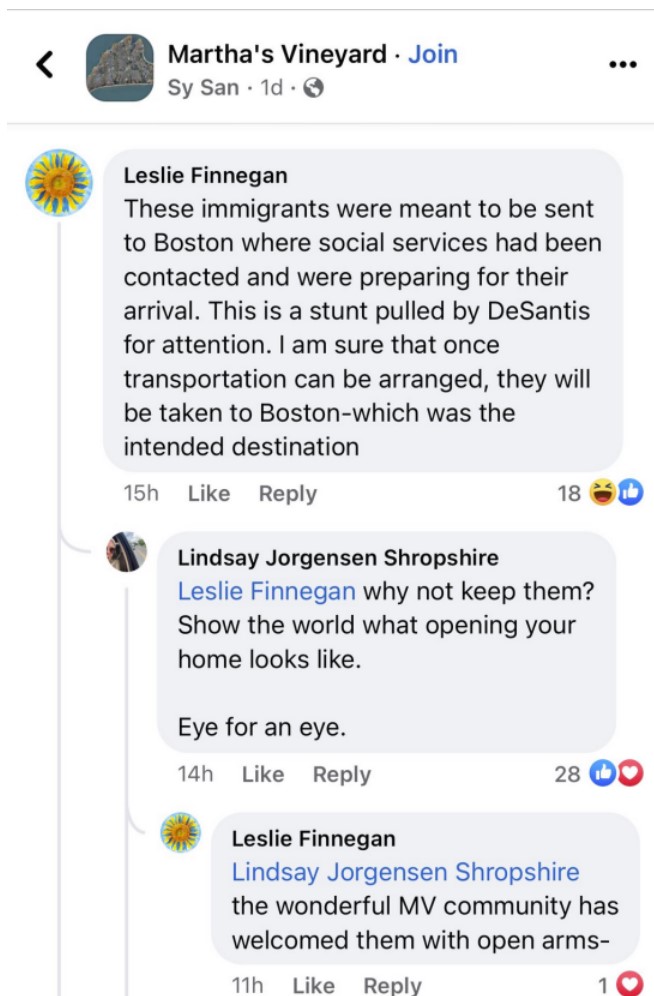 Sometimes they turn on each other in a game of Whose Virtue Signal Shines Brighter?: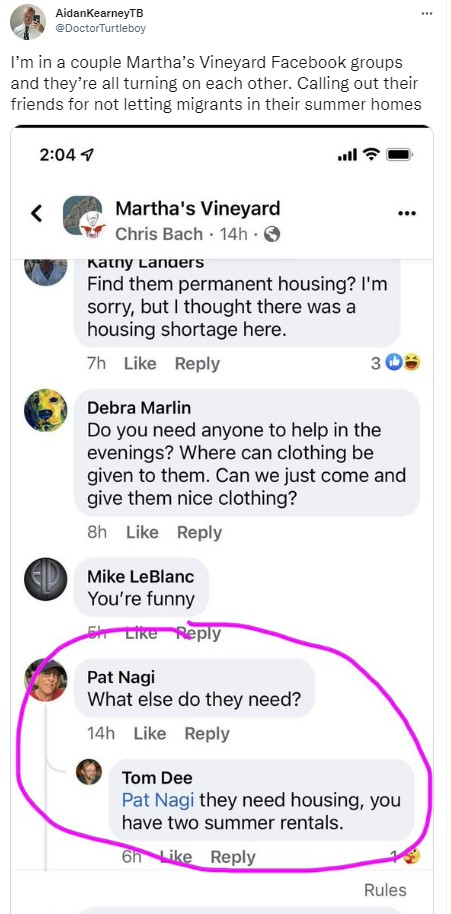 That Pat Nagi is quite the liberal, as the thread shows. She repeatedly calls for Republicans to die. Because of the compassion.
But when she has a chance to show what liberal compassion looks like... here's a bus ticket to Boston, Pablo! Now you get out there and breathe the free air of Roxbury!

The woman who collected these posts says she can find only one Martha's Vineyard resident who is actually in favor of practicing what they preach and taking in the illegals. This Communist named Sy: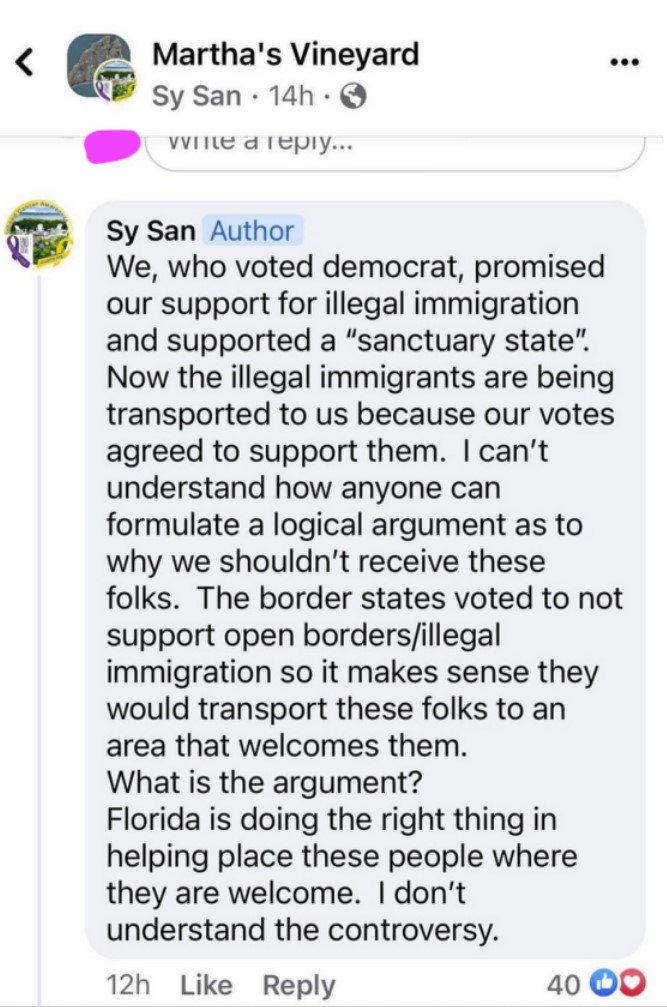 Everyone else just wants to do a Marion Cobretti and Take Out The Trash.
More at the link.
They keep claiming that Martha' Vineyard just doesn't have the "social infrastructure" to handle these illegals who they'd otherwise just love to welcome.

Tucker Carlson did a great monologue about this last night, full of sarcastic truth.
But definitely watch the segment starting at 9:30 to see the lie about Martha's Vineyard "not having the social infrastructure to handle this" exposed. El Paso also doesn't have the social infrastructure to handle this invasion -- illegals are camped out all over their streets. The city has been turned into a giant slum.
But the residents of Martha's Vineyard don't care about that. Damnit, The Poors are supposed to stay with The Other Poors!!!!
They keep claiming that Martha' Vineyard just doesn't have the "social infrastructure" to handle these illegals who they'd otherwise just love to welcome.

According to wiki

The island now has a year-round population of about 17,000 people in six towns; in summer, the population increases to 200,000 residents,

So....sounds like they could take almost 200K illegals right?
Posted by: 18-1

posted by Ace at
12:00 PM
|
Access Comments