« Vanity Fair: Ezra Miller Is Running a Sex Cult and Thinks He's Jesus
|
Main
|
"Heavily-Armed" Black White Supremacists March Through Austin Demanding That Biden Close the Border Immediately and That Illegal Aliens Be Deported; The Black White Supremacists Also Demand Reparations »
September 26, 2022
Woke Librarians: A National Scourge
Woke librarians with hot pink hair and nose-rings are absolutely determined to give your children comic books showing underaged boys putting their mouths on the pee-pees of adult men.
A self-avowed Marxist activist just won the election to become head of the American Library Association, and will make policy for America's librarians.
But they were already #Woke.
"The average person has no idea of this but librarians have been targeting children in recent years and trying to turn them into political activists," said Dan Kleinman, a self-described "library watchdog" from Chatham, NJ, who has run a website called "Safe Libraries" for more than 10 years. He said he has documented the alarming radicalization of the nation's libraries, including what he says is readily available porn in library computers.

"Librarians see themselves on the front lines on what it takes to bring revolution to the US. You need soldiers in the revolution so they are teaching kids to be little antifa activists who hate their own country and will act as a collective to bring about change."

Many activists point to the American Library Association (ALA), the oldest and largest library organization in the world, as the driving force behind what they say is too radical an agenda.

The newly-elected head of the ALA -- a self-described "Marxist lesbian" named Emily Drabinski -- said she rose through the ranks the old-school way, from "looseleaf legal filer to library director." But her mission is deadly serious.

"So many of us find ourselves at the ends of our worlds," Drabinski said during her campaign to become ALA president. "The consequences of decades of unchecked climate change, class war, white supremacy, and imperialism have led us here. If we want a world that includes public goods like the library, we must organize our collective power and wield it. The American Library Association offers us a set of tools that can harness our energies and build those capacities."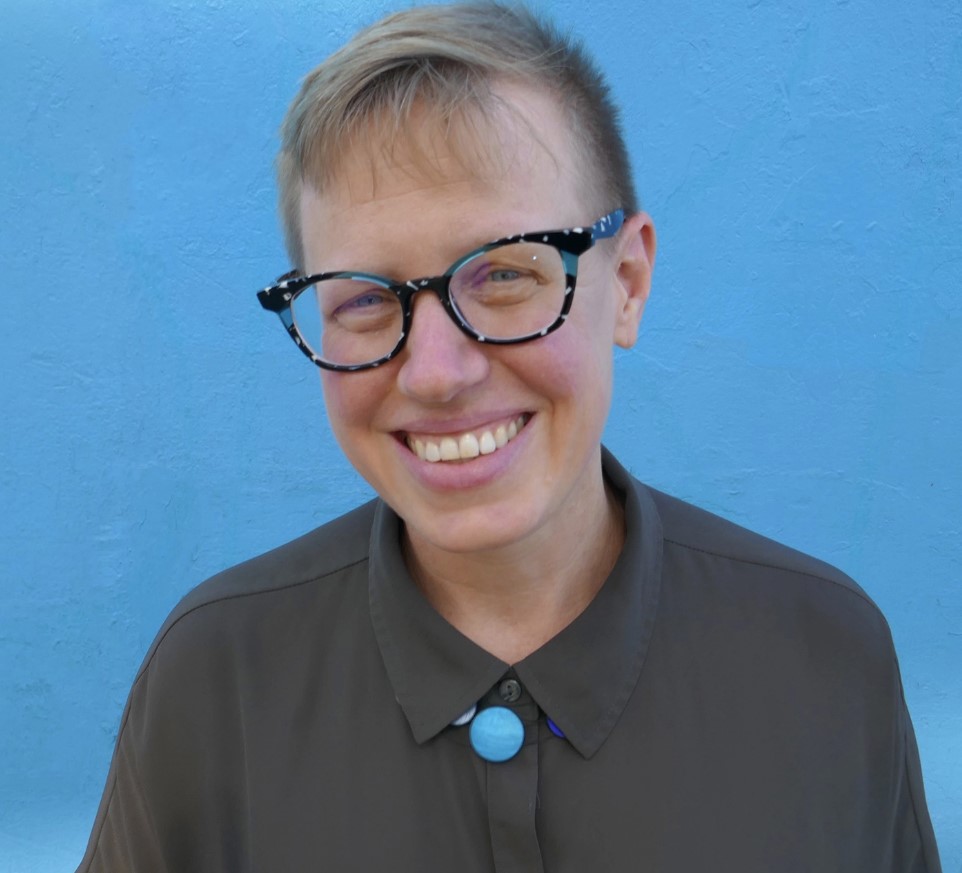 Emily Drabinksi
After Drabinski won, she posted on Twitter: "I just cannot believe that a Marxist lesbian who believes that collective power is possible to build and can be wielded for a better world is the president-elect of @ALALibrary. I am so excited for what we will do together. Solidarity!"

The influential Chicago-based Fobazi Ettarh, 32, who was most recently a librarian at Rutgers, is another example of what many call a modern "radical librarian." Ettarh, who is also an educator and writer, says she represents "librarianship, education, activism, and all the intersections in between."

"People that say what librarians do in their own time, out of the library, is their own business. As if white supremacy is something you only do on weekends," she wrote on her "WTF Is a Radical Librarian Anyway?" website.

"It is time to stop being shocked. [People of color] have been telling you this forever. Trans people have been telling you this forever. The disabled. The queer. Librarianship is not the last bastion of democracy. It is not inherently good and sacred. It is an institution. And like other institutions it is riddled with white supremacy, racism, homophobia, transphobia, ableism, and so on, and on, and on... This is who we are."


Supporters of so-called "woke" libraries say they simply want their facilities to be more diverse and inclusive when it comes to gender and race ideology. Opponents say that young children should not be exposed to books like Juno Dawson's "This Book is Gay," (a current No. 1 bestseller on Amazon), "Genderqueer" and "Lawn Boy," which they say depict too-graphic illustrations of gay sex and are freely available to youths at public libraries.

Drag Queen Story Hour, which was launched in San Francisco in 2015, has become a mainstay for children at libraries all over the US and the UK. Drag queens in full regalia perform for children as young as two and three. Though at least two registered sex offenders were found to have been among the drag queens performing at a Houston public library in 2019, the program is still going strong.

Some librarians are fed up with the radical atmosphere. A 50-year-old male in a Western state, who did not want to be identified, said he arrives at work an hour early every day to avoid the younger library staff who he said are "totally woke and radical."

"It's all about the ALA here," he said. "They're the boss. Libraries want to be accredited by the ALA so they do whatever they say. They'll enact their policies across the board and it's insufferable. Librarians are some of the most dangerous people in society. They are very well-organized and they communicate very well. Libraries are lost. They are rotten to the core. So much money has been dumped into them by organizations with agendas."

The ALA first began getting major funding in the late 1990s from the Bill and Melinda Foundation and George Soros' Open Society among other progressive organizations. At its most recent conference, panels included subjects such as "Addressing Critical Race Theory Challenges in Your Library" and "Inspiring the Next Generation to Champion Social Justice through Speech and Debate."

Wow. Bill Gates and George Soros are funding this. What a surprise.
A couple of weeks ago I wrote about a Michigan town that was forced to defund their library because their radical librarian refused to stop handing out pornographic books to children.
Don't comment on old post; the comment system will ban you, because comment-spammers tend to spam old posts.
Once again, I offer a content warning as I point to this article, which shows you the graphic drawings of boys giving each other oral sex, which these woke librarians insist children must have access to.
As I wrote there:
The group Gays Against Groomers makes a point about this: the groomers are using the Rainbow Flag as cover for their grooming and actual pedophilia. No one, but no one, would ever say that it's okay to give a kid a comic book showing kids sucking each other off if the kids were straight; but now we say "Oh but this is a gay coming of age story!," and everyone is supposed to say, "Oh well then it's perfectly okay to distribute pornography of underaged children performing sodomy on each other! Why didn't you say so right away?!"
It's being asserted that if you just stick a Rainbow Flag on what would otherwise be acknowledged to be child porn, the Rainbow Flag washes the sin away and makes it clean and pure.
No it does not. The Rainbow Flag is not some kind of dispensation from God making Minor Attracted Person material, including sexualized drag shows, acceptable for viewing by children.
The gay lobby and their leftwing straight "allies" are doing gays no favors in the court of public opinion by endorsing this bizarre regime of "It's OK If It's Gay" dispensation for child sexualization.
I can't believe anyone even has to explain this.
Let me put this in a way that Twitter Liberals can understand: "Um, it's a *bad look,* guys."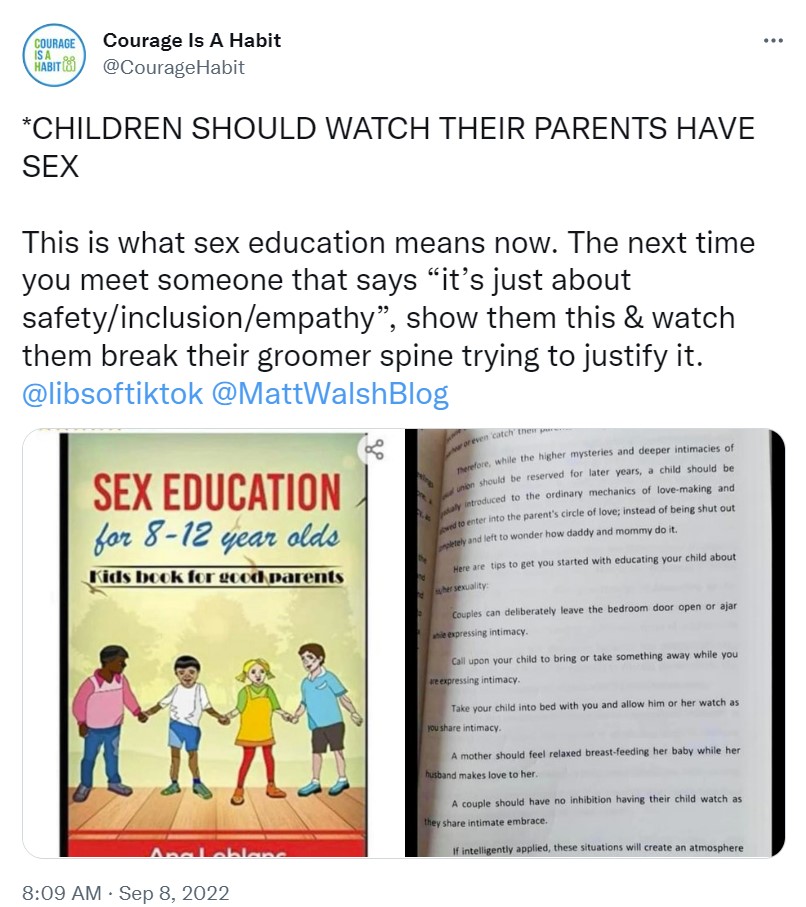 posted by Ace at
04:23 PM
|
Access Comments