« Quick Hits
|
Main
|
Zaslav Cancels Woke Ellen DeGeneres Cartoon Aimed At Children »
August 25, 2022
Washington Post: A Michigan Town Defunds Their Local Library Over the Librarian's Insistence on Lending the Gay Pornographic Comic Book for Children Gender Queer Out
Oh no! It's as if citizens have the right to decide what their tax monies will be spent upon, rather than an intransigent civil service reactionary pink-haired leftist paid by those taxes!
A community wanted the local library that their tax dollars funded to stop lending out the gay pornographic graphic novel (comic book) "Gender Queer" (aka "Toni Morrison's Beloved, as Hot Air readers might know it, as that's the only way AllahPundit refers to it).
The librarian refused.
The town defunded the library.
The Washington Post is sad, and demands that underaged children have access to gay pornographic comic books.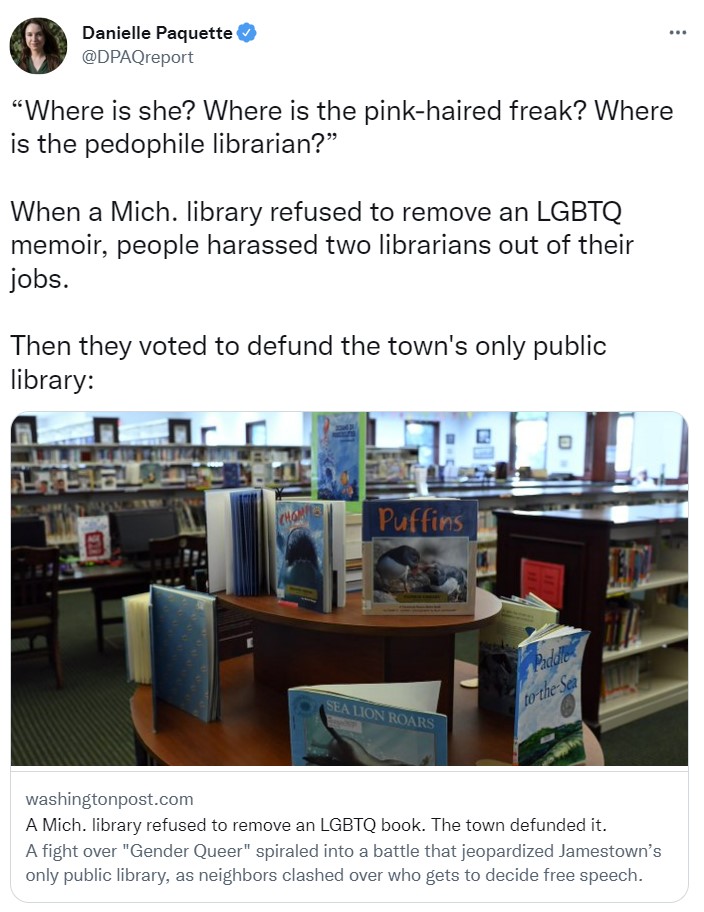 To librarians had quit since the trouble began, and Kaitlin McLaughlin didn't want to be the third.

But the same term kept coming up in board meetings and on yard signs, making her feel awkward and wrongly accused: grooming.

People in this western Michigan farming town said the Patmos Library was "grooming" children and, according to fliers that one group printed, promoting an "LGBTQ ideology." They said bookshelves meant for young readers featured same-sex pornography.
It does. It has drawings of a man -- or an "older teen" -- literally putting his dick into a boy's mouth.
If you don't believe me, a picture of that is at the top this article. It's called "Toni Morrison's Beloved -- AllahPundit's Quest for Artistic Freedom."
Librarians have twisted into pretty sick creatures. Communities have repeatedly told them: You can carry pornographic books if you like, but make them age-restricted so that our children cannot access them. You know, the way children are not allowed generally to watch pornographic movies, view pornographic magazines, or peruse the shelves of pornographic book-shops.
Time and time again librarians have haughtily refused, citing some non-existent right that children have to view pornography.
One suspects they just don't want to be hassled checking IDs, or making a special adults-only aisle.
Actually, I don't suspect that. They have really made this a defining dogma of their silly profession.
But librarians across the country have repeatedly insisted that when children come into the library, they may read any pornographic book they like, or watch any X-rated movie the library might have.
Or view any x-rated content on the library's computers over the internet.
These bitter twisted freaks just keep insisting that "information wants to be free" -- in children's pants.
They live very lonely, boring, useless (and usually childless, go figure) lives and have decided they will make their Drama in providing pornography to children against parents' wishes, and call themselves Heroes for standing up to the Squares.
They called the staff pedophiles, McLaughlin said. Then one August morning, they voted to defund Jamestown's only public library, jeopardizing the institution's future as neighbors clashed over who gets to decide free speech in this deep-red corner of America.

"I'm not a 'groomer,' " said McLaughlin, 34, gathering children's books for a lunchtime story hour. "I'm not a pedophile. I'm afraid of what people see when they look at me."

The vitriol in Jamestown spiked with the rise of groups campaigning across the United States to banish texts with LGBTQ characters, accusing authors, teachers and librarians of trying to brainwash the nation's youth. The American Library Association said it counted an "unprecedented" number of book ban attempts in 2021, noting that most of the titles dealt with sexual orientation, gender identity or racism.

Americans have long sought to censor literature -- "Uncle Tom's Cabin" was an 1852 target for its anti-slavery message -- but debates over transgender rights and critical race theory have lately spawned aggressive grass-roots movements to control the worldviews shared with children.
I don't remember Uncle Tom's Cabin being filled with pictures of man's dicks in boy's mouths.
...

The National Library Association's young adult branch named 10 winners in 2020, including a post-apocalyptic thriller about a boy searching for his lost dog, a science-fiction horror about twins with superpowers and a memoir about growing up nonbinary called "Gender Queer."

Amber McLain, the library's director at the time, ordered a copy of each. Pink-haired and openly queer, the 30-year-old stood out in a county that hadn't backed a Democrat for president since 1864. Yet people embraced McLain, her former colleagues and patrons said.

"She helped bring my son out of his shell," said one mother, Sara Crockett, checking out a STEM toy kit on a recent afternoon. "He'd light up when he saw her."
"I miss Miss Amber," 5-year-old Cecil said, clutching her hand.

Nobody complained about McLain until last November, after video of a Virginia mother condemning "Gender Queer" as "pornographic" took off on social media and protests against the memoir spread nationwide.

The 239-page graphic novel contains illustrations of masturbation, a sex toy and oral sex, as well as depictions of menstrual blood. Fans saw the scenes as part of the author's coming-of-age experience, while critics blasted them as sabotage to developing minds. "Gender Queer" became the most banned book of 2021.

Some parents found a copy in the Patmos Library and created a Facebook group called "Jamestown Conservatives" pushing for its removal. One of the organizers, Lauren Nykamp, declined to be interviewed but responded to some of The Washington Post's questions over text. "This is not about LGBTQ material," she said. "It is about sexualized material."
Obviously, yes.
The group Gays Against Groomers* makes a point about this: the groomers are using the Rainbow Flag as cover for their grooming and actual pedophilia. No one, but no one, would ever say that it's okay to give a kid a comic book showing kids sucking each other off if the kids were straight; but now we say "Oh but this is a gay coming of age story!," and everyone is supposed to say, "Oh well then it's perfectly okay to distribute pornography of underaged children performing sodomy on each other! Why didn't you say so straight away?!"
It's being asserted that if you just stick a Rainbow Flag on what would otherwise be acknowledged to be child porn, the Rainbow Flag washes the sin away and makes it clean and pure.
No it does not. The Rainbow Flag is not some kind of dispensation from God making Minor Attracted Person material, including sexualized drag shows, acceptable for viewing by children.
The gay lobby and their leftwing straight "allies" are doing gays no favors in the court of public opinion by endorsing this bizarre regime of "It's OK If It's Gay" dispensation for child sexualization.
I can't believe anyone even has to explain this.
Let me put this in a way that Twitter Liberals can understand: "Um, it's a *bad look,* guys."

* Banned from Twitter. Obviously. You can groom on Twitter, you just can't be against grooming on Twitter.

posted by Ace at
05:06 PM
|
Access Comments