« The Saturday Morning Coffee Break & Prayer Revival
|
Main
|
Saturday Gardening, Puttering and Adventure Thread, August 20 »
August 20, 2022
Politics channels dopes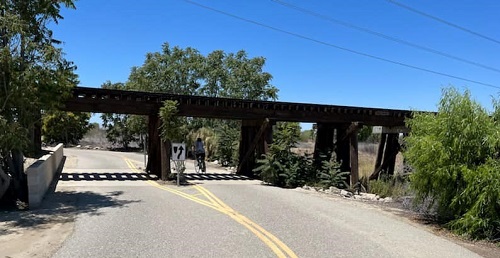 21st Congressional District Voter biking near the Kern River
The FBI and IRS Target a Democrat
Well, today I am starting off with a sort of local story. On Wednesday the 17th, you may recall this piece from J.J. Sefton's Morning Report from Joel Pollak: Former Democrat Congressman T.J. Cox Indicted on 28 Counts of Fraud. It's a good, short piece:
Former Rep. T.J. Cox (D-CA), who was part of the 2018 "blue wave" election that brought Democrats and Speaker Nancy Pelosi (D-CA) back to power, was indicted Tuesday on 28 federal counts, including fraud and campaign contribution fraud.

Among the charges is one that Cox fraudulently claimed to have purchased a property as his primary residence. Cox faced allegations during the 2018 campaign that his real "principal residence" was in Maryland and that he did not actually live in California. It is unclear whether the indictment concerns Cox's attempt to prove that he lived in California in that race.
I haven't seen that in other pieces, but it reminds me of another person in the news who lives in Maryland while representing people elsewhere.
There is a discussion of legal ballot harvesting connected to his 2018 win in this piece, too.
From the DOJ press release:
A 28-count indictment was unsealed today in the Eastern District of California charging a former member of Congress with multiple fraud schemes and campaign contribution fraud.

Terrance John "TJ" Cox, 59, of Fresno, is charged with 15 counts of wire fraud, 11 counts of money laundering, one count of financial institution fraud, and one count of campaign contribution fraud.

According to allegations in the indictment, Cox perpetrated multiple fraud schemes targeting companies he was affiliated with and their clients and vendors. Cox created unauthorized off-the-books bank accounts and diverted client and company money into those accounts through false representations, pretenses and promises. From 2013 to 2018, across two different fraud schemes, Cox illicitly obtained over $1.7 million in diverted client payments and company loans and investments he solicited and then stole.
There is more.
I first learned about this story from the radio while riding back from Fresno after surgery. I had been under conscious sedation, so I might get some details wrong, but he was arrested at the federal courthouse in Fresno and soon after that, someone stuck a microphone in his face. I heard a vague statement about how he had not read the indictments and how politics was tough and how he would not be there now if it weren't for politics.
Well, he would not have faced the campaign-related charges, but what about the tax charges and the business fraud charges? Would he have been a fine, upstanding citizen if he had steered clear of politics? Was he being framed?
The charges seem really serious:
This case is the product of an investigation by the Federal Bureau of Investigation and the IRS Criminal Investigation. Assistant U.S. Attorneys Henry Z. Carbajal III and Jeffrey A. Spivak are prosecuting the case.

Nearly six hours after being arrested TJ Cox pleaded not guilty during his arraignment in Fresno federal court Tuesday afternoon. The judge agreed to release the former congressman without bail on three conditions. He has to surrender his passport, not contact witnesses in the case, and have no control over financial matters.

If convicted, Cox faces a maximum statutory penalty of 20 years in prison and a $250,000 fine for wire fraud and money laundering.

He faces a maximum statutory penalty of 30 years in prison and a $1 million fine for wire fraud affecting a financial institution and financial institution fraud.

He faces a maximum statutory penalty of five years in prison and a $250,000 fine for campaign contribution fraud.
* * * * *
The "daily buzz question" from the radio station concerned whether or not we thought the charges against Cox were politically motivated.
What do you think?
The New York Times pointed out that "In recent months, the Justice Department has pursued a handful of cases against Democratic officials."
That proves that they are not just targeting Trump and his supporters. Right?
Has Cox lost favor with Democrats?
How did Cox go from being a big wheel in Fresno to a representative of an even more rural district?
The 21st Congressional District
This congressional district is very rural, and BIG. Well, not as big as, say, Wyoming. But still, it stretches through parts of Kern County, all of Kings County and parts of Tulare and Fresno Counties. If you have ever driven along the I-5 from Los Angeles to San Francisco or flown your plane into Harris Ranch for a steak, you have been to the 21st District.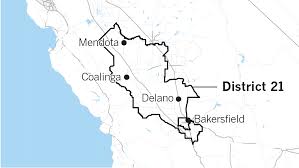 Much of this land is in the rain shadow of the Coast Range, and is dependent for water on the California Aqueduct and canals from the Sierra for water. Thus, it is very dependent on government decision-makers. There are oil and mining interests as well as farms in the district. Even though there are a lot of conservative people in the district, there are also a lot of old-fashioned labor union type activists representing farm workers as well as newer "Erin Brockovich" type activists (the movie was about a town in this district). As of 2022, it is the most Democratic district to be represented by a Republican. David Valadao, the current representative, is one of the few Republicans who voted to impeach Trump.
Politics in the 21st District
Devin Nunes once represented the district, but the boundaries have not always been the same. He represented the 22nd congressional district from 2003 to 2022. He was a bulldog as Adam Schiff engaged in serial lying during the Russia Collusion miasma.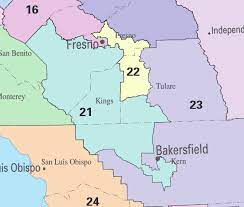 Nunes is something of a contrast to Valadao. Still, Valadao seems preferable to Cox, who won by just a few votes in 2018 long after election day. It was the last election decided that year. There seemed to be something fishy about the late votes coming in.
When Cox first ran in the district, he live a little outside of it and was known as a Fresno community development leader. That is, he got grants for development projects. And, as we learned later, scammed his business partners and others. From what I have read, all of the federal charges are from before he was elected in 2018.
March of 2018:
"Obviously the DCCC doesn't think too highly of any of the residents of California's 21st Congressional District. Instead, they have decided Washington insiders know best, coercing out locals and running their own handpicked candidate," wrote Cole Rojewski, campaign spokesman for Valadao.

The "local" he is referring to is Huerta, the son of farm labor icon Dolores Huerta, who was the only opponent facing Valadao until this weekend when he announced he would drop out of the race. . .

"I decided it would be best for everyone - particularly the rural communities in the 21st - for me not to run," Huerta said. "I wanted to preserve the opportunity for us locally and the Democratic Party to flip that seat. The fight is against Valadao."

Cox appears to have more financial resources than Huerta did.

According to Federal Election Commission filings, Cox raised more than $408,000 in the second half of 2017.

About half of that was a personal loan from Cox to his campaign.

But $200,974 of those contributions were from donors. Cox raised in six months more than twice what Huerta raised in a full year of fundraising in 2017. He said he will be able to transfer those funds from his 10th District race into the 21st District.
Unfortunately for Cox, it appears that part of the contributions from donors were from money he gave to the donors to contribute back to his campaign. Those are some of the charges made against him this week. Campaign finance laws can cause problems for "the little people", but this guy seemed to go way beyond breaking the rules in one area of the law.
Cox was criticized for pushing to gain preferential access into Yosemite National Park over the July 4 weekend. In October 2020, Cox's campaign acknowledged fabricating a tweet to make it appear as if Valadao had retweeted a message from President Trump saying "California is going to hell. Vote Trump!"
I remember the news about the July 4 weekend. Didn't seem like a real big scandal to me. The fabricated tweet is really creepy. There were rumors about problems with taxes and business dealings, but they seemed kind of vague. Not anymore, I guess. Cox's time in Congress seemed kind of vague, too. Anyway, Valadao won the seat back in another squeaker. Before the Cox scandals really hit.
Valley politics could use some upgrading.
I wonder if Cox thought he would be able to skate forever?
* * * * *
Think Piece for the Weekend
Remember this tweet about from Kurt Shideler?
There's a follow-up. A really detailed follow-up.
You got me. I have never yet written a serious word about the left's desire to make war on half the country. I will do better.
Here's "better":
How the government shifted its "Counter-Extremism" strategy to target the mainstream.
The narrative is here, and it doesn't like you very much.

In recent remarks before members of the U.S. House Homeland Security Committee, the chief of the D.C. Homeland Security and Emergency Management Agency claimed that domestic extremism has become "part of the cultural mainstream."

Former DHS official and USA Today contributor Elizabeth Neumann agrees: "Far-Right Extremists went mainstream under Trump."
"Extremists have gone mainstream," echoes journalist Zahra Ahmad. "Lawyers, realtors and every-day folks make up their ranks." Ahmad cites a figure suggesting a quarter of Americans hold "ideas incubated by white nationalists."

Not to be left out, NPR warns that white extremism "seeps" into the mainstream. The Atlantic says the mainstream has gone extremist too. A study by the Chicago Project on Security and Threats warns that most January 6 "insurrectionists" were mainstream to the extreme:


They work as CEOs, shop owners, doctors, lawyers, IT specialists, and accountants. Strikingly, court documents indicate that only 9 percent are unemployed. Of the earlier far-right extremist suspects we studied, 61 percent were under 35, 25 percent were unemployed, and almost none worked in white-collar occupations.



The Chicago Project is led by Robert Pape, a University of Chicago academic best known for declaring that Islamic extremism plays no role in suicide bombings and who once urged a U.S. government-identified front group for the terror organization Hamas to purchase copies to promote his book. So it's an open question whether Pape and company can actually identify extremism when they see it.

But what does it say about America's elites--security officials, academics, and media personalities--that they are all convinced that those holding the prevailing attitudes and values of our society are a dangerous threat? And a threat to whom?
There's a question you don't often see: "A threat to whom?"
Then Shideler tackes the questions, How did we get here? And What do we do about it?
He goes back to decisions made early in the War on Terror. Other decisions built on those, and gradually, the official narrative became ridiculous. People turned into dopes.
Anyway, read the whole thing. The last heading in the piece is correct:
The Elites are the Extremists
* * * * *
Music
* * * * *
Hope you have something nice planned for this weekend.
This is the Thread before the Gardening Thread.
Serving your mid-day open thread needs
* * * * *
Last week's Thread, August 13, Yes, woke institutions really are that bad
Comments are closed so you won't ban yourself by trying to comment on a week-old thread. But don't try it anyway.
* * * * *
Trivia:
When Bakersfield was first settled downstream from its present location, it was so swampy that many people, especially children, died from various fevers. The town was moved. These photos are from somewhere on the Kern river: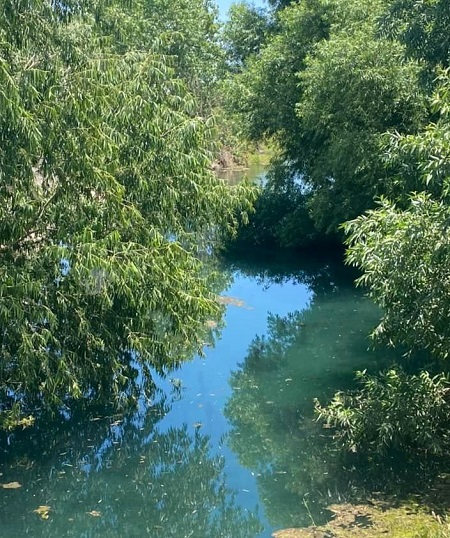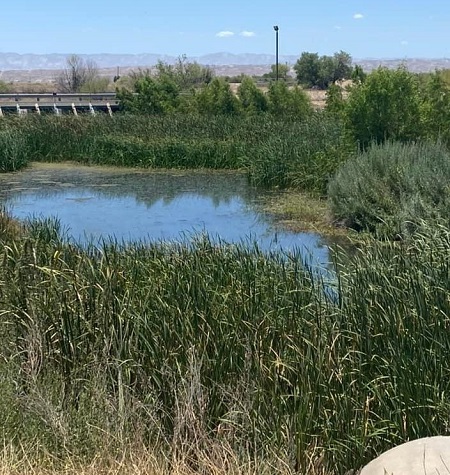 posted by K.T. at
11:08 AM
|
Access Comments