« Wednesday Morning Rant [Joe Mannix]
|
Main
|
"Batgirl" Film Was Nearly Completed and Cost Between $70 and $100 Million, But Test Audiences Found It "Unspeakable" »
August 03, 2022
Noted Leftwing Blogger Announces He'll Be Leaving a Right-Leaning Blog
What an idea -- that a paid, professional "conservative media" should, occasionally at least, feature actual conservatives working for it.
Allahpundit
@allahpundit

Personal news: My last day at Hot Air will be Friday, September 2
People asked him where he's going next. He put up an emoji claiming he didn't know.
I don't believe him. I think Hot Air's Official Bulwark Linker has a very, very good idea where he'll be at next.
This is his current quote in his twitter bio:
Allahpundit @allahpundit

If something can't go on forever, it won't
Hear, hear.
Some of Allah's biggest fans said goodbye:
David Frum @davidfrum

Replying to @allahpundit

End of an era!
Erick Erickson @EWErickson

Replying to @allahpundit

Hell of a run, man. God bless and all the best.
Maggie Haberman @maggieNYT

It's a loss. Your stuff is consistently worth reading.
In addition to being Hot Air's Official Bulwark Linker, AllahPundit was also Hot Air's Official Daily Beast Linker. He often linked to Justin Baragona of the Daily Beast, who's very sad.
Justin Baragona @justinbaragona

Replying to @allahpundit

Really???
What's interesting is that people from the Bulwark are not publicly sending him well-wishes, because, of course, he speaks to them through private direct messages and he almost certainly told them not to make their fandom public, because, you know.
It would make obvious what is already obvious.
The Dispatch people are also refusing to publicly acknowledge their great appreciation of AllahPundit, despite him also being Hot Air's Official Dispatch Linker. Perhaps there's some competition for his dubious talents...?
Very strange that the people who obviously slack-chats with all day long are deliberately avoiding any comment on his departure.
Here are the accounts I checked, as of 11:30 a.m.: Bill Kristol, Sarah Longwell, Jim Swift, Amanda Carpenter, UrbanAchievr/Christian Vanderbrouk (who AllahPundit has specified as a "pal"), Charlie Sykes, Jonathan V. Last, his terrible wife Shannon Last (who really seems to know her way around a box of wine), Jonah Goldberg, David French.
All of these people are Twitter addicts, like AllahPundit himself.
None of these people -- all of whom Allah links constantly (except Shannon Last, who is merely a Twitter Pestilence) -- are mentioning the guy who throws them traffic week-in, week-out.
None of them. They all somehow missed his tweet, and the replies to that tweet from all the people they follow.
That's not coincidence; that's coordination.
It would be too obvious, so they've agreed to say nothing. They know everyone suspects he's Bulwark Bound so they've all agreed to pretend he's not.
They're corrupt in the Big Things; they're equally corrupt in the Little Things, like this.
They're just corrupt as a default mode.
If you're worried about ol' Allah, don't be. He's got all that Pierre Omidyar grifter money coming -- the NeverTrumpers are the highest paid fringe political group in history -- and he's still doing what he loves to do, trolling conservatives.
The guy who is forever complaining about conservatives forever "owning the libs" continues perverting what is supposed to be a "news site of conservative views and opinion" into a nonstop exercise in "owning the cons:"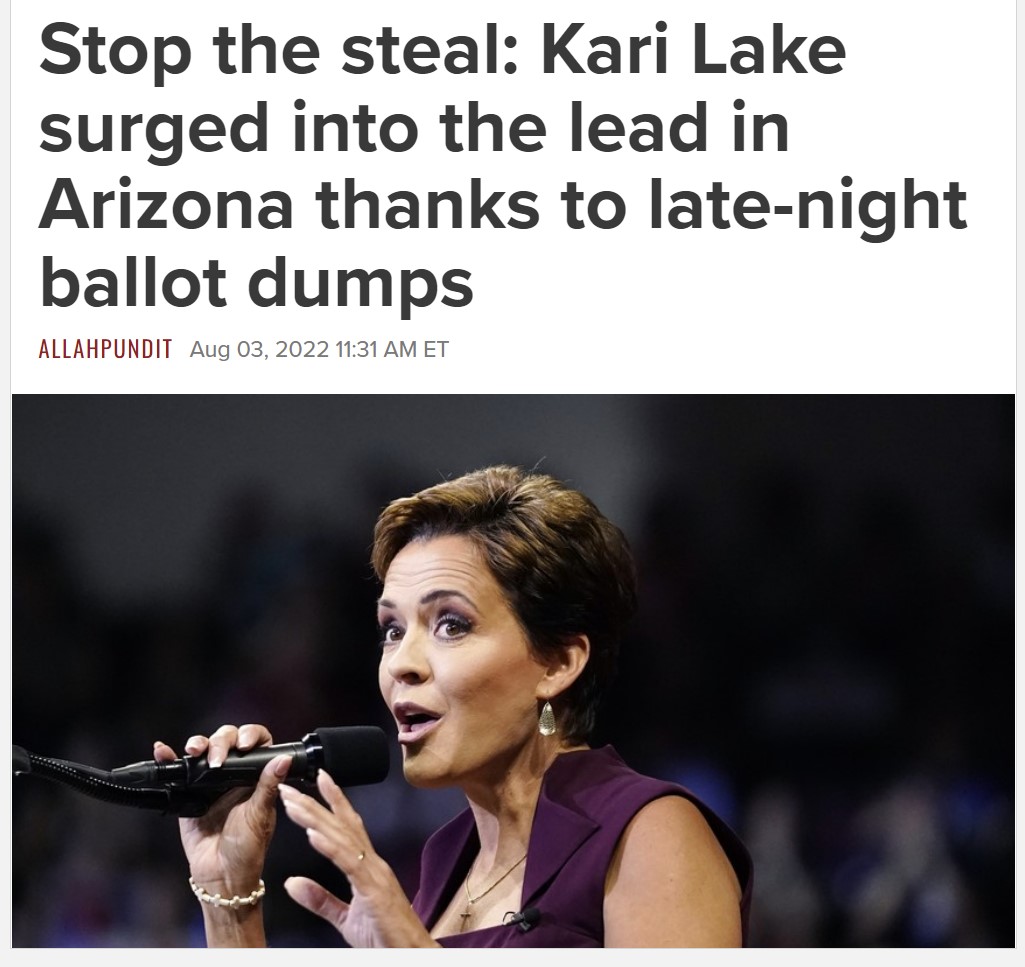 Meanwhile, AllahPundit's next boss is making The Conservative Case of the Democrat Party's Abortion Policy:
Bill Kristol @BillKristol

"Republican Voters against Alito"?

A short [thread]
He used the emoji for a roll of thread there, because he is demented and regressing into a childlike, and yet still very aged, state.
All Twitter Addicts attempt to portray themselves as tweenagers.
Some do this because they like LARPing as young people. Some do it hoping they can DM someone younger and cultivate a sex partner. Some are groomers.
As of the count right now, ~450k votes were cast in the KS Republican gubernatorial primary, and ~275k votes in the Democratic primary.

The NO-YES breakdown on the abortion referendum is ~535k to ~375k.

So for simplicity's sake...

2. ...assume everyone who voted in the D primary voted NO on the referendum. There are then an additional ~260k non-Democratic NO votes.

Now many of those come from the ~185K voters who voted in the referendum but in neither primary. Looking ahead to November, that suggests...

3. ...a pretty substantial pool of not-too-partisan independent votes who are mostly pro-choice, that could exist in other states as well. Can they be motivated to turn out for a pro-choice (presumably Democratic) candidate in November?

The Bulwark is "conserving conservatism," everybody.
4. Perhaps more striking, our rough math suggests there were ~75k R primary voters who voted NO in the referendum. That's over 15% of the R electorate. That suggests a lot of potential Republican swing voters for November. If, say, 1/3 of them swing to a D based on abortion...

5. ...that could be the difference in close races in states like AZ, GA, & NC. (And that's to say nothing of the aforementioned non-partisan independents who might turn out.) By the way, is FL more pro-life than KS? I doubt it. Yet isn't Rubio for federal pro-life legislation?
Rubio was of course the safe, young, Establishment-friendly moderate Hispanic Jeb! candidate of 2016.
Now he's an extremist that the "True Conservatives" of NeverTrump are actively targeting.
Because they have always been real conservatives, you know.
6. In sum: KS suggests there could be significant numbers of independent and Rerpublican swing voters in November motivated by the abortion debate. They could be put off, of course, by Democratic extremism on this issue, or other issues could overwhelm this one. Still...

7. ...it does seem possible that the phenomenon of "Republican Voters Against Alito" could be significant in November.

END
I think everyone will be happier when the leftwing blogger who hates conservatives is on the leftwing blog that hates conservatives.
By Populist Request: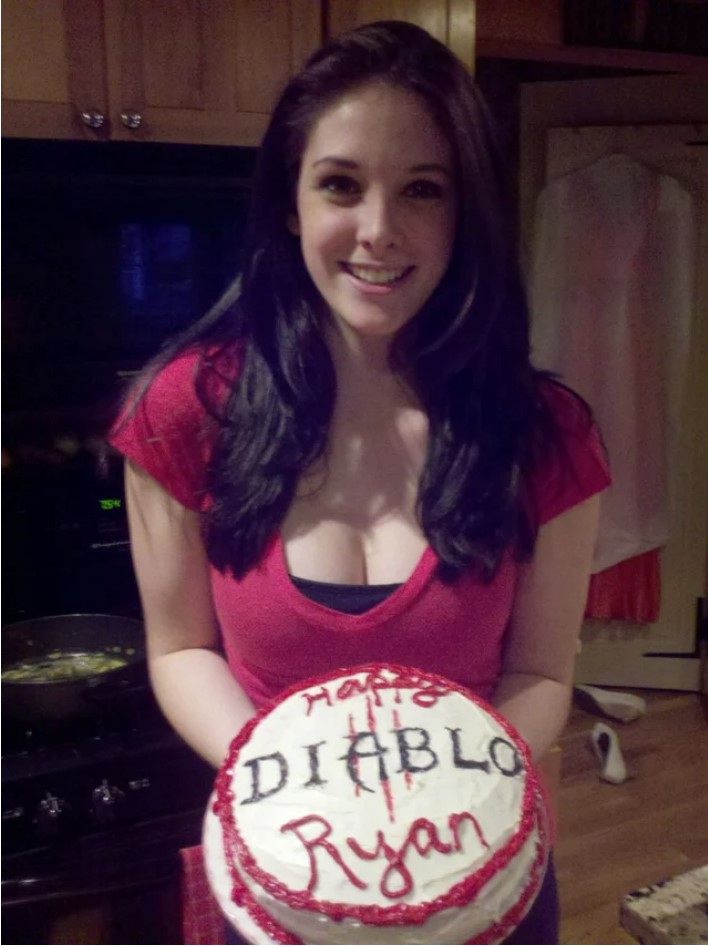 posted by Ace at
11:54 AM
|
Access Comments