« Mid-Morning Art Thread
|
Main
|
LOL: DC Mayor Mad Muriel Bowser Begs National Guard For Help As She's "Overwhelmed" By Illegal Aliens »
July 29, 2022
The Morning Rant: 96% of NOAA Temperature Stations Are Corrupted per Heartland Institute Study
A couple of weeks ago I put up a post about the current heat wave hysteria, explaining how with tens of thousands of weather stations across the US and Europe, and only about 120 years of data, it is a statistical imperative that there will be thousands of "record daily high temperatures" recorded every year, including plenty of all "all time records." In that same piece I referenced how climatistas have no problem using data from obviously corrupted weather stations. I referenced one in Portugal that just recorded a record high temperature for that city. Coincidentally, it sits atop a rock wall and adjacent to a brick wall, both of which retain heat.
Shortly after the post was published, I heard from the folks over at The Heartland Institute who informed me that they were about to release a major research report showing just how badly corrupted NOAA's weather stations are. That report was published two days ago. Here is a link to the story at their website.
This is a link to the actual report: "Corrupted Climate Stations: The Official U.S. Temperature Record Remains Fatally Flawed
In Heartland's own words, "Official NOAA temperature stations produce corrupted data due to purposeful placement in man-made hot spots."
Just how flawed are NOAA's weather stations?
This report finds approximately 96 percent of U.S. temperature stations fail to meet what the National Oceanic and Atmospheric Administration (NOAA) considers to be "acceptable," uncorrupted placement. These findings strongly undermine the legitimacy and the magnitude of the official consensus on long-term climate warming trends.
So just what measurements is Heartland using to discern that the stations don't meet NOAA's guidelines? They used NOAA's own Site Information Handbook.
More from Heartland's report:
The report was compiled via satellite and in-person survey visits to NOAA weather stations that contribute to the "official" land temperature data in the United States. The research shows that 96% of these stations are corrupted by localized effects of urbanization – producing heat-bias because of their close proximity to asphalt, machinery, and other heat-producing, heat-trapping, or heat-accentuating objects. Placing temperature stations in such locations violates NOAA's own published standards and strongly undermines the legitimacy and the magnitude of the official consensus on long-term climate warming trends in the United States.
Yeah, it's hard to put much faith in "climate science" when government-funded climate scientists willingly use corrupted data to produce the result they want. (Or to be more specific, to produce the result they are being paid to produce.)
"With a 96 percent warm-bias in U.S. temperature measurements, it is impossible to use any statistical methods to derive an accurate climate trend for the U.S." said Heartland Institute Senior Fellow Anthony Watts, the director of the study.
The report is actually a follow-up to a report done in 2009, which proved quite embarrassing to the climate community. As documented in this new report, some of the most egregious stations they reported on in 2009 were subsequently closed or moved by NOAA. But as shown in this picture from Cody, Wyoming, NOAA didn't put much effort into improving the quality of the sites. This one was moved from atop a concrete dam to an asphalt parking lot.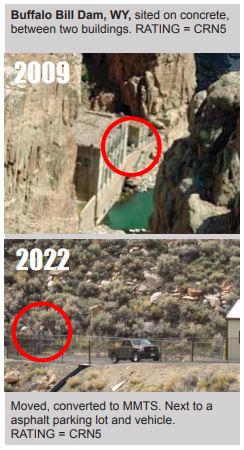 Despite a few changes in locations, NOAA's overall station placements have gotten much worse.
There are an abundance of photos showing weather stations that are obviously not reliable due to how they are situated, but the report also does the scientific work that NOAA apparently won't do, grading these flawed stations using NOAA's own guidelines. They fail consistently.
Here is just one example from Arco, Idaho. The temperature station is on a tiny strip of weeds between a parking lot and a sunlit wall. Below this photo is an infrared photo showing the captured heat of the building. Don't forget that retained heat in the building doesn't just affect high temps, it also inflates daily lows as the building releases its warmth overnight.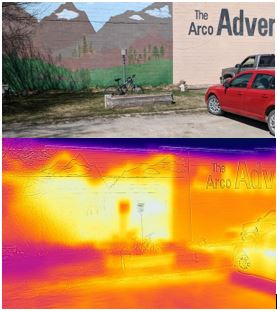 Take a look at this weather station, which sits at the top of a sunlit rock wall in Colfax, CA. Those rocks are holding a lot of heat. And get this, this weather station formerly sat in a grass field at this firehouse, but during a building renovation the weather station was moved to this corrupted site.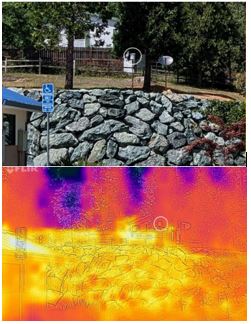 There are dozens more photos like this.
Corrupt data is being used by corrupt scientists to promote a corrupt eco-hysteria. When only 4% of NOAA's weather stations can accurately produce weather readings that comport with scientific standards set by NOAA itself before it became hopelessly politicized, I will limit myself to believing only 4% of anything climate scientists tell me.
(buck.throckmorton at protonmail dot com)


posted by Buck Throckmorton at
11:00 AM
|
Access Comments