« The Morning Rant: Is JP Morgan's Wokeness a Smokescreen to Hide a Culture of Corruption?
|
Main
|
Lesbian Bar Shuts Down After a Week, Due to Staff and Patrons Complaining It's Not "Woke" Enough »
July 22, 2022
New York Republican Gubernatorial Candidate Lee Zeldin's Knife-Wielding Attacker Immediately Released With No Bail
Of course.
The Regime gives a green light to the crimes it supports.
Larry O'Connor
@LarryOConnor


The State of New York immediately releasing @leezeldin's attacker with no-cash bail is the best argument for electing Lee Zeldin that Lee Zeldin could have made.
Kyle Shideler
@ShidelerK



If @leezeldin was a Democrat, his attacker would be facing terror charges from a federal jail and everybody knows it. A two-tiered system of justice is not sustainable.

Deb Heine notes that New York Governess Kathy Hochul has been using eliminationist language regarding Republicans and her opponent, all but "putting a target" on them, as the left once accused Sarah Palin.
Thursday morning, Hochul fired off an email to her supporters inaccurately describing "Big Lie Lee" and his entourage as "far right extremists" who were kicking off a "MAGA Republican" bus tour across the state to "peddle dangerous lies, misinformation, and his far-right agenda."

...

Her campaign website uses the same inflammatory eliminationist language, describing Zeldin as an "anti-abortion extremist" on the "extreme fringes of the party," and in league with "insurrectionists."
Here's the weapon that Hochul's Hitman was preparing to gouge Hochul's opponent with: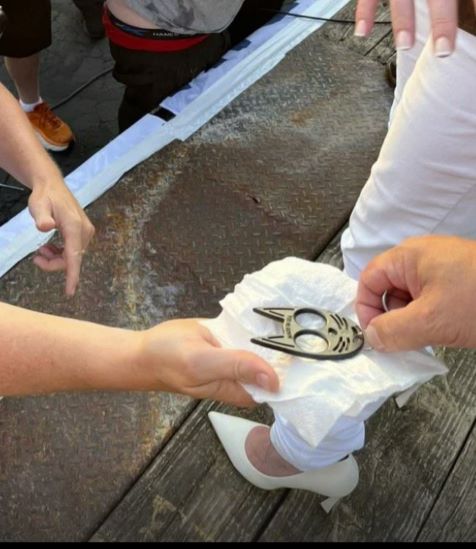 She branded him an "extremist" who is "dangerous" for New York in an internet campaign ad -- a threat, in other words, that must be stopped, by any means necessary. See the link for that.
Nice Deb also reports that Zeldin predicted his would-be assassin would be immediately released without bail.
@leezeldin His words as he tried to stab me a few hours ago were "you're done", but several attendees, including @EspositoforNY, quickly jumped into action & tackled the guy.

Law enforcement was on the scene within minutes.

The attacker will likely be instantly released under NY's laws.
You don't have to be a psychic to predict these things. You just have to pay attention.
Lee Zeldin gave a press conference today, speaking a lot about reforming New York's insane laws.
Here's video of the Hochul's Hitman seizing Zeldin by the arm and brandishing an odd-looking knife as he says "You're done."

posted by Ace at
12:02 PM
|
Access Comments