« A Short (I Hope) Open Thread
|
Main
|
Washington Post: Right-Wing Critics Got "Confused" In Claiming That Trump Was Riding In "The Beast," Rather Than in an SUV »
June 29, 2022
Noted "Conservative" Legal Analyst Andy McCarthy of NRO and the Rest of the NeverTrump True Conservative All-Stars Go Balls-Deep on Madison Cornbread's "He Lunged For the Wheel" Hoax
Another absurd hoax pushed on us by the left, which NeverTrump/Conservative, Inc. humiliatingly fell for.
You know, the Smart Ones who are Nobel and Always Tell the Truth.

After all of Madison Cornbread's third-hand hearsay "I heard it from Casey who heard it from Jace who heard it from Brandon" stories, and all the media's armageddon-level promotion of the story, it turns out it was all just the latest RussiaGate-style hoax.
Secret Service lead and presidential driver are prepared to testify under oath that Trump did NOT grab steering wheel or lunge at agents to drive himself to Capitol on January 6

Bobby Engel, the lead agent on Trump's detail, and the presidential driver at the time are prepared to testify under oath to the committee that Hutchinson's testimony is incorrect, according to multiple news outlets

'I'm the effing president, take me to the Capitol now,' Cassidy Hutchinson, Mark Meadows' top aide, said Trump ordered
Peter Alexander @PeterAlexander

NEW: @SecretService spox Anthony Gugliemi tells me the agents in Trump's presidential SUV are "available to testify under oath, responding to [Hutchinson's] new allegations." (1/2)

A source close to the Secret Service says both men dispute Trump grabbed the steering wheel or assaulted an agent. They do not deny that Trump was irate and demanded they drive to the Capitol. (2/2)
Irate that his driver and bodyguards were refusing a direct order and were essentially kidnapping him? Yeah, I can see that.
The important thing is that these men could have been asked about this before Madison Cornbread was put on stage to relay her false story.
In fact, they almost certainly were asked about this. From AllahPundit's own humiliating climbdown:
I'll leave you with Jake Tapper grilling committee member Jamie Raskin this afternoon about Hutchinson's SUV story. Did you corroborate it with other witnesses, Tapper asks? Raskin is evasive. The best he can do is say that nothing he's aware of contradicts what Hutchinson said, which is ... not corroboration.
It's almost as if he knows Madison Cornbread is offering a hearsay tale that none of the first-hand witnesses attest to, but they're calling Madison Cornbread to the stand instead of them because they like her lies better than their truth.
I noted in this afternoon's post that the January 6 committee has already interviewed Engel. Maggie Haberman reports that they interviewed Ornato too, many months ago. I assumed they had already corroborated the details of the SUV incident with the two of them and were having Hutchinson tell her story today in anticipation of Engel and Ornato telling it themselves in future testimony. Otherwise, why the hell would they have Hutchinson pass on a story second-hand on national television which might not bear out under scrutiny, causing it to blow up in their faces?
Um, they put Madison Cornbread on for the same reason crooked prosecutors put on a lot of hearsay witnesses -- because the actual witness, the ones that the hearsay witness is supposedly repeating the words of, actually disputes and denies the words the hearsay witness attributes to him, and the crooked prosecutors prefer the story the hearsay witness tells. So they call the hearsay witness rather than the actual first-hand witness and just pretend the first-hand witness doesn't exist and hope no one thinks to ask the first-hand witness.
You can get away with this in situations where the game is rigged and there is no opposing side to ask questions or call adverse witnesses. Like on the January 6 committee.
I assumed too much, it seems. And as others have noted, it *is* strange that this explosive account of what happened in the vehicle never once leaked in 17 months before today.
They put on the lie because they need to stoke public interest in this rehash of the second impeachment hearing and, like the media they're playing to, they are perfectly fine running lies for clicks and ratings. If necessary, they will append a teeny-tiny "Clarification" to the story a year from now on page 548 of their report.
The Committee deliberately did not ask additional questions of additional witnesses about Madison Cornbread's surprise revelations. They didn't want to fact-check the story and find out it was false, so they chose to do no fact-checking at all.
(Except for the previous fact-checking they'd already done, in which not a single witness ever claimed anything like this every happened.)
And oh, Madison Cornbread also is accused of lying about making a contemporaneous note which she claims proves her current recollection:
Ryan Saavedra @RealSaavedra

BREAKING: Former White House lawyer Eric Herschmann says that it is not true that Cassidy Hutchinson wrote the handwritten note that she testified on Tuesday that she wrote. He says it's not true because he was the one who wrote the note.

But let's believe the other things she says.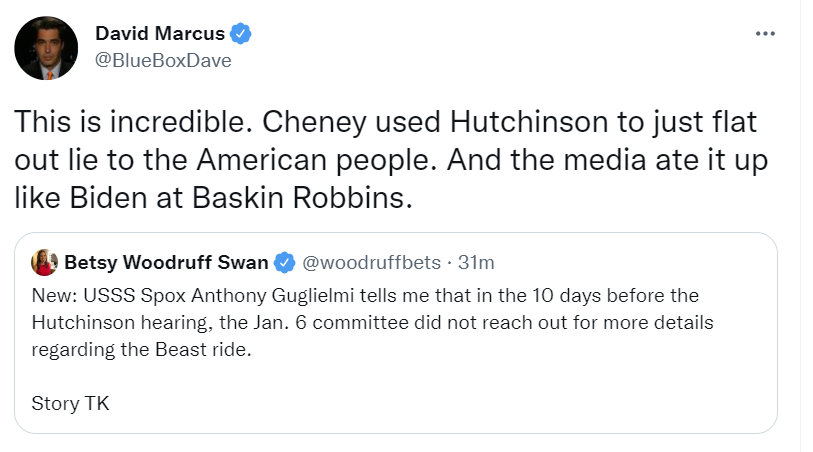 But AllahPundit still believes all their lies. Because he's Smart!
And they're members of his Class! Well, actually, they're not members of his class; they're members of a class several rungs higher than his. But he wants to join their class. He aspires to their class. He identifies with their class, so all their lies are truths!
All of the NeverTrumpers believe the lies of their Very Good Leftwing Media Friends and Twitter Cybersex Partners. They're all in the same class together, or, like AllahPundit, aspire to be part of the same class.
Oh, and meanwhile, all the NeverTrumpers say:
wE'rE tOtAlLy AgAiNsT tHe TrIbAlIsM oF tHe UnDeRcLaSsEs!!!
And we should definitely believe the Crooked Prosecutors of the J6 committee, even though they're resorting to such egregiously-underhanded tactics like this, putting on a hearsay witness you know is testifying to falsehoods while refusing to call the actual witnesses who would contradict her.
Let's believe all the things!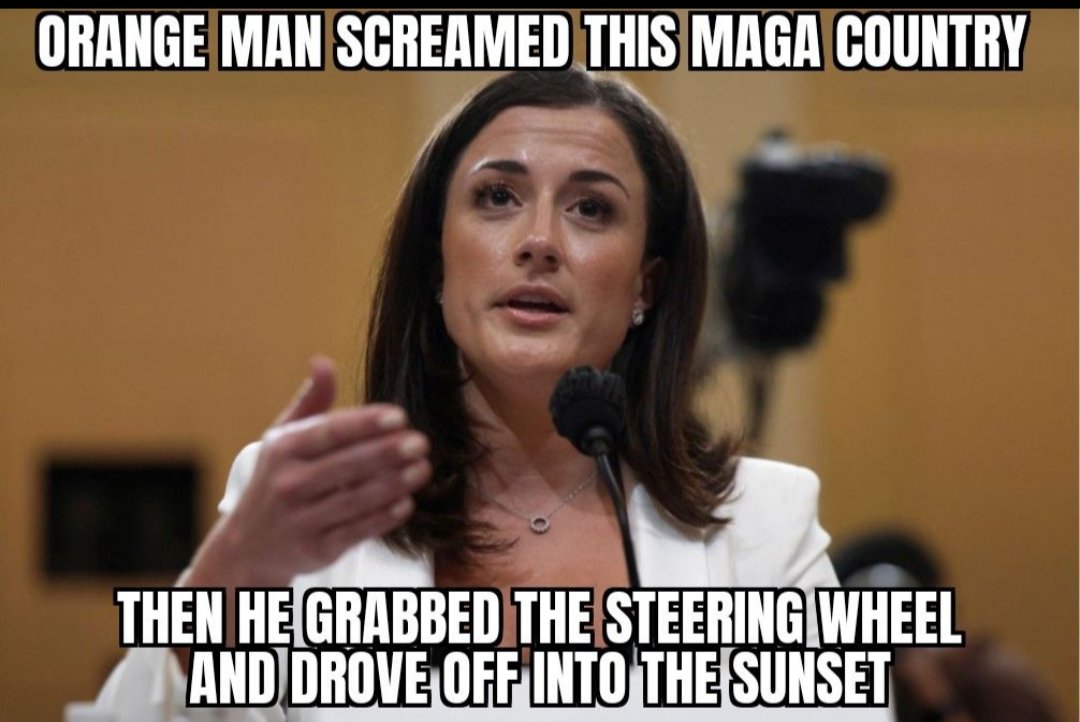 Andy McCarthy, for example, can't wait to Vouch For the latest hoax his leftwing government functionary palz have cooked up: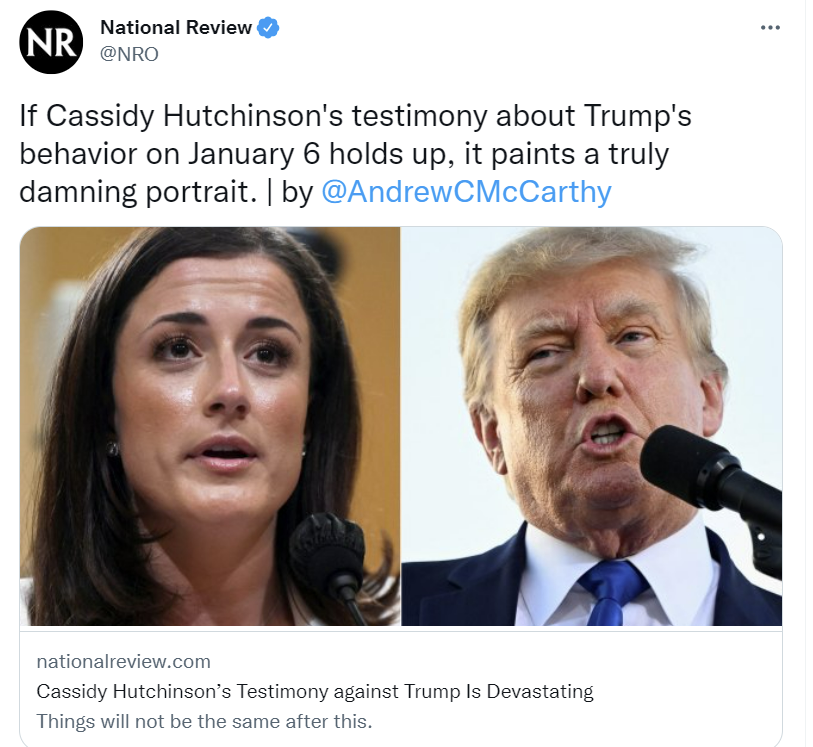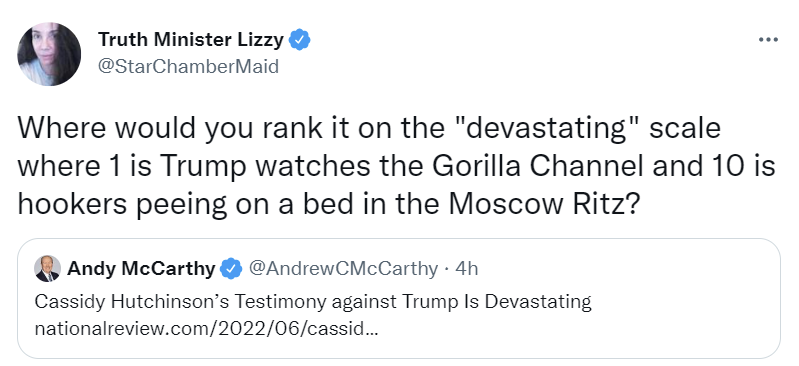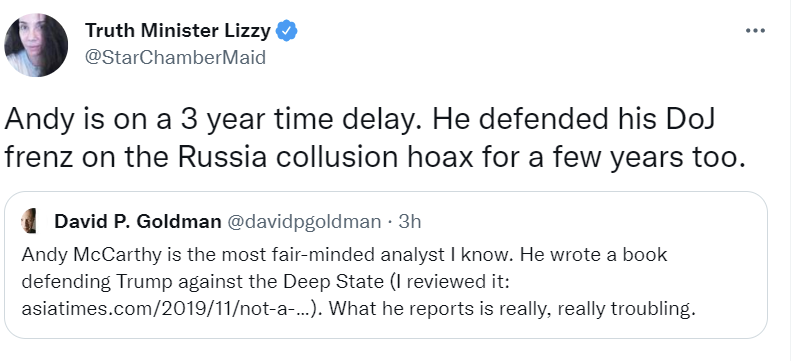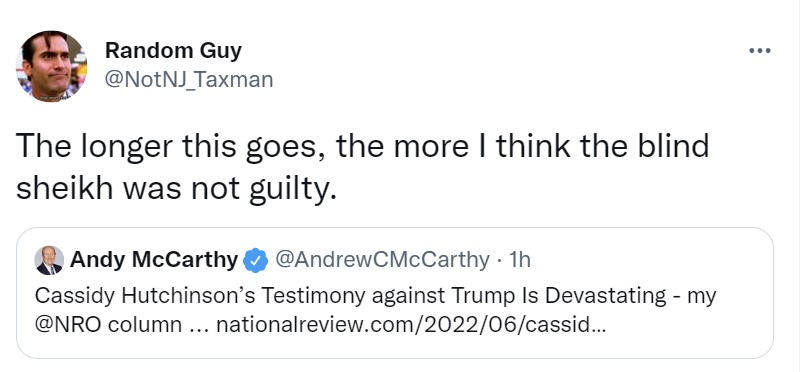 As a commenter here is fond of saying: Andy McCarthy's made his reputation by successfully prosecuting a blind sheikh who admitted that he was guilty.
Juneteenth Is Gay
@NolteNC

Like Politico, NRO still has Andy McCarthy's hoax at the top of its page....

love watching these outlets discredit themselves.

LOVE IT!
National Review is a disaster. It has been for years. It's a joke.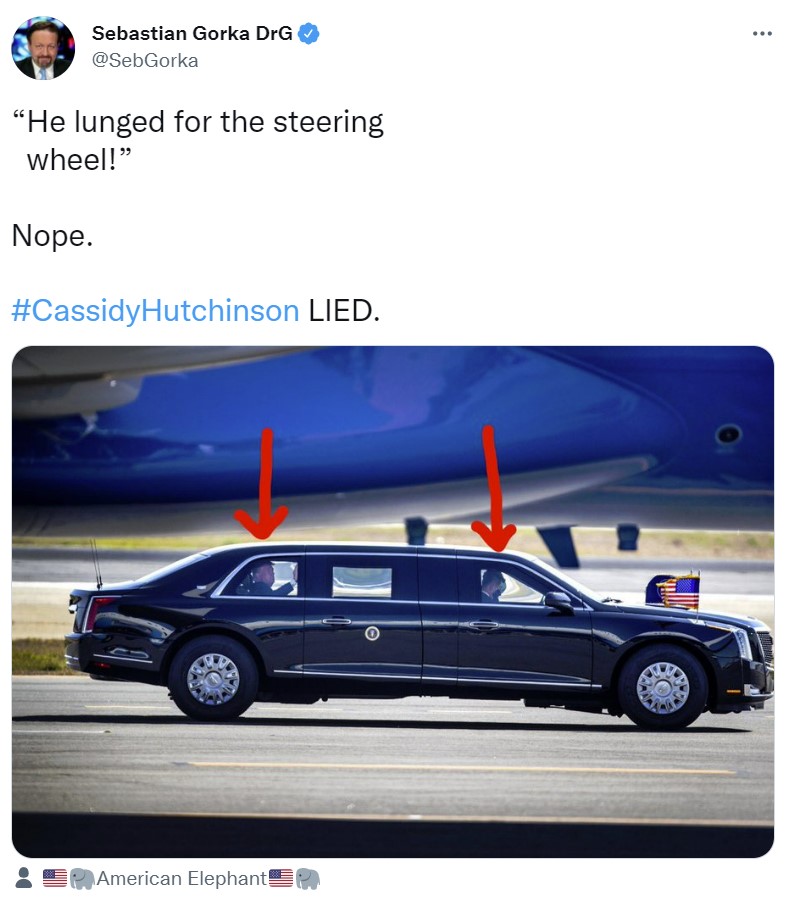 Of course, The Automatic Establishment Vouching Robot wasn't the only NeverTrump retard who smeared himself with animal feces yesterday. This obese circus clown:
George Conway🌻 @gtconway3d Decades from now people will be asking each other, "Where were you when Cassidy Hutchinson testified?"
Where were you when they cancelled the Gorilla Channel?

Now I'm going to lay a little Con Law on you. The Constitution does not say that Congress has the right to investigate. And in fact, investigating is a function that is executive in nature.
Congress only has this power by implication -- it is implied, it is claimed, that Congress must have this power, because this power is necessary to carry out its other powers, specifically, the power to pass legislation or to conduct oversight of the executive agencies it is given oversight responsibilities over.
Those are the only situations in which Congress may wield this executive prosecution-like power.
Here, Liz Cheney comes right out and admits the J6 committee has no proper legislative goal here to justify Congress' use of an executive power of investigation. There is no legislative end sought. There is no agency being overseen.
She admits here that the legislature is illegally using its power to simply to gather evidence for the executive branch for a prosecution -- but without the usual safeguards that attend the accused in an actual prosecution.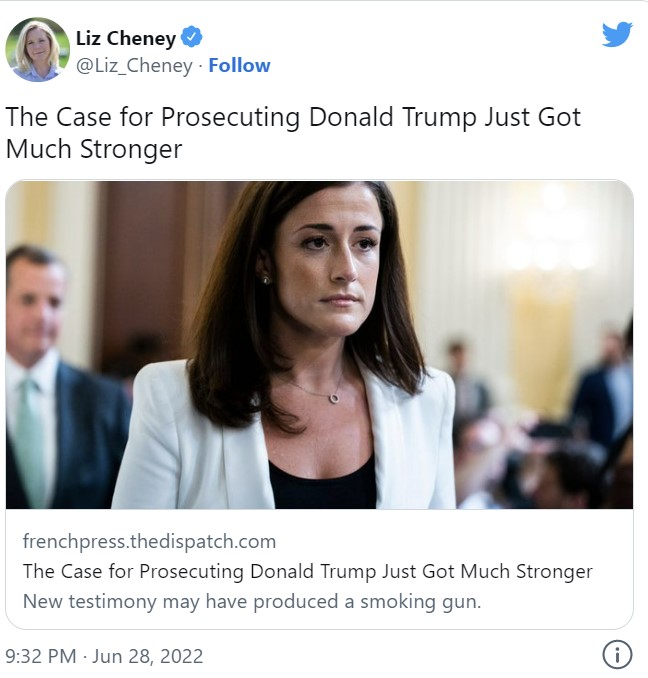 Note that she links The French Mistake there, because of course Noted Russiagate Conspiracy Theorist David French is all-in on this newest hoax. (But in three months he'll be claiming he never bought into any of this, he just "wanted Mueller to be allowed to do his job.")
More reactions:
Jeffrey Toobin, who knows a thing or two about public strangulation, at least of chickens, offered his expert opinion.
Jeffrey Toobin @JeffreyToobin

First apparent report of an attempted strangling by a President of the United States.
Sit down, Coomer.
True Conservative Adam Kinzinger:
Adam Kinzinger @AdamKinzinger

Cassidy Hutchinson is one of the most brave and honorable people I know.
No Ukranian flag in his Twitter profile.
Am I the only True Ukrainian Patriot who Still Stands With Ukraine? Were the rest of these "I Stand With Ukraine" people just Sunshine Ukrainian Patriots?
CNN "media analyst:"
David Zurawik @davidzurawik

Cassidy Hutchinson's words pulsed with the power and electricity of history and truth. Talk about speaking truth to power. Shame on all those who were also there on Jan. 6 and have refused to share what they saw and heard with the committee and American people.
Former National Review "journalist" Robert Costa gravely intoned "this wasn't a bombshell, this was history."
Weird how National Review keeps hiring lefties, huh?!?!
Glenn Greenwald had a bit of a rant:
Glenn Greenwald
@ggreenwald

As any lawyer will tell you (if being honest), few things are less reliable than a proceeding with no adversarial component. These hearings have zero.

One can assign whatever blame one wants for that, but perhaps it means journalists should be...skeptical...of assertions there.

If, yesterday, you followed conservative journalists or analysts -- and really, why would anyone do such a thing: just block and ignore them -- you'd have heard instant skepticism even over the physics of Hutchinson's claim that Trump was able to grab the wheel of the "Beast."

Maybe parts of Hutchinson's story is true (although the part that got the instant attention and calls for prosecution -- Trump assaulted his agents and grabbed the wheel of the Beast! -- was highly dubious on its face), but *journalistic* skepticism, not cheerleading, is needed.

This (👇 ) is exactly what happened: largely due to Twitter dynamics.




If, as a journalist, you don't *instantly* join the liberal mob -- if you wait to see how facts emerge -- you stand accused of sin.

But if you jump on board, applause, virality and cable bookings are yours.


It's literally impossible to count how many times during the Trump years some *blockbuster!* Russiagate event materialized - the thing that was going to be the fatal blow - and journalists spent all day on Twitter reflexively peddling it, only to watch it fall apart over and over

For many (I'd say: most) corporate journalists, "Twitter" = "liberal Twitter" = "the only constituency that matters."

posted by Ace at
01:20 PM
|
Access Comments