« Voicemail Proves That Joe Biden Did Speak To Hunter Biden About His Business Dealings, Specifically With His Dealings With The Man Hunter Biden Himself Identifies as "The Spy Chief of China"
|
Main
|
Monkey Picnic Cafe »
June 28, 2022
Quick Hits
Update: Secret Service Agents Prepared to Testify That the Hot Intel Cassidy Hutchinson Got From Her Good Friend Madison Cornbread at Cinnabon's Is False
Oh:
Peter Alexander @PeterAlexander

A source close to the Secret Service tells me both Bobby Engel, the lead agent, and the presidential limousine/SUV driver are prepared to testify under oath that neither man was assaulted and that Mr. Trump never lunged for the steering wheel.
Christina Pushaw @ChristinaPushaw

Not surprising. Because it makes no sense. Obviously the president is not sitting in the passenger seat. He's always driven in the back of the vehicle.
MaDiSoN cOrNbReAd'S iNtEl wAs WrOnG?!?!?!
Mollie @MZHemingway

I don't mean to be rude to the entire political and media class operating in Washington and New York today, but you would have to be a complete idiot to have believed that story. Pretending to believe it or reporting it uncritically is likewise discrediting.
Noted Conservative and Skeptic AllahPundit believed it.
...
Ghislane Maxwell has been sentenced to twenty years in prison for sex trafficking, but that could increase to 40 years if she ever reveals her client list.

Just kidding about that last part but also kind of not kidding.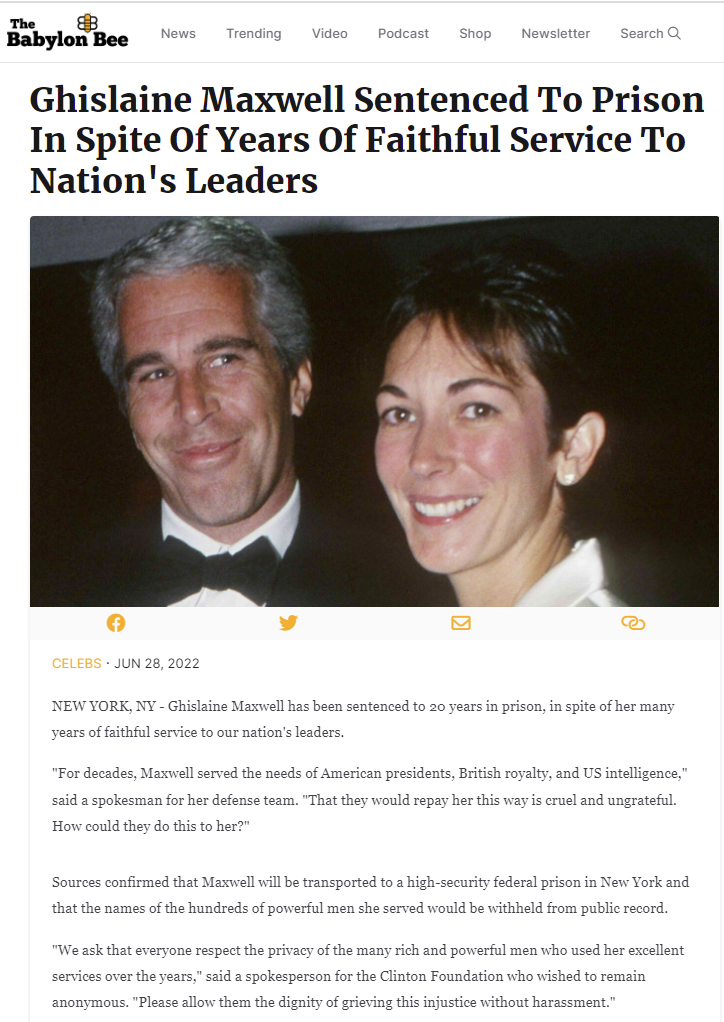 By the way, Ghislane Maxwell was put on suicide watch before sentencing despite not being suicidal, which I think is the same VIP treatment they gave to the non-suicidal Jeffrey Epstein.
How long will it be before we hear "oh the cameras were turned off, prison officials are at a loss, no one can explain how she was unobserved as she built her own gallows out of recovered wood and rope fashioned from her own hair"?

The British Boris Johnson told Jake Tapper that America was an exceptional nation. Jake Tapper disagreed, but the foreigner did his best to persuade him.

Biden ambassadorial nominee: "The Jewish Factor, it's money." Antisemitism is always percolating in the subterranean sectors of the right, we're endlessly warned.
Whereas, on the left, it's right there at the very top, among the elites and party elders. And yet no one utters a word of caution or concern about that.
The Biden administration's nominee to serve as the U.S. ambassador to Brazil spoke at length about the influence of Jewish money in politics, claiming the "Jewish lobby" exerts undue influence over the Democratic Party with its "major money."

Elizabeth Frawley Bagley, a longtime diplomat and Democratic Party insider, is scheduled on Thursday to have her nomination advanced to the full Senate by the Senate Foreign Relations Committee. But Bagley's comments about Jewish money in politics--tropes long considered anti-Semitic in nature--are raising red flags among Democratic and Republican members of the committee, senior congressional sources told the Washington Free Beacon.


Bagley, in a 1998 interview, a full copy of which was obtained by the Free Beacon, bemoaned "the influence of the Jewish lobby because there is major money involved." She went on to claim "the Democrats always tend to go with the Jewish constituency on Israel and say stupid things, like moving the capital to Jerusalem always comes up." Support for these Israel-related issues are due to "the Jewish factor, it's money." The interview was conducted by a historian at the Association for Diplomatic Studies and Training for an oral history project.

Senate sources involved in the confirmation process said Bagley's comments should disqualify her from the ambassador's role and told the Free Beacon that both Democrats and Republicans on the Senate committee have privately expressed concerns about these remarks.

"Under a normal administration this kind of vicious anti-Semitism would be disqualifying. You couldn't get hired as an intern," said one senior congressional Republican staffer, who was not authorized to speak on record about the concerns related to Bagley. "It speaks volumes that the Biden administration was confident enough to nominate Bagley and send her to the Senate for confirmation. They know that Democrats are going to fall into line."


Bagley opened up about the "Jewish lobby" and its impact on Democratic Party politics in the 1998 interview. She was asked about "the Israeli influence" on the Clinton administration, where Bagley served as the ambassador to Portugal.
Incredibly, one of the most hateful and grievance-filled things ever to live on the earth -- a "woman" who hates the idea of "baking cookies" and acting as a housewife and hates the idea that anyone would even suspect her of ever having sunk so low, a woman who refused to take her husband's name until politically imperative to do so (for herself as well), a woman who enlisted the FBI, DOJ, and CIA in a coup attempt at a legally elected president out of her sense of outrage that the American voters had rejected her -- now accuses Clarence Thomas of "anger" and "resentment" and "grievance"!

I've broken bread with CT. He is as good-humored and well-tempered as you could want. He's almost a caricature of the sweet-natured chuckling older black guy. He's virtually Dr. Hibbard, but softer spoken. He's a man who can obviously dominate any conversation any time he wants to, but chooses not to.
Without doubt he is passionate about certain topics -- such as the corruption of judicial interpretation by leftwing politically-motivated "reasoning" -- it's simply false that he's "angry" or filled with "grievance" or "resentment."

Now, Hillary Clinton on the other hand...
Twitchy has rounded up some of those tweets of leftwingers spitting the n-word at Clarence Thomas. Obviously a little discretion is advised about clicking on the links.
And speaking of Hillary Clinton: Tubby toady Chris Cillizza points to a substack suggesting that Hillary Clinton will be the nominee in 2024.
The substack is by John Ellis, who's actually a cousin of George W. Bush, so he's connected, and, I'm sure, part of the Uniparty.
Is he just speculating, or has someone from Hillary World told him she'd consider it a favor if he pushed her as a candidate?
Now is her moment. The Supreme Court's decision to overturn Roe vs. Wade creates the opening for Hillary Clinton to get out of stealth mode and start down the path toward declaring her candidacy for the 2024 Democratic presidential nomination.

Conditions are favorable:

1. Joe Biden is too old to run for re-election. Everyone knows this. Virtually everyone in the Democratic Party is at their wit's end over what to do about it. The most recent last straw was the cue card. Here's what the cue card said:

"YOU enter the Roosevelt Room and say hello to participants."

"YOU take YOUR seat. "

"Press enters."

"YOU give brief comments [...]" This note was partially blocked by Biden's finger.

"Press departs."

"YOU ask Liz Shuler, President, AFL-CIO, a question. Note: Liz is joining virtually."

"YOU thank participants."

"YOU depart."

2. It isn't going to get better. Everyone knows it isn't going to get better. Which explains this:

A majority of Democratic voters want President Joe Biden off the party's ticket for the 2024 presidential election, according to a recent poll.

The survey, conducted by Marist, found that among registered Democrats and Democrat-leaning independents, 44% (or 55% of those with an opinion) of respondents want another candidate to replace President Joe Biden as the Democratic presidential nominee in 2024.

Just 36% (45% among those who had an opinion) of registered Democrats and Democrat-leaning independents want Biden to run for reelection. Twenty percent of respondents did not have a clear preference.

3. There is no bench. I made this point in a subscriber note last December. Others did as well. Nothing has changed since then. If anything, veteran Democrats are even more pessimistic about Kamala Harris as a potential presidential nominee. As for the others, former Vice President Al Gore is probably the party's best bet. He has indicated zero interest in running.

That leaves former Secretary of State John Kerry, Senators Bernie Sanders, Elizabeth Warren and Amy Klobuchar, Transportation Secretary Pete Buttigieg, Commerce Secretary Gina Raimondo, California Governor Gavin Newsom and....maybe....possibly....an outsider like Sheryl Sandberg (ex-Facebook COO) or Bob Iger (ex-Disney CEO).

That's the field. When describing it, the word "formidable" does not spring to mind. Nor do the words "up to it."

Cillizza also notes that Noted Paste-Eater Juan Williams is predicting Hillary Clinton will start making a fat, bloated, drunken appearance on the campaign trail, supposedly for Joe Biden:
Writing in The Hill newspaper, Democratic pundit Juan Williams makes the case that Clinton should become a major figure on the campaign trail this year. "Clinton is exactly the right person to put steel in the Democrats' spine and bring attention to the reality that 'ultra-MAGA' Republicans, as President Biden calls them, are tearing apart the nation," Williams writes, adding: "Keep talking and talk louder, Hillary!"
She says she's not running, because Biden is running.
But no one seriously believes Biden is running. Democrats, and the media, which are just Democrats with lower back tattoos and untreated herpes, are required due to politics to publicly pretend that they think Biden is running, or will be allowed to run again, or will be alive to run again, but none of them believe this at all.
So what if Biden doesn't run? Who else would the Democrats have that would be an obvious alternative to Hillary -- who, as noted above, has spent six or seven years now claiming that the Russians stole the 2016 election from her?
So she already won the presidency once. She already beat Trump once. She just has to do it again, and stop The Russians from rigging it.
Right?
Oh and of course the media won't permit any of that stolen-election election-rigging talk from Hillary and the Democrats, right?
Right.
Occupy Democrats @OccupyDemocrats

BREAKING: Oklahoma Democrat announces that he's planning to introduce a bill that will "mandate that each male, when they reach puberty, get a mandatory vasectomy that's only reversible when they reach the point of financial and emotional stability." RT IF YOU SUPPORT HIS BILL!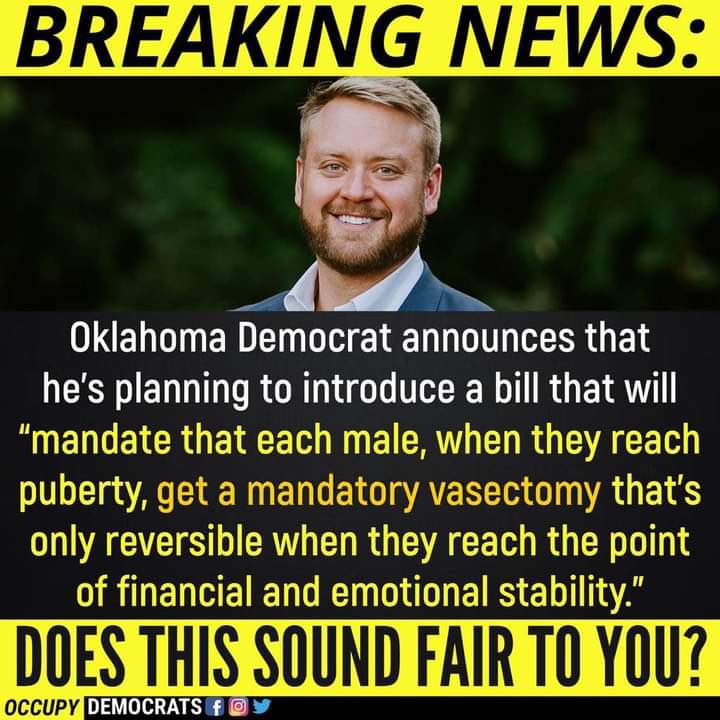 Just by looking at him, I'm assuming he wouldn't support a bill to imprison people for 50 years if they infect another person with AIDS without disclosing their HIV-positive status, huh?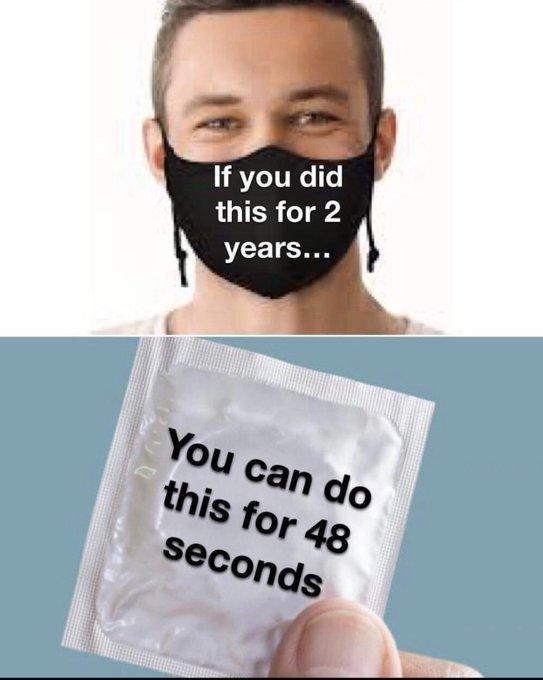 posted by Ace at
06:30 PM
|
Access Comments