« Dr. Birx, Under Questioning By Jim Jordan: I Can't Say If the Government Was Willfully Lying When It Kept Saying You Couldn't Catch Covid If You Were Vaccinated
|
Main
|
The Ultimate Pitchman/Open Thread »
June 28, 2022
In Explosive Testimony at the January Sixth Committee, a Twenty-Five Year Old Chippie Says She Heard From Her Friends That "The Walls Are Closing In"
The leftwingers and NeverTrump -- but once again, I do repeat myself -- are in full "the walls are closing in/the train has run out of track" orgasm mode.
BTW, are we still standing with Ukraine? Is Ukraine Not a Thing anymore?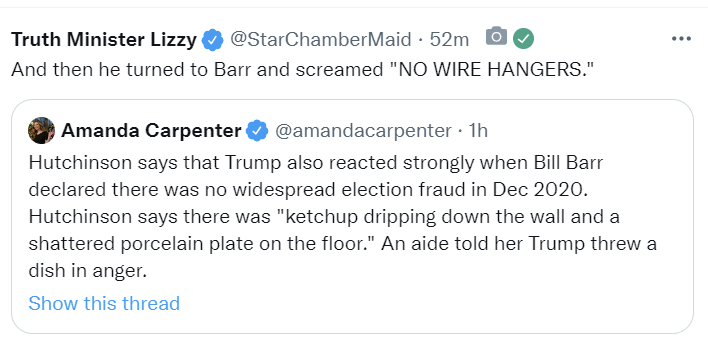 This chippie is twenty-five years old today which means she was 23 at the time of "The Insurrection."
But apparently she was just the central switchboard for all national intelligence:

How would Trump have known in advance the "insurrectionists" would be armed? By the way, like five of them were "armed," with guns that were stored in their cars, not carried during "the insurrection."
Trump knew that?
And this debutante knew he knew it?
Apparently the charge is that Trump demanded the Secret Service drive him to the Capitol -- and they refused, and instead drove the President against his will to the White House.
And... see, Trump's in the wrong here.
Axios @axios

BREAKING: Cassidy Hutchinson testified that Trump lunged at his top security detail and tried to grab the steering wheel from him upon being refused to be driven to the Capitol.

"I'm the f-ing president, take me up to the Capitol now."
The current "Walls are closing in" narrative is about Trump trying to get to the Capitol, and being thwarted in this effort by Heroic Deep Staters.
And that he "assaulted a Secret Service agent" in attempting to wrest the steering wheel of "The Beast" (the presidential limo) away from the driver. From the back seat, one supposes.
She "heard of" this.
PoliJunkie20 @PoliJunkie20

He physically assaulted a secret service agent. That seems pretty straightforward.

A.J. Delgado @AJDelgado13

And yet no Secret Service agent has come forward to say so nor was any report filed.
You're saying the fact that a junior staffer claims this happened is now enough to be certain a crime was committed?

If the president told the Secret Service to a place and they refused and instead took him to a place he did not want to be, that's kidnapping.
Just saying.
And if it is true that Trump directed the car to the Capitol but the president's orders were countermanded by a National Security State Deep State Operative who instructed the Secret Service to instead abduct the president and bring him to the White House where he could be held against his will, we have a whole different investigation to mount.

Robert Barnes
@barnes_law
If Trump marched to capital, nobody goes inside the capital. Testimony today suggests someone preventing Trump from doing so is who enabled the riot, not Trump.
Update: I guess the Actionable Intel that Cassidy got from Madison who heard it from Britney wasn't gold standard:
"The Beast", (and in this case, I refer to the Presidential Limo, and not Hitlery), isn't even a "car" in any normal sense of the word.

It's based on a GMC Bison 2-1/2 ton payload rated Medium Duty Truck Chassis, but altered so as to sit low to the ground, allowing a resemblence of a "car-like" profile. But it has a huge engine, likely forced air induction (either turbocharged or supercharged), a transmission a semi-truck would love, suspension that a Baja racer would recognize and many other "refinements" to make it the Presidential Limo.

Park any normal Cadillac or Lincoln limousine next to it, and they'll look like toy cars when compared to "The Beast"

Yeah, and he's supposed to have lunged from THAT back seat up the driver's compartment? Nope. Never happened.

Jim
Sunk New Dawn
Galveston, TX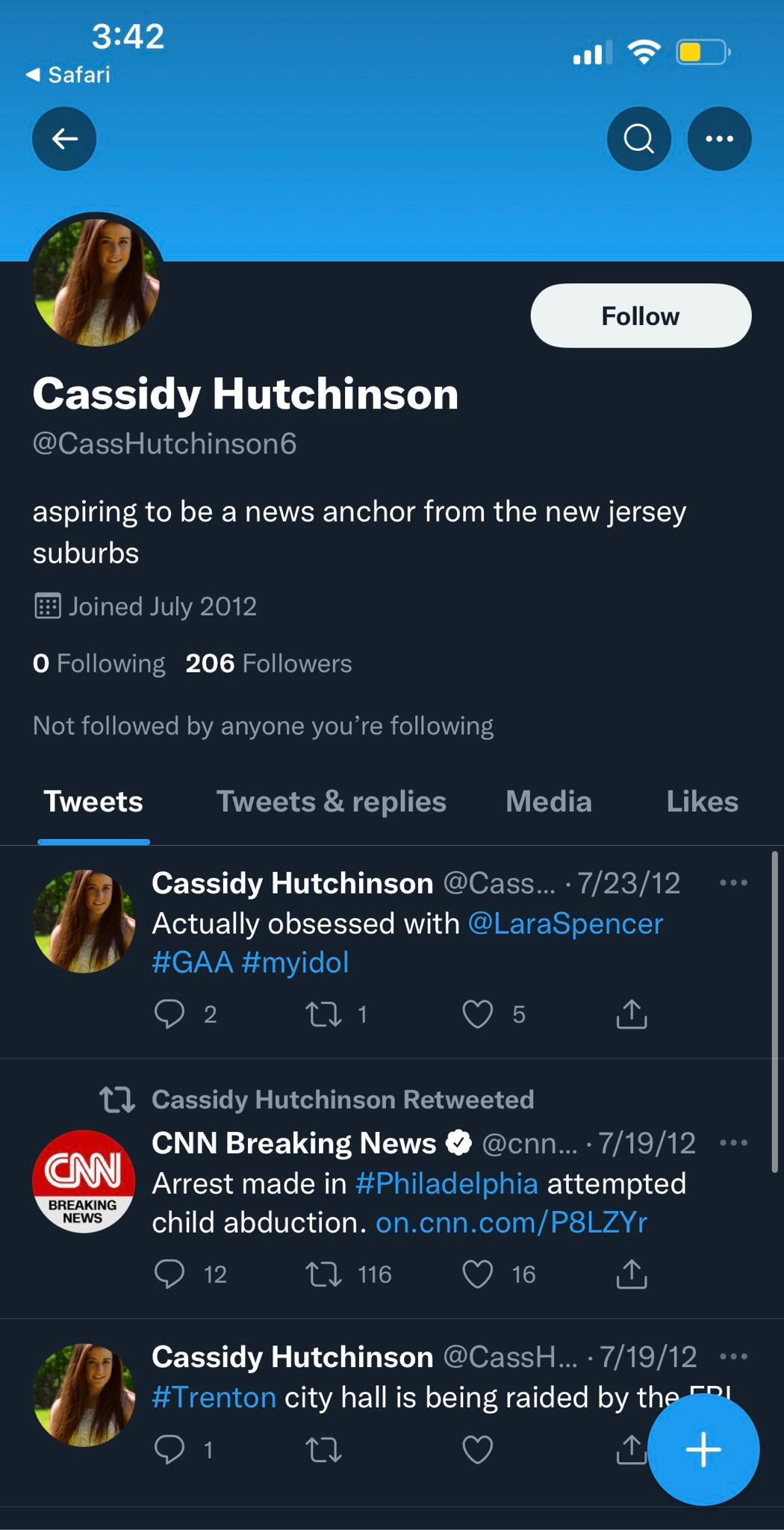 posted by Ace at
03:29 PM
|
Access Comments