« Supreme Court Upholds Coach's Right to Offer Private Prayer at Middle of Football Field Without Being Harassed or Fired by School;
Lemon Test and Its Tweaks Effectively "Interred"
|
Main
|
Walk Away: One Million Voters Flip From D to R Nationally »
June 27, 2022
Seventy-Two Hours Later, and The Left is Still Reacting Perfectly Calmly and Normally to the Dobbs Decision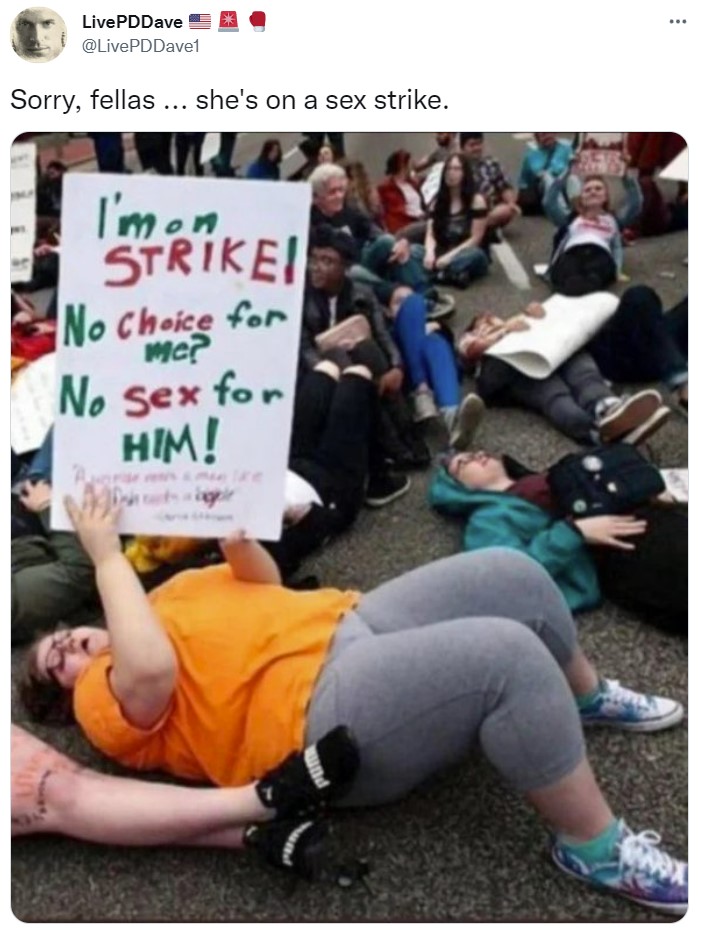 Via bonhomme and Cassandra Fairbanks, this idiot from G4 -- yes, that's the YouTube channel that's dying because they went woke -- says that we wouldn't be having this argument over abortion if men could get pregnant and then backtracks, terrified that she might get cancelled for saying men can't get pregnant.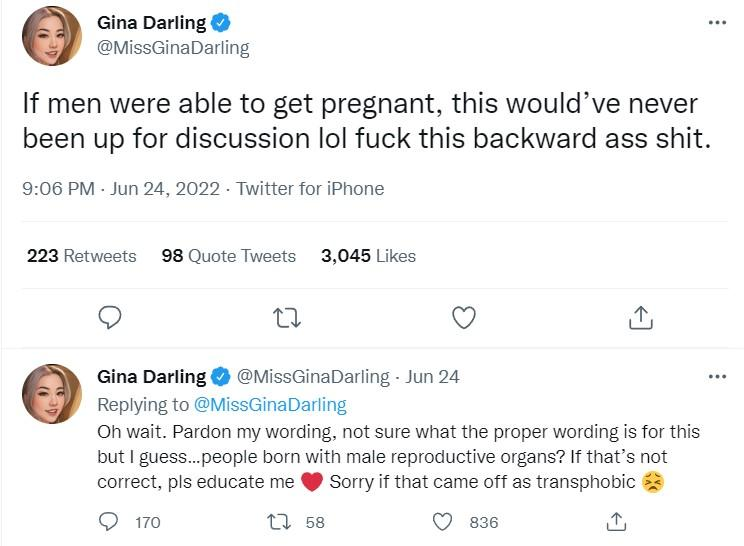 Abortion activists staged a violent seditious insurrection in the Arizona State House or, as AllahPundit would describe it, they staged a group reading of Toni Morisson's Beloved.
Each placard here contains a sentence of Toni Morrison's National Book Prize-winning novel.

Lori Lightfoot: "F*ck Clarence Thomas." She asks "He thinks we're going to stand idly by while they take our rights?"
What is this grotesque goblinoid whore suggesting?
I know it's not insurrection because that's something only Republicans can be guilty of.
I'm still looking for an article or video compilation establishing this, but apparently the left has decided that the n-word is no longer forbidden. They're calling Clarence Thomas the n-word every five Twitter posts.
And Twitter's okay with it.

This violence-prone man says he "loves killing babies."
So many death threats that twitter doesn't punish.
And another one.
Joe Scarborough seems to be justifying leftist violence by claiming that the Dobbs opinion contained "violence" in its wording and reasoning.
"More than any Supreme Court decision I've ever read ... there was a violence to the reasoning. We win, you lose. [It was] done so in such an aggressive manner, with absolutely no grace and absolutely no outreach to their legal or ideological opponents."
Allegedly, one of his female interns once offered him "violence" in her reasoning and wound up stuffed into a locker, so.
All-Purpose Expert Tom Nichols gets owned... by All-Purpose Expert Tom Nichols from three years ago, when he was not yet contractually obligated to have diehard Vote Blue in '22 opinions on every single issue. (Click on the snapshots of his previous tweets.)
@EsotericCD

That Ana Navarro clip from CNN really is just the most inhumanly repulsive thing I've seen all day related to the abortion issue. I shouldn't have watched it. She comes across as thinking special-needs children are little more than cumbersome houseplants all better off aborted.
She doubled down on her argument that mentally retarded Navarros should be euthanized.
That's kind of a.... dangerous argument for her to make, isn't it? Kind of an argument against interest, if you're pickin' up what I'm puttin' down.
A bunch of unhinged reactions collected here:
She said this after the Dobbs draft opinion had been leaked, back in May:
They love when you respond to them with this:

posted by Ace at
02:24 PM
|
Access Comments