« Mid-Morning Art Thread
|
Main
|
Supreme Court Upholds Coach's Right to Offer Private Prayer at Middle of Football Field Without Being Harassed or Fired by School;
Lemon Test and Its Tweaks Effectively "Interred" »
June 27, 2022
The Morning Rant: Is There An Emerging Trend of Small Businesses "Canceling" Woke Corporations Because Of ESG Requirements?
Something is happening out there. There is a growing backlash against woke corporations imposing the agenda of social justice warriors on the rest of us.
Obviously, Ron DeSantis fighting back against Disney's bullying was a huge event, and the mouse has become unusually quiet about recent political events. But even more interesting is what is starting to happen way under the radar, with small businesses starting to fight back too.
A good friend of mine relayed this first-hand account of a meeting which he was party to. For confidentiality reasons, I cannot publish the real names.
A company that I'll refer to as Important Product, Inc. is a family-owned supplier to Big Major Industrial, Inc. They have a very inter-dependent relationship despite huge differences in size. A significant portion of Important Product's revenue comes from Big Major, while at the same time, Big Major must have Important Product's components to assemble a great deal of what it manufactures.
Big Major has imposed on all its North American vendors a rigorous ESG (Environmental, Social, Governance) documentation process.
Therefore, to be a supplier to Big Major, Important Product is being forced to effectively evangelize for social, sexual, and environmental agendas that it neither endorses, nor wants promoted in its workplace. Even worse, Big Major requires its vendors to document that they are meeting specific demographic quotas and providing separate programs and opportunities for select employee demographic groups, a requirement that Important Product's owners feel is both immoral and illegal.
So, Important Product is fighting back by taking a stand against ESG where it holds the power. It has adopted a goal of divorcing itself from its own suppliers that mix woke politics with business.
The friend I referenced works for a company that I'll refer to as Widely Available Service Corporation. Although Widely is a large player in its field, there are many other smaller companies offering the same service. Important Product recently had a meeting with Widely's management team to advise that Important Product is adopting a zero-tolerance policy among its vendors as it relates to promoting ESG or social justice issues to its employees. They made it explicitly clear that even if it's only Widely's customer log-in website that's promoting wokeness, they'll move to a smaller company that isn't similarly distracted.
Non-woke companies have a wide-range of vendors to choose from. They can use that power to disincentivize ESG in corporate America, just like the biggest corporations use their power to coerce ESG obedience.
So getting back to the relationship with Big Major, Important Product is trying to decide if it will defy the required ESG compliance. It could cost a lot of business, but Big Major would be seriously hobbled without Important Product – there is no other American manufacturer that has the scale or capacity to replace Important Product's component, and the only other significant players are in China. Big Major previously quit using the Chinese competitors due to quality problems. This would be a difficult time for them to fire an American company and turn to Chinese suppliers.
I'll be watching to see if that showdown occurs.
But in the meantime, small and private companies that opposes ESG can make a huge impact by simply letting potential vendors know that where there is a choice, they'll hire companies that are not pushing the left-wing social agenda.
*****
I wrote today's Rant last week, and then I stumbled across this comment on KT's Saturday post.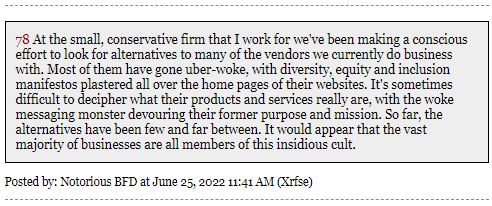 While it's discouraging that the social justice agenda is so widespread in corporate America, it's heartening to read that the pushback from small companies seems to be growing.
If you know of other small businesses pushing back against woke capital in the manner we discussed today, I'd love to hear about it.
(buck.throckmorton at protonmail dot com)


posted by Buck Throckmorton at
11:00 AM
|
Access Comments