« Pennsylvania Governor Tom Wolf, Who Crammed the Nursing Homes with Covid Patients, Presents a Cartoon Fantasy of How Red Flag Laws Work
|
Main
|
Studies: Masks Did Nothing. Lockdowns Did Nothing. »
June 17, 2022
"Voice of the Establishment" "Journalist" at The New York Times: Biden Is To Old to be President and Should "Step Aside"
Biden's got new messaging advice: Pivot to Confidence.
The Wizened Elder hath joyous news for us all!
"Be confident," Biden said. "Because I am confident."
Go fuck yourself, Senior Retard.
Note in that article Biden lied about inflation being higher in other countries- - which it's plainly not.
And ABC lied on his behalf, claiming he meant... something. Something vague which makes no sense.

As for the causes of inflation, Biden flashed some defensiveness on that count. "If it's my fault, why is it the case in every other major industrial country in the world that inflation is higher? You ask yourself that? I'm not being a wise guy," he said.
Biden explicitly says that inflation is "higher in every other major industrial country in the world."
Spoiler: It's not. It's lower in every other major industrial country in the world.
Sometimes a lot lower.
In Japan, for example, it's 2.4% -- which we in the US would call about our target for inflation. (We shoot for about 2% inflation per year.)
In Israel, it's 3.1%.
But ABC claims he was just making a general point about... something. So it's not a lie.
And he's also not being "a wise guy."
The president's statement appeared to be about inflation rising worldwide, not necessarily whether countries had higher rates than the U.S.
Except for the part where he explicitly said that inflation is higher in "every other major industrial country in the world."
So what happened is that a staffer Walked Back his lie, and ABC is now lying that the Walkback is actually what Biden meant when he said something that plainly does not mean what the Walkback claims he meant.
Spokesbrainlet Karine Jean-Pierre had quite the time walking back (without walking back) Biden's lies about the inflation rate being higher in every other country in the world yesterday.
A new Suffolk poll finds "Stuttering" Joe Biden at 39%, which is bad, but that's not the really bad number.
The really bad number is 47%.
That's not his disapproval rate -- that's the number that strongly disapprove of his job performance now.
President Joe Biden said Thursday Americans were "really, really down." He's right about that.

A new USA TODAY/Suffolk Poll shows the country in a funk--
Why are we being blamed for this NSCOAMF's* incompetence? Susan Page is a dingy leftwing propagandist so of course she sees the fault in American citizens for letting Good Ol' Joe down and not having confidence in him and his policies.
-- and one that sets a problematic political landscape for Democrats in the November elections that are approaching fast.

Only 39% of Americans approve of the job Biden is doing as president. A stunning 47% "strongly" disapprove; just 16% "strongly" approve. Academic studies have shown that presidential approval is one of the most reliable predictors of what happens in midterm elections, and a rating this low would traditionally signal significant losses for the president's party.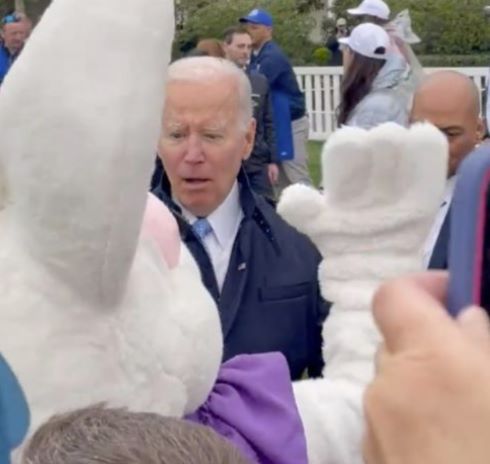 New York Times Magazine national correspondent Mark Leibovich wrote an article for The Atlantic yesterday, proclaiming that Biden is too old to be president and everyone knows it.
Here's how Vodkapundit describes the NYT's Mark Leibovich:
Leibovich, for better or worse, is one of those wired-in journos who can act as the semi-official voice of Establishment Washington. And The Atlantic is one of those magazines that everyone who's anyone wants everyone else to see them reading.


In other words, Leibovich's column isn't quite Henry II asking, "Will no one rid me of this turbulent priest?"

But politically, it's close. The Establishment can't get rid of Biden now, but they want voters to know he's finished.
It's an "Only Nixon can go to Red Lobster at 4pm on the button" situation, is what I hear him saying.
Leibovich writes that Biden is just "too old" and should "step aside" (!!!).
J "I've spoken with 10 official and unofficial advisers to the administration who have spent time around the president during these deranged and divided days," Leibovich wrote for The Atlantic on Thursday, "asking them, essentially. 'How is he holding up?'"


It's a "recurring theme" from insiders "predisposed to liking the president" that Biden "just seems old."

"The age issue will only get worse if Biden runs again," Leibovich wrote, and already "it can be painful to watch him give prepared speeches."
Amusingly, Leibovich wants you to know he denounces "those gross Republican smears" about Biden being a "doddering and demented old puppet" in making the case that Biden is a doddering and demented old puppet. But it sounds nicer when a leftist says it, as always.
On CNN, you're not allowed to spread "those gross Republican smears," but you can talk about people talking about them. Here, Erin Burnett asks Van Jones about Biden's advanced age (he'll be closer to 90 than 80 by the end of his second hypothetical term, she notes), and Van Jones responds that if Joe Biden "isn't ready to go," they should tell us.
That's as close as this network of propagandists, perverts, and seditionists can come to saying "Look, he's plainly too old for anything more strenuous than 1 by 1 sodoku."
Soothsayer is making a good point (FOR ONCE): He says the media is making this about Biden's age, when it's really about the Democrats' policies, priorities, and incompetence. And that we should not buy into their framing.
Yes, Biden's age makes his incompetence more embarrassing and cringey, but he'd still be failing and we'd still have 17% real inflation (old measure), and we'd still have Drag Queens in every school, if he were a hale and healthy 45.
Below:
Behold, and Be Ye Confident!
* NSCOAMF = Non-Stuttering Clusterf**k of a Miserable Failure. Baracky Jibracky was the Stuttering version.
Biden doesn't stutter. He's just old, stupid, and lies like the devil, except a really stupid, incompetent version of the devil who is still bragging about once playing high school football back in nineteen aughty-aught.
Re: The Atlantic as "The Voice of the Establishment"
Leibovich, for better or worse, is one of those wired-in journos who can act as the semi-official voice of Establishment Washington. And The Atlantic is one of those magazines that everyone who's anyone wants everyone else to see them reading.

It's not quite that simple. The Atlantic is a Party organ, but there is still a factional war going on in the Party. Last year, they were the organ picked *both* times the "COVID is Over" faction decided to put up a trial balloon. They're aligned with that faction.

As for the "Biden is Over" vs. "More Biden" factions, I don't know. But the Atlantic is working for exactly one of them, just like before.
Posted by: Joe Mannix (Not a cop!)

posted by Ace at
03:20 PM
|
Access Comments