« State Farm Insurance Caught Pushing Transgender and Non-Binary Books to School Libraries to Start Conversations with Children as Young as Five Year Olds About Their Genders
|
Main
|
Shocker, the Alphabet People Are Upset About Another Comedian »
May 24, 2022
The Bulwark: Hillary Clinton Is Innocent of the Alfa Bank Hoax and Also It's Not a Hoax
PS: Mission Accomplished, Conservatism Conserved!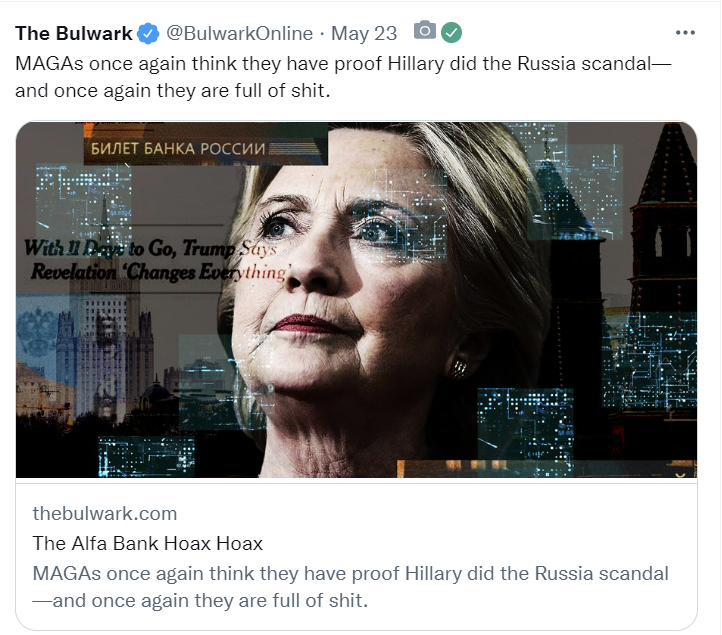 John Sexton links AllahPundit's favorite website, but not to praise it. Instead, he links it to ask why the supposed "conservative" website -- which is supposedly "conserving conservatism," and which supposedly also detests conspiracy theories -- is still attempting to claim that Hillary Clinton's Alfa Bank Hoax might be true.

Sexton notes that not only did the FBI nearly immediately brand the Alfa Bank hoax as an obvious fiction, and not only did right-leaning writers see it as such, but even leftwing "journalists" found "problems" in the "story." Maybe they didn't come right out and say "HOAX!," but they were wary, and they pointed out that things didn't add up.
In other words, only the most hyperpartisan Democrat Hillary-loving Trump-Deranged conspiracy-theorists believed the Alfa Bank story, even from its earliest appearances.
People, for example, like Tim Miller. People like the leftwingers at The Bulwark, who don't want to admit that they've been pushing as many leftwing conspiracy theories as Nina Jankowicz -- so this one (as well as all the others) must be true.
After all, it's their rejection of evidence-free partisan-crackpot Conspiracy Theories that makes them Better than the MAGA people. Ergo, the evidence-free partisan-crackpot Conspiracy Theories they believe in must be well-supported evidence-free partisan-crackpot Conspiracy Theories.

And Tim Miller and The Bulwark are still trying to rehabilitate this obvious piece-of-shit and still trying to clear Hillary Clinton any wrongdoing.
You know-- like True Conservatives do!
And yet, 5 1/2 years later, the Bulwark's Tim Miller is still arguing that maybe there is some truth to idea that this computer promoting Trump's hotels was secretly communicating with a Russian bank.

Whether there was anything nefarious going on between Alfa and Trump remains a bit of a mystery. The FBI eventually closed the book on this lead--more on this a moment--resulting in a presumption that any suggestion of impropriety was false. But a satisfactory explanation for the DNS pings has never really been provided.

If Miller really believes this then he's one of the few who still does. But his real goal here is to defend Hillary Clinton from allegations that she approved a "hoax" story. Because, hey, if the story might still be true then she definitely didn't promote a self-serving hoax.

The part of Sussmann's trial that has the Trump crowd rubbing their nipples...
Degenerate pervert.
... is testimony from Clinton 2016 campaign manager Robby Mook in which he revealed that the candidate was briefed on the potentially dubious Alfa Bank accusations and was fine with the campaign's decision to share the information with reporters. (Point of fact: Many in the Trump orbit have stated that Clinton approved the Alfa Bank oppo's dissemination, but Mook testified that he told her only after the campaign had shared it with a reporter.)
What he's attempting to do, Sexton reports, is to take a slight ambiguity in the reporting of the timeline -- did Hillary approve pumping out the hoax to the media before it was pushed to the media, or merely approve it afterwards, retroactively? -- and resolve this ambiguity in Hillary's favor -- that is, claim that he knows it must have been after-the-fact, and also claim that this distinction is Very Very Important and absolves his Khaleesi of any wrongdoing, because she only approved of a disgraceful attempt to defraud the US government retroactively.
Remember, kids: The Bulwark hates conspiracy theories and it really hates crazed partisans who just make things up to slake their thirst for ideological validation.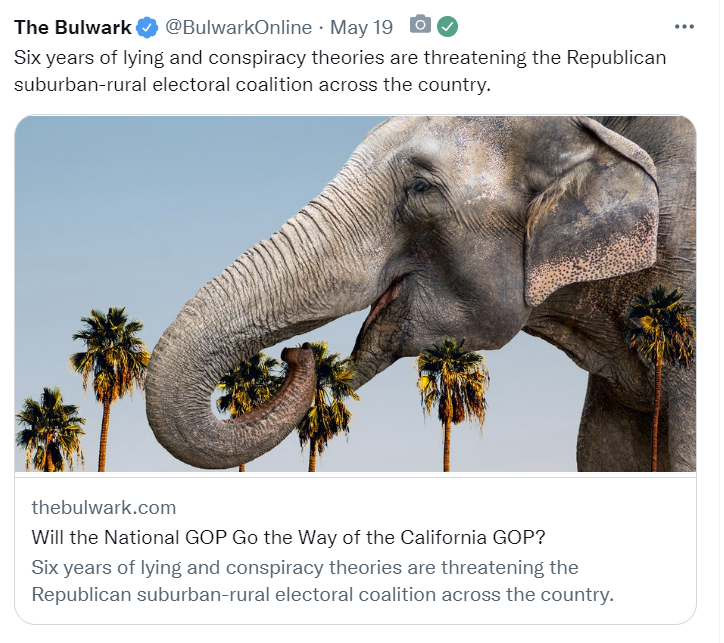 The Bulwark hates all the conspiracy theories
except the conspiracy theories their leftwing allies
and donors tell them to believe

They're intellectually pure! Just ask J.V. Last, who probably edited this rancid fart of an "article"!
No but seriously, J.V. Last must be shocked that he got a link from Hot Air that wasn't approving.
Meanwhile, the Wall Street Journal reaches a different conclusion, this one based on evidence and reality, rather than the need to appease Bill Kristol's Democrat Donors: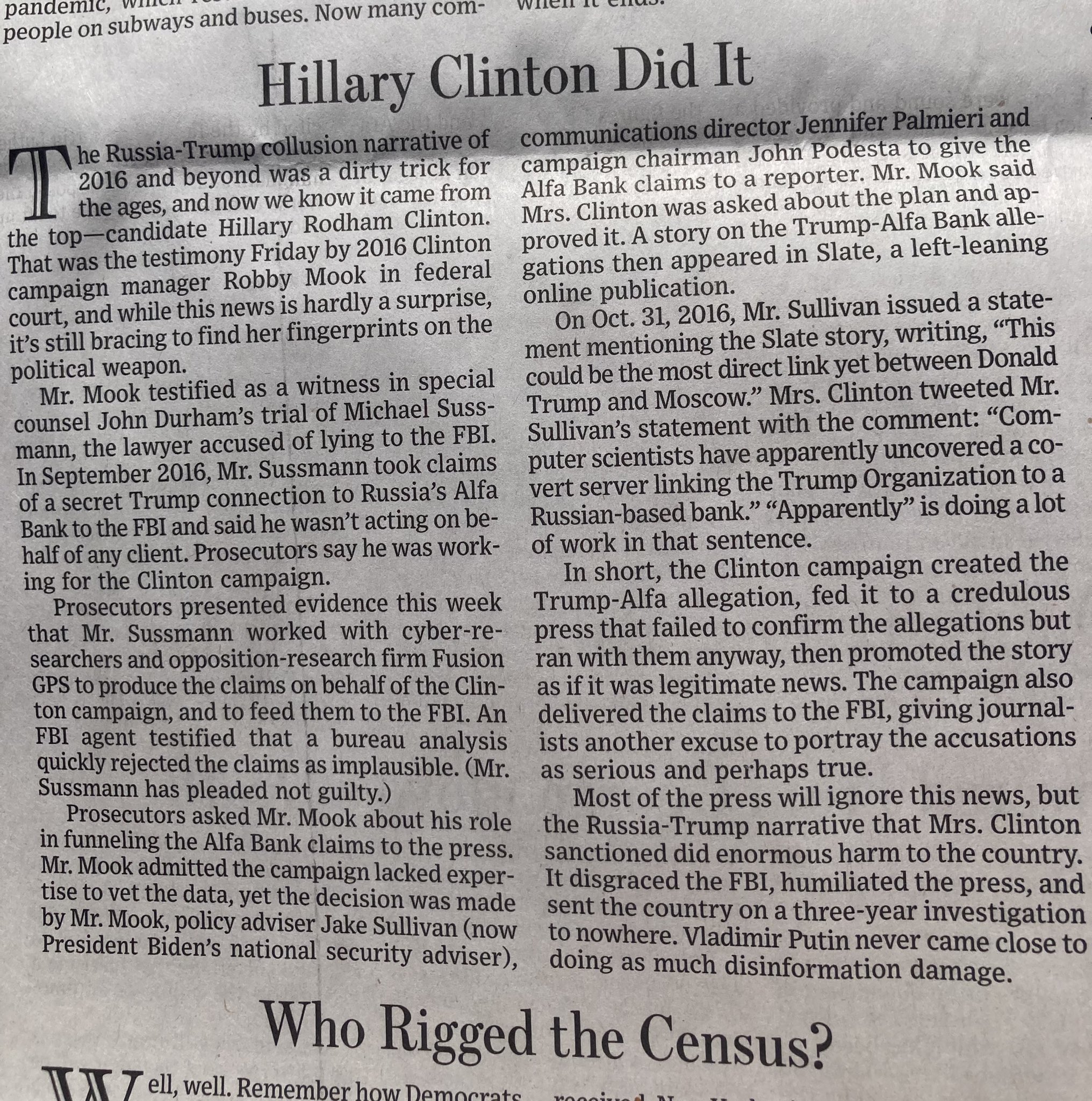 Former FBI lawyer James Baker, who took the meeting with Michael Sussman about the Alfa Bank hoax, says that if Sussman had told the truth about who his client was, he would have treated the tip differently -- and in fact, might not even have taken the meeting at all.
In testimony that stretched over three days last week, Baker insisted Sussmann told him he had brought the computer data not on behalf of any client or company. Baker said if he had known, as the prosecution charges, that Sussmann was acting on behalf of the Clinton campaign and a technology executive, he would have handled the information differently -- and might not have even agreed to the meeting.
Lies told to investigators are only illegal if they are "material," meaning, if they have an actual effect on the investigation. Baker's testimony there, if believed, establishes that this lie did have that effect. Without the lie, the hoax never would have even have been given more than a second glance.
But Sussman is claiming that he never told Baker he was acting on his own:
Baker is the sole direct witness to the conversation, and Sussmann's lawyers have repeatedly challenged his credibility on this point, noting that in one earlier interview, Baker said Sussmann was representing cybersecurity clients; in another, he seemed to say he didn't remember that part of the talk. Prosecutors introduced billing records from Sussmann's law firm listing the time he spent on the issue as work on behalf of the Clinton campaign.

Baker told the jury that while his earlier statements may be inconsistent, he is "100 percent confident" of his memory that Sussmann claimed to be acting on his own.
He testified Sussmann also told him a major newspaper -- he later learned it was the New York Times -- was preparing to write about the allegations. That worried Baker: He knew a news story would likely cause any suspicious communications to stop, and so he wanted the FBI to be able to investigate before an article appeared. Prosecutors say it was Sussmann himself who had provided the information to the Times.

"It would have concerned me, whether there was an effort to play the FBI and drag us into the ongoing political campaign and make us a pawn in the campaign in some fashion," Baker said. "It would have alarmed me, this nexus with the press and whether there was some effort to engineer a situation where the FBI would be investigating this material and that the press -- even though it couldn't determine the reliability of that material and couldn't report on it -- could report the FBI was investigating it."

Related: In this video clip of Kash Patel being interviewed by Maria Bartiromo, he mentions that Michael Sussman testified to him in Congress that he was in fact acting on behalf of a client when he delivered the Alfa Bank hoax to the FBI. Commenters have mentioned this a lot lately.
He says the FBI was not "fooled," here, but knew this was all fake from the beginning, and went ahead with the illegal surveillance of a political candidate anyway because they were acting as agents of Hillary Clinton.
He also claims that Lisa Page and Peter Strzok might be next to be targeted by Durham. Yeah we'll see.
By the way, just so you know how The Bulwark is doing in its alleged mission of "conserving conservatism," check this out: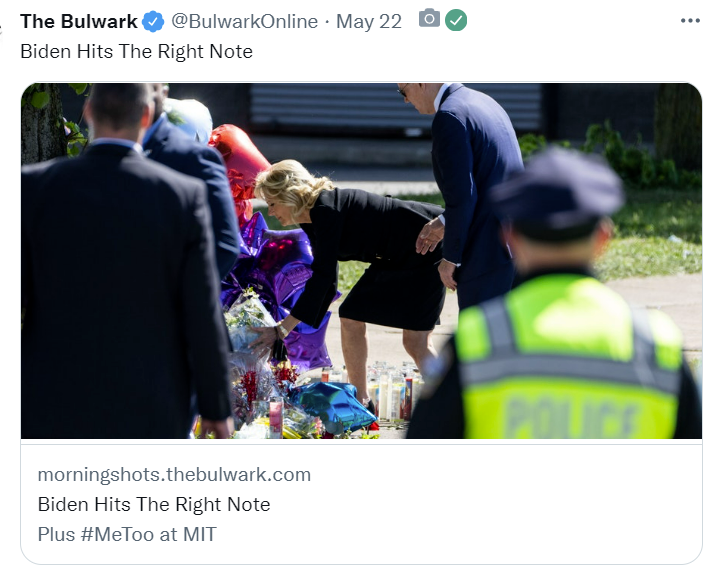 What was the speech in which Biden hit "the right notes," according to The Bulwark?
The Buffalo "White supremacists and Tucker Carlson did this" speech, of course.
Quick, someone pass that article to AllahPundit, so he can link it in the headlines without signing his name to the link.
Update:
Sean Davis Retweeted

@JakeGibson - 4m

Revealed in Sussmann trial today: FBI Agent Curtis Heide is being investigated in FBI internal probe of Crossfire Hurricane. Heide confirmed that he is being investigated for withholding potentially exculpatory information in a FISA court application.


Posted by: Jane D'oh

posted by Ace at
01:15 PM
|
Access Comments