« Daily Tech News 27 May 2021
|
Main
|
Mid-Morning Art Thread »
May 27, 2021
The Morning Report - 5/27/21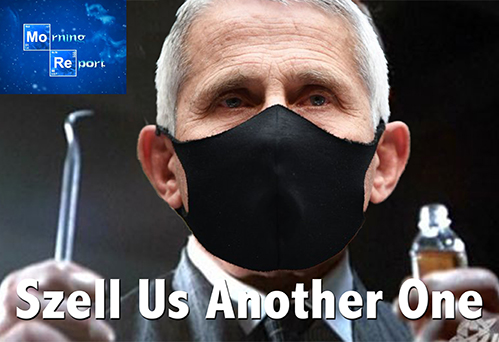 Good morning kids. Thursday, so pick your poison from out of the turd-ducken of Jew-hate wrapped in America-hate, inside a flakey crust of soul-crushing totalitarianism, societal dissolution and non-stop agitprop, all slathered in a lugubrious, crawly cream sauce of foreign enemies hot and horny to pop us into the microwave. Literally (hell, this here is a food thread; what's CBD got that I don't? [don't answer that!]).
Yes, Anthony Fauci is an incompetent megalomaniacal bureaucrat who doesn't know his ass from his elbow and more than likely helped the Chi-Coms create and unleash a biological/psychological terror weapon on the world. Yes, every aspect of our society and government including our military and police are being "transitioned" into some hideous "woke" monster that will be totally useless except in their collective capacity to subjugate we the people of We The People. Yes, American Jews have to now hide any vestige or clue that might give them away to Democrat-Leftist protected goon squads now roving the streets with impunity and hopped up on a "lean/purple drank" cocktail of Critical Race Theory and the Protocols of the Elders of Zion ready for some mostly peaceful ass-kicking. And when I say Jews, you can throw in Asians, whites, Latinos and anyone deemed "an oppressor," meaning looking at them funny. Pro-tip: a MAGA hat is the new yarmulke.
Meh, while it all makes the blood boil, nothing in particular is really jumping out at me today, so let's just gaze at the whole stinking loaf of boiled shit en masse, through the eyes of Victor Davis Hanson:
...the American people are slowly regaining their senses after the epidemic of mass hysteria and insanity that gripped the nation in 2020. But Americans will wonder whether what Antifa, Black Lives Matter, and the hard Left wrought last year will last when the nation is no longer gripped by 2020 madness...

...Before 2020, the American people tired of the media farces surrounding such events as the Duke lacrosse team, the lies about the Covington kids, and Jussie Smollett's hoax about being attacked by white racists. Will they return to their earlier skepticism about media hype when it increasingly seems like the media and the government mostly lied when denying the possibility that the coronavirus leaked from a Wuhan lab engaged in "gain-of-function" engineering of dangerous viruses?

Will people still believe that "armed insurrectionists" on January 6, 2021 planned a "coup" and killed officer Brian Sicknick? As the hysteria fades, we are learning there were no arms anywhere. No one has been charged with treason, conspiracy, or insurrection. There are no conspiracy kingpins in custody. And Sicknick tragically died a day later from natural causes...

From March 2020 to March 2021 the country went through a mass hysteria. Despite its ideological pretensions, the collective insanity was not unlike the Tulip mania in early 17th-century Holland, the 1950s hula-hoop craze, or the great June bug hysteria of 1962.

But as Americans sober up, will they institutionalize or reject the frenzy remaining from the destructive stampede that took the country over the cliff during the most unhinged year in American history?
I would urge Professor Hanson to read Julie Kelly's report (I mean, she does write for the same site as you!) from yesterday as dozens of truly innocent people are still being held as political prisoners by this illegitimate junta for an insurrection that he rightly states never happened - except the one which overthrew the winner of the 2020 election and installed the lump of gibbering flesh known as Biden. But that said, the madness continues. It has to continue lest the bastards at the controls be removed, via elections (very much in doubt given what we witnessed courtesy of Dao-Min Yen last November) or, G-d forbid, with pitchforks, rope and lampposts.
No, the mass-hysteria will remain until morale improves. So long as the enemy controls the schools as well as the means of information dissemination, then nothing is really going to change for the better. That said, there are positive signs here and there, where information does leak out. A school board here, a community board there. What we have is no longer a silent majority but a silenced majority. And we're not going to cotton to being silenced much longer.
All of this chaos and turmoil coupled with a disastrous policy regime locally, nationally and internationally is, as the saying goes, "unsustainable." The shit is going to hit the fan, somehow somewhere. A mask mandate gone too far? The goons picking on the wrong Jew to beat up? David Chipman going for our guns? A wild card we have yet to see?
Place your bets.

CIVIL WAR 2.0: LEFTIST PERSECUTIONS, CAPITOL HILL BLACK WEDNESDAY PROTEST AFTERMATH, DEMOCRAT PUTSCH, AMERICAN DISSOLUTION
NOTE: The opinions expressed in some links may or may not reflect my own. I include them because of their relevance to the discussion of a particular issue.
ALSO: The Morning Report is cross-posted at CutJibNewsletter.com if you want to continue the conversation all day.
Follow us on Twitter: @CutJibNews
Follow us on Instagram:@Cutjibnewsletter

posted by J.J. Sefton at
07:15 AM
|
Access Comments