« Open Thread: Tim Wilson, Comedy Genius [Y-not]
|
Main
|
Thank You China For The Gift Of Lower Prices [CBD] »
August 15, 2015
Saturday Gardening Thread: DO Tread On Me [Y-not and KT]
Y-not:
Good afternoon, gardeners! Today's thread is brought to you by Dire Straits:
The theme for my section was supposed to be "steppables" (hence the "walking" song), but something came up so I'll keep it short.
We are looking to section off part of our yard (probably using a low wall) to use as an entertaining space, but we'd like our dogs to be able to hang out with us in that area. However, we don't want "dog logs" happening close to the patio area. Nor do we want to cover the entire area with concrete or pavers or gravel. We'd still like the look and feel of grass or something green.
My thought was to define a doggy "play but no poop" area using pavers and "steppable" plants. These are some designs I was considering: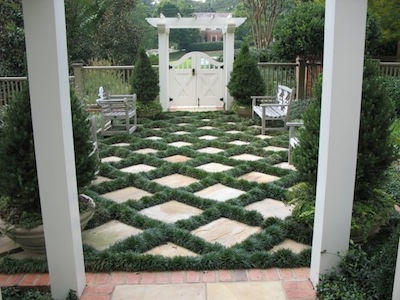 I like the use of monkey grass (I think that's what this is) because it looks like it would be no-maintenance. No trimming required, I assume.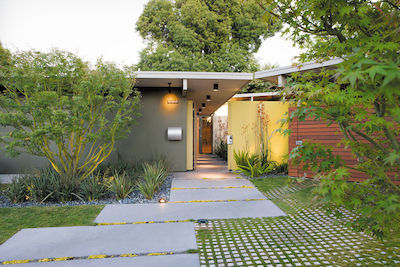 What I like about these small pavers (above) is that you get more green per square inch... but I think the dogs still wouldn't want to "do their business" there. However, the greenery they have is somewhat messy and uneven. Perhaps it'd be more effective with something like creeping thyme?
This last one is lovely. It looks like they're just using standard lawn grass between the pavers. I *assume* it would require mowing. Does anyone know if that would be tricky to do without damaging your mower?
Do any of you have experience with this sort of landscape feature? Are there any ground cover plants you'd recommend?
Thanks, in advance, for any suggestions you have!

And now, here's the incomparable KT to tell us about August in the Garden:
With the drought, there is not much going on in the garden. We do have some ripe Pluots, and we have Lantana. And dirt.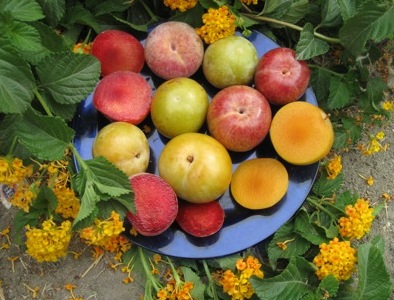 O.K., we also have some green tomatoes. I have started a few seeds indoors for a possible small fall garden. I will let you know if they make it into the ground.
We had some new, nasty goat heads (toritos) ripening where water hit pretty much for the first time this season. Hope I got them all.

The Pluots above are Flavor Queen (the yellow one) and Dapple Dandy (the rosy one). They were in the first group of Pluots released by a prolific plant breeder a little to the north of us, biologist Floyd Zaiger. He did not use "genetic engineering" as defined by those who warn us against it. But he did some cross-species breeding to get these cultivars. This apparently involved starting plants in petri dishes rather than in soil.
The two Pluots pictured above have some idiosyncracies, so if you are interested in growing one of them, let me know in the comments. They do not have a particularly wide climate adaptability. Dapple Dandy is the one marketed as "Dinosaur Eggs". It has a delicious, sweet, fruity flavor when picked at the right time. It is hard to predict when it will ripen from year to year, though it holds on the tree for a while after ripening. There have been some look-alikes released to extend the season. Some taste better than others.
Flavor Queen is very, very sweet. It tastes almost like honey when fully ripe, and can be picked a little under-ripe if you want a touch of acid in the flavor. It often develops a crack near the stem, so it is not marketed much commercially.
Sufferin' Succotash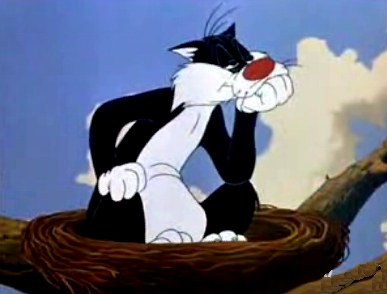 The perennial exclamation of a certain familiar cat
Do you like succotash? I did not much like the kind I was served as a child, but I once made some with fresh-shelled beans from the garden that was very nice.
Last week, I wrote about some runner bean cultivars that were renowned as shelly beans, but I didn't include a segment I had started about potential toxicity of beans. Shelled beans, and sometimes snap beans, can make you sick if you do not follow one weird trick.
Kindletot gave me an idea for working the toxicity segment in this week with a comment about Kentucky Wonder pole beans cooked as shelly beans. Kentucky Wonders are common beans rather than runner beans: "I would let the beans mature and then I would shell them for soups and stews. Kentucky wonders make the most delicious ham-bone stew I have ever had..." Then came an observation related to, um, gassiness. This is another potential cause of suffering, or at least embarrassment, induced by both common and runner bean seeds. Nevertheless, we love them. Does anybody in The Horde have a weird trick for avoiding this side effect?
I cannot grow runner beans here, and spring-planted common beans are all dead by July, so if I want to take a chance on shellies, I have to plant beans in August. In some other parts of the country, fall beans can be started as early as June.
Shelly beans are an August treat in Pittsburgh. If you aren't growing them and have to get them from the farmers market, "Try to grab a couple of pounds before the chefs snap them all up." Common beans are faster to shell at the mature shelly stage than limas or garden peas.

The link above includes several serving suggestions and a couple of recipes, one for "Shelly Beans and Summer Vegetables Stewed in their Own Juices".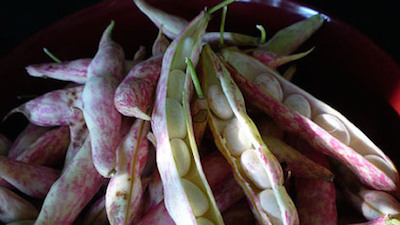 Shelly Beans ready for shelling
I thought that today I could write about some cultivars that are used both as snap beans and as shelly beans, like the Kentucky Wonders that Kindletot cooked for delicious ham-bone stew. One year I planted a few kinds of common beans in late August and let them continue growing into November as the quality of the snap beans declined due to cold nights. I decided, perhaps after a light frost, to salvage any shellies I could to make succotash, which seemed like a nice tribute to the First Thanksgiving in New England.
The word "Succotash" comes from a Narragansett (Rhode Island) word meaning "broken corn kernels". Succotash was very popular during the Great Depression, which may help explain how it ended up as a popular reference in cartoons.
Today, people often make succotash with fresh or frozen green (shelly) lima beans. But I seriously doubt that they grew lima beans in New England at the time of the First Thanksgiving. The Southern style of succotash is probably great with garden-fresh limas (and other ingredients like tomatoes, okra, squash and/or bacon). But I have never made it. I imagine that someone in The Horde has a good recipe.
Creamy Fresh Succotash
When I made succotash for Thanksgiving weekend, I started with a recipe from the Joy of Cooking, 1997 edition. It featured cooked dried red kidney or cranberry beans and cooked green limas. I figured that you would need 2 to 2 1/2 cups of fresh shelly beans. Cook until tender. Most shellies cook in half an hour.
Reduce 1 cup of heavy cream to about 1/2 cup by boiling in a large saucepan. Add beans with 1 1/2 cup fresh, canned or frozen corn kernels. Fresh, cut off the cob, is best. Cover and cook over low heat for 10 minutes. Stir in the following:
1 tablespoon butter
1 teaspoon fresh thyme leaves (optional)
1/2 teaspoon salt
1/2 teaspoon ground black pepper
Adjust seasonings, serve hot.
I think that Succotash Chowder sounds like a great idea, too. I'll put some additional links for succotash recipes in the comments if anyone is interested.
A lot of the shelled beans I used were not mature. They are harder to shell than mature beans. Just about any green bean will produce acceptable shelled beans if they are young enough that the skins have not toughened, but certain cultivars are famous as fresh-shelled, mature beans. These fall into several categories. I have grown beans in two of these categories.

Beans with Striped Pods
The shell beans pictured above are in this fairly broad category. The mature beans of some are a creamy color with rose or red markings, the Borlotti beans for example. No matter what Olive Garden says, genuine Pasta e Fagioli is best when made with fresh-shelled beans. Scroll down for recipes. Tongues of Fire is also recommended as a snap bean when young.
Other beans with striped pods are rose to reddish-brown with red markings, or entirely red (Cranberry Beans). Others are brown with darker markings ("Coco" beans). I have grown Coco Rose de Prague, which is lovely as a snap or shelly bean.
Rattlesnake pole bean can also be used either as a snap or shelly bean. It has moderate heat tolerance. There is also a well-regarded flattish wax bean with purple stripes, Dragon Langerie (Dragon's Tongue), which can also be used as a shell bean. Watch for the stripes to turn red.
The Valentine Beans
These are round-podded beans named after Red Valentine, an early green bean famous for its quality. I used Black Valentine as a partially-mature shell bean in my succotash. It was delicious. Black Valentine is also famous for its flavor as a dried bean. It is not particularly early, but it is tolerant of cool temperatures.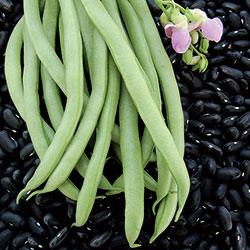 Black Valentine
Contender, AKA "Buff Valentine" or "Early Contender", is also fine as a shell bean. It is famous in the South as an early bean. It has some nematode resistance. It can be grown in greenhouses in the North because it is resistant to powdery mildew.
When I grew Contender in the fall, it developed a really nasty plastic-like membrane inside the pod. I would recommend skipping this cultivar for fall planting as a snap bean unless you expect 7 or 8 more weeks during which night temperatures will not be cold.
Other Beans Used at the Snap and Shell Stages
Let me know if you are interested in a link for any of these cultivars. I only know what I read: Greasy Grits, Hoffer's Lazy Wife, Lazy Housewife Greasy Pole, Low's Champion, McClassan Pole and "Frost" or Pea Bean. There are many more. Common beans are often quite specific in their climate adaptation.
One Weird Trick for avoiding bean toxicity
Like many legumes, common beans and runner beans should generally not be eaten raw, at least in quantity. A blogger recounts what happened to him (or her) after eating 15 raw runner beans. Sounds awful. From the photos of the remains of the beans, it looks like they has started to become fibrous, so the seeds may have started to develop. I have eaten a couple of big, but moderately young, runner bean pods raw without ill effect.
The science at the link above is sort of confused, so I would go with what the Eat the Weeds guy says about potential toxicity, which varies between species of beans. "Like most beans the Scarlet Runner Bean contains small amounts of the lectin phytohaemagglutinin (figh-toe-hee-mah-GLUE-tin-inn.) The highest amount is in uncooked red kidney beans. . . As few as five raw kidney beans can cause symptoms such as losing fluids and feeling lousy for four or five hours." From the Wiki on common beans:
Phytohaemagglutinin can be deactivated by boiling beans; ten minutes at boiling point (100 deg C, 212 deg F) are sufficient to degrade the toxin, but not to cook the beans, the U.S. Food and Drug Administration recommends boiling for 30 minutes to ensure they reach a sufficient temperature for long enough to completely destroy the toxin. For dry beans, the FDA also recommends an initial soak of at least 5 hours in water which should then be discarded. Outbreaks of poisoning have been associated with cooking kidney beans in slow cookers.
So, that is the trick. Boil them beans down before you eat them. The FDA sounds a bit over-cautions there. And a few young, raw pods of common or runner beans in which the seeds are not developed should not be a problem. Many people enjoy eating them in the garden.
You might consider potential toxicity of various beans to pets, particularly dogs. But don't get obsessive. If you have an adventurous eater, keep older pods picked from the lower parts of the plants that your pet might reach.
Plant some cat grass or other enticing, safe plants to keep pets from gnawing on potentially toxic plants. We do not want any mishaps involving beans, with pets or with people. Hmmm . . I wonder if the boy in this clip had eaten some raw bean seeds? Mister Bean? Suspicious . . . .
Have a great week. Enjoy your yard and garden.

Y-not: Thanks, KT! That was a very foodie version of the Saturday Gardening Thread. For the real deal, make sure to check out CBD's Sunday Food Thread tomorrow afternoon.
To wrap things up, I begged our buddy xbradtc for some gardening-related content, but all he sent me was a picture of a BUSH.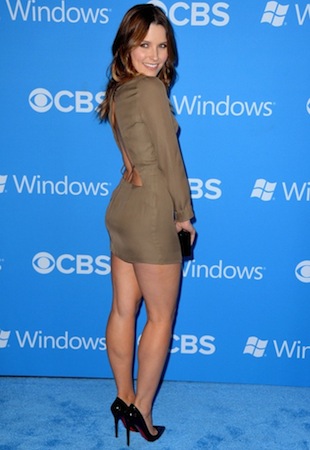 I don't think xbradtc reads the Gardening Thread.

What's happening in your gardens this week?

posted by Open Blogger at
02:45 PM
|
Access Comments