« Laura Ingraham's O'Reilly Factor Interview with Two Constitutional Scholars
|
Main
|
Randy Barnett Says This; John Yoo Says That »
June 30, 2012
Super Derecho Rips Eastern US
A derecho. I didn't even know that was a thing.
It's kind of like a circular storm except it's not circular -- it's a long (240 miles+) front of straight-line wind and rain.
There are two known deaths:
One of the multiple trees that crashed into homes in Springfield, Va., killed a 90-year-old woman as she was sleeping in her bed, according to the Associated Press.

A few hours earlier, a falling tree outside of North Middletown, Ky., (located east-northeast of Lexington) killed a man who was attempting to clear some tree limbs off a road.
The storm has left millions without power, on one of the hottest days of the year.

UPDATE [DiT]: Some pretty freaky pics of the storm and damage here, including this one,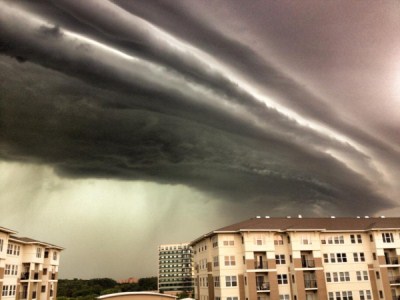 link via ChrisP over at H2

posted by Ace at
01:35 PM
|
Access Comments