« Obama's Hot New Slogan: "Forward"
|
Main
|
Outstanding: Washington Post Declares That The Public Which Believes The Media is Biased Only Thinks That Because They Themselves Are Biased UPDATE »
April 30, 2012
Elizabeth "Warpath" Warren: I Claimed To Be Of Indian Descent When Seeking a Job a Harvard. Why No, I Have No Evidence of This Useful Claim. It's Just Part of My Family's "Lore."
Oh, and By the Way, I Don't Remember If I Ever Claimed to Be Indian.
She's now claiming she doesn't know if she told Harvard she was part Indian.
Somehow that just ended up in Harvard's bio of her -- but I suppose maybe they thought she just "looked Cherokee" or something.
Now she claims she doesn't "recall" if she played the race card when she applied for her big-wampum $350,000-a-year job at Harvard Law. You see, it was so many moons — I mean years, ago. Sounds like a lot of bull — Sitting Bull.

She even said she knew nothing about Harvard Law bragging about her alleged Indian heritage until she read about it in the Herald. More Sitting Bull from the Veritas crowd.

Granny knows how this plays out from here. A group of Indians — real Indians — will demand that she release her employment application to Harvard Law, so we can see what box she really checked off under race, as if we don't already have a pretty good idea.
"I don't even remember," she added when asked about a 1996 Harvard Crimson article that quoted a then-law school spokesman touting her minority status. "You're trying to raise something from 15 years ago."

Her GOP Senate rival, U.S. Sen. Scott Brown, said today the story raises "some questions that need to be answered." Brown's campaign went further calling on Warren to apologize for allowing Harvard to claim she was part Native American.

"For years, Harvard has claimed special minority status for Professor Elizabeth Warren as a member of a Native American tribe and their first minority hire," said Jim Barnett, campaign manager for Brown. "That Warren allowed Harvard to hold her up as an example of their commitment to diversity in the hiring of historically disadvantaged communities is an insult to all Americans who have suffered real discrimination and mistreatment, and Warren should apologize for participating in this hypocritical sham."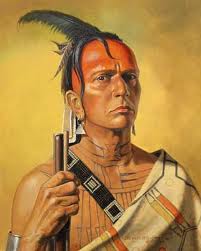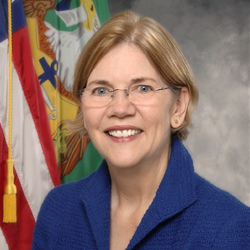 Pictured: a wild-eyed savage delighting in the destruction of the civilization of the West; and a Cherokee warrior, ca. 1836
David Bernstein of Volokh looks into Warren's claim that she has no idea how Harvard got the idea she was an Indian.
The old AALS Directory of Faculty guides are online (through academic libraries) at Hein Online. The directories starting listing minority faculty in an appendix in 1986. There's Elizabeth Warren, listed as a professor at Texas. I spot-checked three additional directories from when she was a professor at the University of Pennsylvania, including 1995-96, the year Harvard offered her a position. Elizabeth Warren, Elizabeth Warren, Elizabeth Warren.

So, we know one thing with almost 100% certainty: Elizabeth Warren identified herself as a minority law professor. We know something else with 90%+ certainty: (at least some) folks at Harvard were almost certainly aware that she identified as a minority law professor, though they may not have known which ethnic group she claimed to be belong to, and it may not have played any role in her hiring.

But it gets even more interesting: once Warren joined the Harvard faculty, she dropped off the list of minority law faculty. Now that's passing strange. When the AALS directory form came around before Warren arrived at Harvard, she was proud enough of her Native American ancestry to ask that she be listed among the minority law professors. (Or, in the unlikely even that she just allowed law school administrators to fill out the forms for her without reviewing them, they were aware that she claimed such ancestry, and she didn't object when she was listed.) Once she arrived at Harvard, however, she no longer chose to be listed as a minority law professor.
You Know When I Said Nothing Untoward Would Occur In Your Mouth?
...that was just part of my "Family's lore." See, if it it's "family lore," it doesn't have to be true.