« Former Obama Aide: Oh, I Just Figured Out Who's To Blame For Olbermann's Suspension. FoxNews.
|
Main
|
CNN exit polling results...very interesting »
November 07, 2010
The Best Magazine Articles of All Time
So here's a list of the best magazine articles of all time that I came across it a while back. It was compiled by kk.org based on reader's votes. And it's a pretty good list - at least five of the articles included are ones I would have listed off of the top of my head if asked. So far I've read about half of the articles and they've all been uniformly excellent. Great writing and style can take something you have minimal interest in and make it a fascinating read.
So here are the first ten - but the next fifteen are just as good:

Gay Talese, "Frank Sinatra Has a Cold." Esquire, April 1966.
Hunter S. Thompson, "The Kentucky Derby is Decadent and Depraved." Scanlan's Monthly, June 1970.
Neal Stephenson, "Mother Earth, Mother Board: Wiring the Planet." Wired, December 1996. On laying trans-oceanic fiber optic cable.
David Foster Wallace, "Federer As Religious Experience." The New York Times, Play Magazine, August 20, 2006.
David Foster Wallace, "Consider the Lobster." Gourmet Magazine, August 2004.
John Updike, "Hub Fans Bid Kid Adieu." The New Yorker, October 22, 1960. About Ted Williams career framed by his last game.
Hunter S. Thompson, "Fear and Loathing in Las Vegas: A Savage Journey to the Heart of the American Dream." Rolling Stone. Part I: November 11, 1971; Part II: November 25, 1971.
Richard Ben Cramer, "What Do You Think of Ted Williams Now?" Esquire, June 1986.
Jon Krakauer, "Death of an Innocent: How Christopher McCandless Lost His Way in the Wilds." Outside Magazine, January 1993. Article that became Into the Wild.
Susan Orlean, "The American Man at Age Ten." Esquire, December 1992. [Ed.'s note: Not available in Esquire's online archive, but you'll find it with a little searching. Also republished in Orlean's The Bullfighter Checks Her Makeup and Glass's The New Kings of Nonfiction.]
I remember reading the Neal Stephenson article when it first came out and it convinced me to fill out the subscription card to Wired magazine right on the spot. And Wallace's article on lobster tells you more about the lowly crustacean that you ever wanted to know and you'll enjoy every word of it.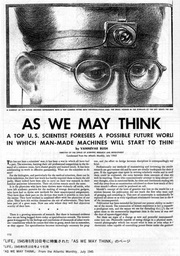 But there's one article that I think ought to be listed in the top 25 as well - Vannevar Bush's "As We May Think" published in the July 1945 issue of Atlantic Magazine. Vannevar Bush was Director of the Office of Scientific Research and Development during WWII and also one of the organizers of the Manhattan Project. And in this article written while battles were still raging in the Pacific he predicted how information could be accessed in the future. And was amazingly accurate!
What he calls "the memex" is basically what we know as the World Wide Web, accessed via hyperlinks on PCs. By page 6 he's taken us to about 2009-era technology. Read the last two pages to see what the 2020s and 2030s will be like. And Bush didn't just predict the future - he also helped create it. Douglas Engelbart, inventor of the mouse, word processor, and hyperlinking, was directly inspired by Bush's essay to create much of our modern computing interface. Personally I'm kinda looking forward to the last page of Bush's article finally happening.

posted by Maetenloch at
04:28 PM
|
Access Comments