« #Woke: Burger King Publishes Painting of the "King" Character Sharing a Gay Soul Kiss with Ronald MacDonald
|
Main
|
The Morning Report - 9/15/20 »
September 14, 2020
Monday Overnight Open Thread (9/14/20)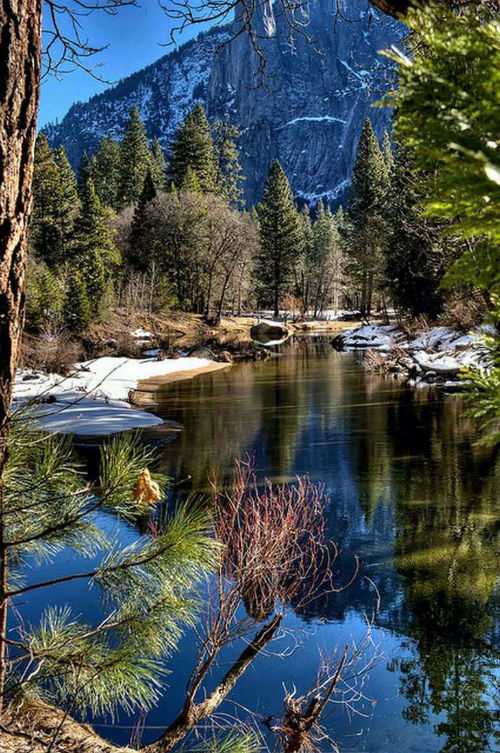 ***
The Quotes of The Day

Quote I

Snuggle in God's arms. When you are hurting, when you feel lonely, left out. Let him cradle you, comfort you, reassure you of His all-sufficient power and love. Kay Arthur
Quote II

"In the three years I've spent at Facebook, I've found multiple blatant attempts by foreign national governments to abuse our platform on vast scales to mislead their own citizenry, and caused international news on multiple occasions,Sophie Zhang

Quote III

We have these fires in California, and in the West, 16 people have died in Washington, Oregon, and California, including a firefighter and a 1-year-old baby. We — our firefighters have been so, very, very courageous.

Now, we're, again, breaking records. Mother Earth is angry. She's telling us — whether – she's telling us with hurricanes on the Gulf Coast, fires in the West, whatever it is, that climate crisis is real and has an impact.Speaker of The House Nancy Pelosi
***
The Tweet of The Day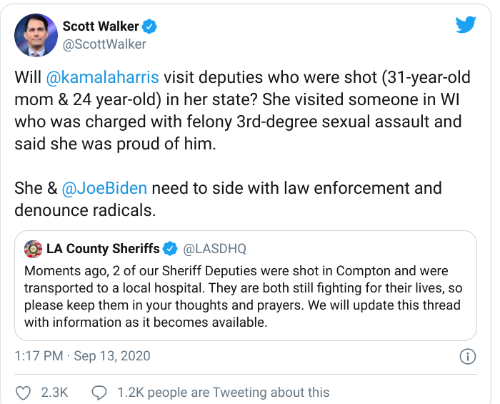 ***

Black Bears Matter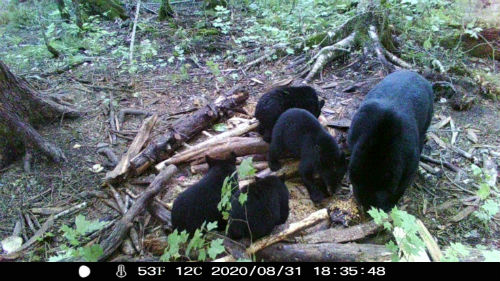 ***

Paul Joseph Watson, Language, do I need to say more?

I haven't perused Drudge in a couple of years...........
***

Selective law enforcement and judicial tomfoolery has run amok in Portland. You can't make this stuff up.

On Sunday, police arrested a man who confessed to starting a brush fire with a Molotov cocktail in Portland. They booked him in Multnomah County Jail. Portland being Portland, the authorities released the suspect that evening. The man then went on to start six more fires before the police arrested him yet again. The cops took him to a hospital for a mental evaluation.
***

If this behavior is peaceful, I would hate to see them if they were pissed off.

Rieli Franciscato, 56, the head of a program to protect indigenous groups that have little or no contact with the outside world, died Wednesday in the Seringueiras region, a remote municipality in the northern state of Rondonia, said a statement from the Brazilian government's indigenous affairs office, FUNAI, where he worked.

FUNAI declined to say how he died.

But witnesses said he was shot with an arrow while monitoring recent appearances by a tribe known as the "Cautario River isolated group," according to a photojournalist in the region, Gabriel Uchida.

Rieli was accompanied by a police patrol. When the party came under fire with arrows, they ran to take shelter behind a vehicle, but Rieli was hit in the chest, witnesses said.

He was taken to the nearest hospital, but died soon after.

The tribe "are known as a peaceful group," Uchida told AFP in an email.

I wonder if he and Timothy Treadwell are hanging out in the after life. Just thinking out loud.
***

Everything you wanted to know about Boston Dynamic robots but were afraid to ask. Or maybe not.

Boston Dynamics hired Playter in 1994. After 18 years as vice president of engineering, Playter took a director role when the company was acquired by Google. Following Google's sale of Boston Dynamics to Softbank four years later, he became COO and then a year later, CEO.


"The company is transforming," Playter said. "There's a lot of change that's taking place. And we're trying to do some things that are pretty hard. Our history is we're an R&D organization. And really, we're the best in the world at creating some new concept of a robot and making it work well enough that you could go do a demo with it. And we are trying to hang on to what made us great there: the ability to do advanced development and research and solve fundamental and hard problems but also develop our commercial muscle, learn how to sell a product, manufacture it, support it, and ultimately make a profit. It's not always easy to have both of those kinds of goals coexist."

To help Boston Dynamics become a commercial company, Playter has been hiring executives with experience in sales, business development, marketing, HR, and finance. The engineering leadership has come from the R&D realm and will remap how the robots are produced. But the majority of the new work is happening on the business side, where the company is "developing the processes and the discipline to go build a profitable business."
***

The Church of The Perpetually Offended is alive and well. How dare a clueless white guy use a word revolving around Mexican culture!

As if it wasn't already hard enough to open and maintain a restaurant in Minneapolis, what with the pandemic and rioting making the city almost unlivable. Brian Ingram found out the hard way that there were even more challenges awaiting him has he prepared to open his new eatery, Elotes Woodfire Grill on Thursday. The grand opening didn't take place, however, for a couple of different reasons. One was a rather mundane problem with failing a municipal fire code inspection, but the other was a protest launched against the restaurant before it even opened. Activists were unhappy with the name, saying that Ingram, a White man, had no business using the word "elotes" because it would represent "cultural appropriation" of Mexican heritage or something. (CBS Minnesota)
***

Joe Biden can't answer soft ball questions without a teleprompter. No way Biden can go face to face with Donny "Two Scoops" for four hours.

President Donald Trump has accepted an invitation from Joe Rogan to appear on his podcast for a 4 hour live debate with Joe Biden.

Tim Kennedy tweeted that the challenge was made by Rogan during an appearance on his podcast.

"On my podcast with @joerogan he offered to moderate a debate between @JoeBiden and @realDonaldTrump It would be four hours with no live audience," tweeted Kennedy.

"Just the two candidates, cameras, and their vision of how to move this country forward. Who wants this? #debates #Election2020."

"I do!" responded Trump.


The prospect of Joe Biden being able to withstand a 4 hour debate will be interesting given the myriad of questions surrounding his mental faculties and his inability to avoid verbal slips ups even during short news interviews.

Joe Rogan appears to have popped up on Trump's radar last week when Trump began retweeting clips from his show.
***
The ONT Musical Interlude

September 14 is the anniversary of the Battle of Fort McHenry during the War of 1812. Francis Scott Key wrote "THe Defence of FOrt McHenry," which became "The Star Spangled Banner" and later the National Anthem. Here is a recreation of an 1814 version of the song. H/T Isophorone Blog
&&&
Born on this day: September 14, 1983 - Amy Winehouse
Amy Winehouse, UK singer, songwriter. Winehouse's debut album, Frank (2003), was a critical success in the UK and was nominated for the Mercury Prize. Her follow-up album, Back to Black (2006), led to five 2008 Grammy Awards, tying the then record for the most wins by a female artist in a single night, and made her the first British female to win five Grammys. Winehouse died of alcohol poisoning on 23 July 2011, aged 27. Her album Back to Black posthumously became, for a time, the UK's best-selling album of the 21st century. via thisdayinmusic.com
***

Karma and the Genius Award Winners.
***

Here is your parting gift, buh-bye. Tonight's Feel Good Story of The Day.
I'm still Misanthropic after all the alone time..............
***
Tonight's ONT has been brought to you by Height Enhancers.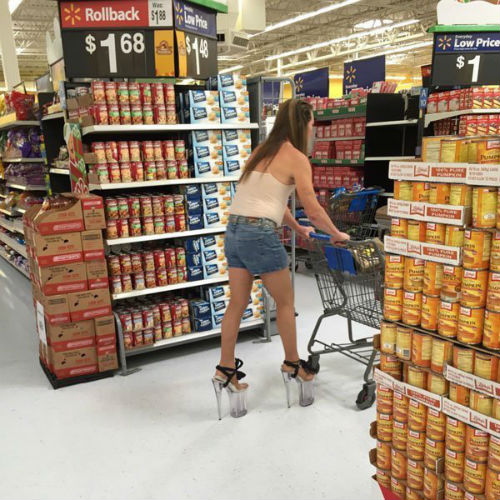 Notice: Posted with permission by the Ace Media Empire and AceCorp, LLC. No black bears were injured in the production of this ONT. A big Thank You to all who sat in the past week plus.

posted by Misanthropic Humanitarian at
10:00 PM
|
Access Comments