« Obama "Fully Embraces" Meeks, Boosts Rubio
|
Main
|
US Ending Combat Operations In Iraq »
August 18, 2010
Martha's Vineyard ♥ Barack
No wonder he only spent 26 hours of his eighty-seventh two-week vacation in the Gulf, "healing" it through his mere presence.
Look at the hero's welcome he gets up in Six Flags At Herpes Petri Dish.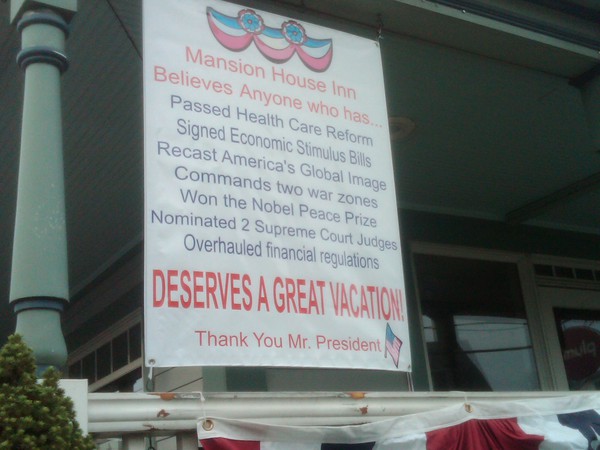 Remember how the media always made a point to note that from 2006-08 Bush's public appearances tended to come in Heartland strongholds?
I predict Obama will retreat further and further into deep-blue playgrounds of trust-funds and tenure-tracks, campaigning harder and harder among his real base, those without real jobs, except for their make-pretend fauxcupations in pretendustry and nagriculture.
Via Jake Tapper's twitter feed, brought to my attention by ExJon.