« Jib-Jab puts the ROCK in Barack. [krakatoa]
|
Main
|
Overnight Open Thread – Lawyers, Guns and Money (genghis) »
June 21, 2009
Some Thoughts on Zombies - Mætenloch
Are Zombie Movies a liberal parable?
While everyone is focused on what's happening in Iran, I thought we should take a moment and look at the second most pressing issue of our time – the undead.
This week Paul Waldman of The American Prospect has an interesting article where he covers the history and recent popularity of zombie movies and then asks whether the zombie genre is fundamentally liberal or conservative. His conclusion is that z-movies are in fact liberal parables reflecting the value of progressive ideals. Now let me first say that Waldman has clearly done his research on zombies and is familiar with all major works in the canon. He even unearths some interesting nuggets of zombie lore – the first true zombie movie was White Zombie (1932) starring Bela Lugosi and the first movie of the Nazi-zombie subgenre actually appeared in 1943 when we were, uh, still fighting actual living Nazis.
So Waldman knows his stuff. However his argument that zombie movies reflect progressive ideals doesn't really make sense. He admits that fighting off zombies requires lots of guns which seems to be an argument for the Second Amendment, and also in most Z-movies the government is ineffectual or just plain absent leaving people to their own devices which again is a generally conservative view. However he notes that in a zombie-apocalypse capitalism breaks down with people taking whatever they need from hardware and gun stores, malls, etc. In addition the key to survival is usually diverse people coming together in the progressive ideals of common cause and collective action. Hence he claims zombie movies are really a liberal genre.

Well first of all common cause and collective action are hardly unique to the left – most of the difference between the left and right is how collective action should be implemented – top-down or bottom-up, government-based or strictly voluntary. And furthermore insofar as zombie movies actually have a political viewpoint, I would argue that it's more a conservative one. As Margaret Thatcher once said, "The facts of life are conservative," and the facts of the zombie apocalypse seem even more so.
Most z-movies end up with a small band of survivors holed up with guns fighting off zombie hordes, planning a way out to safety with no assistance from authorities. At the very least this suggests that conservatives and libertarians would be the most prepared to survive a zombie-filled world. Even if you're not into guns, it's good to have at least one neighbor who is, just in case. And while most movie plots revolve around a collective plan to escape, the emphasis is on individual action and responsibility. Z-movies usually contain a mini morality tale where a weak character through cowardice or distraction allows zombies to get through and kill other characters. Personal responsibility is not a virtue unique to the right, but it's something that you generally only see celebrated in conservative-themed movies.
But the most telling point in favor of zombie movies being conservative is how they view the zombies themselves. The movies don't bother focusing on their back story, motivations, or how or if they feel. The zombies are an implacable force that must be destroyed. Sure they may have been human friends and family once full of love and life, but now they are the undead who hunger for human brains or flesh. No moral equivalence here. And while occasionally a character expresses some sympathy for the zombies, no one ever tries to negotiate or find common cause with them. It's pointless. They're zombies, they're hungry, and they have to be destroyed.
You'd be hard pressed to find a more stark, good-vs-evil view of the world in anything Hollywood produces. Even Nazis and Klan members are given a more shades-of-gray treatment, but not zombies.
Zombies – a metaphor for the war on terror?
One particularly interesting item in Waldman's article is a chart where he graphed the number of zombie movies released by decade. From a glance it's obvious that zombie flicks have exploded in popularity since 2000, and we seem to be in a zombie golden age. Out of curiosity I took the data from the same wikipedia page and plotted the number of z-movies released year by year. From the chart you can see that the z-movie spike is a post-9/11 trend with the number of movies only taking off around 2002. They peaked around 2006, and seem to be fading back to normal levels.
The shape of the curve looked vaguely familiar so for kicks I plotted a scaled version of the number of US military deaths in Iraq and Afghanistan along with it and got this chart: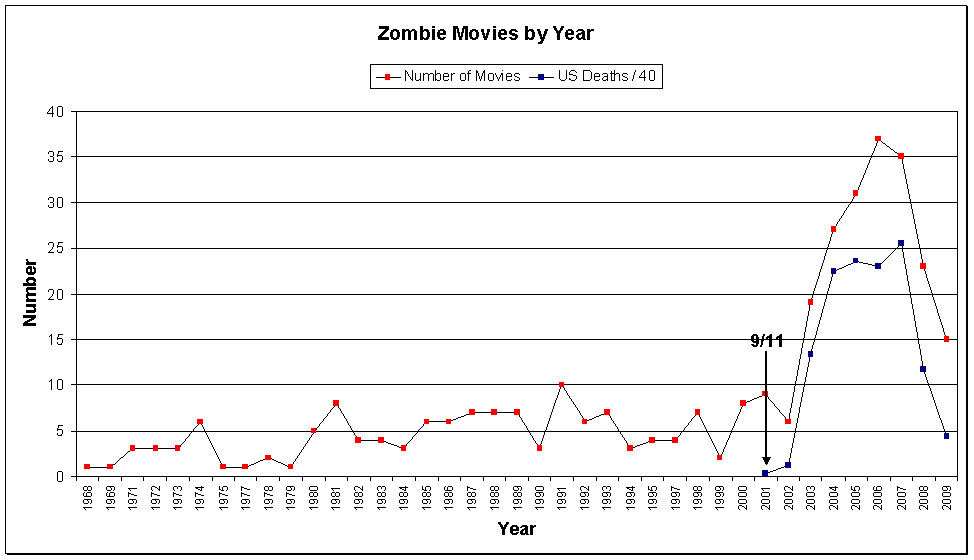 Amazingly the popularity of zombie movies tracks very well with the number of deaths. Could zombie movies actually be a metaphor for the war on terror?
Well correlation does not imply causation and all that. But it is awfully interesting and does lead one to speculate.
Certainly you could view militant Islam as a sort of mind virus, infecting and spreading among people, filling them with rage, causing them to attack their own countrymen, and with no known cure short of killing them. Yeah, it's kind of a strained analogy, but it would place the war on terror perfectly in the center of the zombie genre plus it avoids any niggling political correctness concerns.
So could zombie flicks actually be the war movies that Hollywood has refused to make for the last eight years?
Maybe. But I think this decade's popularity of zombie movies can be better explained due to something else: fast zombies. In 2002 both Resident Evil and 28 Days Later appeared and these were the first successful movies to feature fast zombies rather than the slow shambling ones seen before. This made zombies a more fearsome threat and re-energized the entire genre, opening up all sorts of creative possibilities as well as a multitude of imitators. I suspect if anything, the curve reflects the rise and fall of fast zombie exploitation by Hollywood rather than the war on terror.
However the kind of movies that are successful often do reflect the anxieties of the times. The 50's were chock full of alien invasion movies and now these are generally viewed as reflecting a fear of communism, and the 80's featured a lot of movies with nuclear armageddon as a plot background. So why shouldn't movies of the last eight years reflect the anxieties in the age of the war on terror?
I figure someone could get a whole PhD thesis out of this or at least a full blog post like I just did.

posted by xgenghisx at
07:36 PM
|
Access Comments