« Is McCain Thinking Of Naming A Pro-Choice VP? UPDATE: Not Ridge?
|
Main
|
Top Ten Other Purloined Passages McCain Swiped from Soltzhenitsyn's Book »
August 19, 2008
Tom Maguire Demolishes Andrew Sullivan's "Sand-Crossing" of McCain
Here's Sullivan, playing his usual role of heroic martyr for truth:
...And why are we not allowed to ask these questions, when they relate to one of the most important questions anyone can ask about a president: the question of integrity? If McCain has fabricated a religious epiphany for political purposes, it is about as deep a betrayal of core integrity as one can imagine, and the latest example of how pernicious the religious domination of political life in America has become.
Well, first of all, Mr. Excitable, you are allowed to ask these questions. No one is putting a sack-cloth over your head in the dead of night (unless that's by your own arrangement, NTTAWWT).
I actually don't think Sullivan's charge here is outrageous -- I think it's pretty common for politicians to embellish personal stories for effect. John McCain, having such powerful real stories in the first place, has little need for additional embellishment; but I don't think it's beyond belief that he might have exaggerated this one, or claimed it happened to he himself when it really happened to someone else, or etc.
I tend to think it happened as McCain says, but I'm not 100% committed to that. It's possible he embellished, or even lied. The next obvious questions: 1, Can you prove that? and 2, So fucking what?
The trouble with this inquiry is, as many have written, it is hard to prove a negative, so the left starts out knowing it can never prove their charge. But they press it anyway, hoping they can do some damage to a candidate they oppose simply by smearing him with unprovable allegations.
The second problem is that, in the scheme of things, this would be one of the least important political fibs (if it is a fib) in the history of political fibs. Sullivan attempts to argue that this is the Holy Grail of embellished stories (if it is embeliished) confounding it (as he is wont to do) with his palpable, eye-twitching hatred of religious Christians.
If a single false tale about one's religiosity is a disqualifier for the presidency, what do we make of Obama's serial lies about Jeremiah Wright and infanticide? And -- if it's not merely acceptable but well-nigh critical to ask questions about someone's true religious beliefs and history- - then certainly Sullivan, of all people, should support similar questions about the exact nature and duration of Obama's years in a Muslim school and Muslim culture.
Sullivan, brave inquisitor of integrity regarding religious issues, should not dismiss those like-minded souls who have the courage to scrutinize Obama's religion as a youth as engaging in racist or xenophobic smears, but should instead welcome them as fellow Internet Detectives for Truth and Integrity.
Sullivan, as usual, does not intend his suddenly-discovered "rule" to apply to anyone at all except the current target of his double-standard doubletalk.
The fact that Sullivan had such powerful "heart-ache" -- often reporting himself to be "sickened" or "appalled" -- over those who challenged Kerry's accounts of his Vietnam years certainly suggests that Sullivan's standards on this score are flexible, or at least highly nuanced. I don't remember the Swift Boat Vets ever being hailed as truth-seekers and integrity-detectives by Sullivan for questioning John Kerry's nonsense accounts of how he came to receive three Purple Hearts. Quite the opposite, actually.
But that's in the past. If questions of religiosity are indeed the most important of all, than surely Sullivan is himself an advocate of questioning whether Obama was in fact a practicing Muslim as a young lad. That's also very unlikely to be proven either way, of course, but certainly Sullivan must commend those who probe into this crucial question as doing important work in the service of integrity. A man who would lie or merely fudge the facts on such a fundamental question is simply not fit for the presidency (pandering, as he would be, to the dictates of the Holy Terror of the religious right); we owe it to this nation to dig, dig, dig, and insinuate, insinuate, insinuate, even with little hope of ever actually proving our assertions.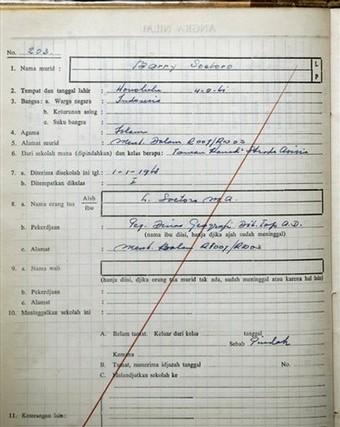 [AP Photo Caption] 19 months ago: This registration document, made available on Jan. 24, 2007, by the Fransiskus Assisi school in Jakarta, Indonesia, shows the registration of Barack Obama under the name Barry Soetoro into the Catholic school made by his step-father, Lolo Soetoro. The document lists Barry Soetoro as a Indonesian citizen, born on August 4, 1961 in Honolulu, and shows his Muslim step-father listed the boy's religion as Islam.(AP Photo/ Tatan Syuflana)
Why was Obama registered as a member of the Islam religion at a Catholic school, if he was not? It's one thing to claim he was registered as a Muslim at a Muslim school just to avoid hassle and ostracism; but why conceal his true Christian faith at a bona-fide Christian school?
Barry's adopted father sure seemed to think Barry was a practicing Muslim. This is an official document. On paper. Not merely scrawled in the sand, lost forever. We've got this document right in hand.
Just doin' my bit for integrity.
And Sullivan -- you're welcome.

More: The "interesting theory" put forward by Sullivan and his confrers at the Daily Kos always relied (up until now) on the key "fact" that this anecdote first appeared in Solzhenitsyn's Gulag Archipelago, published in 1973. "Quotations" from that book have been offered by the left.
The theory went that McCain, a fan of Solzhenitsyn, picked up the anecdote from reading that book.
Trouble is, it doesn't appear in any of Solzhenitsyn''s published works. (Where did those quotes from the book come from?)
Solzhenitsyn did, it seems, tell the story orally in a speech in 1977.
Meet the new theory (same as the old theory) that McCain cribbed from this speech.
Trouble is, if Solzenihyn is apparently making it up (after all, he didn't write about it in his exhaustive book about his captivity, ergo, per the left's assumptions about such tales always being written immediately after the fact, it didn't ever really happen to him at all)... um, how do we know Solzhenitsyn didn't crib it from McCain, rather than vice versa?
Eh. A fool's errand. But we have no shortage of fools volunteering for duty.
And thus we have a lot of lefties talking up McCain's heroic captivity in service of his country, and also his Christian bona fides.
Well played, fellers. KRYMB.*

* Just shorthand at this point: Karl Rove, You Magnificent Bastard.

posted by Ace at
03:20 PM
|
Access Comments