May 13, 2021
The Morning Report - 5/13/21 [J.J. Sefton]
—J.J. Sefton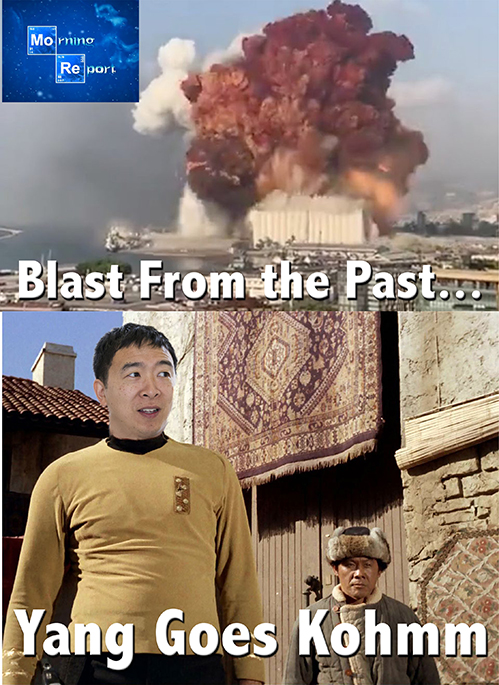 Good morning kids. Thursday and while Israel is committing the heinous crime against humanity of defending itself from missile attacks from Gaza and an Arab pogrom from within, here's a blast from the past, pun intended. Specifically last August:
At least 73 people are reported dead and thousands more are injured following a massive explosion Tuesday that rocked Beirut's port.

The blasts sent a mushroom cloud high into the sky above the Lebanese capital, leveling much of the city's port area, damaging some buildings and blowing out windows in others, officials said.

Preliminary assessments suggest the explosion was a tragic accident -- but authorities have not ruled out the possibility that it was a planned attack, according to Fox News.

The explosions come just days before a United Nations verdict is due on four alleged Hezbollah members accused of killing former Lebanese Prime Minister Rafic Hariri in 2005, Fox News reported.

The blasts also took place in the port area, which is controlled by the Shia Islamic movement, the outlet said.
The explosion that devastated large parts of Beirut and killed more than 190 people was one of the largest non-nuclear blasts in history -- about 1/20th the size of the atomic bomb that leveled Hiroshima in World Word II, according to a report.

Experts at the UK's Sheffield University found that the size of the blast at the port -- which unleashed a huge shockwave throughout the Lebanese capital -- was the equivalent of between 500 and 1,100 tons of TNT, the BBC reported.

"Beirut's certainly the most powerful non-nuclear explosion of the 21st century," said Sam Rigby of Sheffield's Blast and Impact Engineering Research Group...
No doubt the subhuman savages of Hezbollah would have not taken kindly had the UN officially implicated them in Hariri's death. But an explosion of this magnitude could not have been related to that. Lebanon, which is essentially Gaza with marginally better PR, is for all intents and purposes the front line border between Iran and Israel, with the former using those puppet states as fire bases from which to attack the latter. It is more than likely that the rockets now raining down on Israel were either manufactured in Iran or, given Israel's successful efforts at interdicting arms shipments via the sea, manufactured in Gaza or Lebanon. I think Lebanon has or had factories that would have used the materials that leveled Beirut's harbor last August to build rockets that would have rained down on Israel from the north.
By the way, a Hamas leader himself stated unequivocally he bought the weapons from Iran with Iranian money. And Iranian money ultimately means American money... from pallets of cash. Thanks, Obama!!!
Not that Israel is so big that a barrage from Gaza cannot reach virtually everywhere. But double the missiles from two directions might very well have overwhelmed Israel's so far successful Iron Dome missile defenses with catastrophic results. Hamas is acting at the behest of Iran. This is an attack by Iran on Israel. They are testing them and really the Biden junta to see what its response will be. Finally after a two-day lid, Biden was given his monkey glands and crystal meth cocktail to call for "restraint on both sides," i.e. blame the damned Jooz for not agreeing to shut up and get in the gas chamber.
On that note, while I was frankly shocked, and pleasantly so, by NYC mayoral candidate Andrew "Out the Ying" Yang's unequivocal support for Israel, I'm even more surprised at his surprise by the reaction from his own party:


New York City mayoral candidate and former Democrat presidential candidate Andrew Yang backtracked Wednesday after he tweeted earlier in the week to support Israel as it continues to be bombarded by rockets fired by Palestinian terrorists... .

..But "progressive" Democrats attacked Yang, calling him. "white supremacist" and urging New Yorkers to oppose him. Rep. Alexandria Ocasio-Cortez (D-NY) even encouraged Muslims not to host him at communal religious celebrations.

On Wednesday, in the face of criticism from anti-Israel and pro-Palestinian activists in his own party, Yang backed down... ..."Support of a people does not make one blind to the pain and suffering of others," Yang wrote. "Again, most everyone simply wants to be able to live and pray in peace."
Well, that was quick. I've seen more backbone from an overcooked lo mein noodle. Seriously, can Andrew Yang or any Democrat for that matter be so completely clueless as to not know that their party long ago ditched Bobby Kennedy in favor of Sirhan-Sirhan?! Yang is not even old enough to remember a time when the Democrat Party was ostensibly pro-Israel in order to maintain its Jewish voting bloc. In fact, hatred of Israel and by extension observant Jews in general is stock in trade of much of the braindead younger generation and sadly far too many elders that ought to know better and abandoned their faith for the church of Marxist-Leninism. Clueless and spineless is no way to go through life, Andrew. But it does help in trying to climb the ranks of the Democrats. So, Yang goes "Kohm."
World's going to hell and I do Trek references. Look if you don't laugh, you cry, right? Anyway, even as nuclear war could break out in the Middle East and the Kalorama Caliphs pulling President Joe Aqualung's strings are hell bent on destroying our economy, there are little rays of hope out there. Such as the parent in Loudon County who just went off on the school board for Critical Master-Race Theory and the growing rejection of the lockdown garbage in Tennessee (as cited) and elsewhere. The open letter from retired military brass while pitch perfect is way too little and way too late. Nice to dream that they have several divisions behind them, but considering what's been done to the DoD, I'm not going to count on that.
Sigh.


ABOVE THE FOLD, BREAKING, NOTEWORTHY
Continue reading
Daily Tech News 13 May 2021
—Pixy Misa
Top Story
Anime of the day is Gunsmith Cats from 1995. We only ever got three episodes of this, which is a crying shame because those three episodes were really good, and there's a ton of source material - the original manga ran to about 1500 pages.
Continue reading