« Dan Rather: "The Blogging Machine," on Orders from the White House, Will Begin Drumbeat for Kerry Concession
|
Main
|
Dick Morris Calls "Fraud" on Exit Polls »
November 03, 2004
Senator Tom Daschle, I bid you a fond buhhh-bye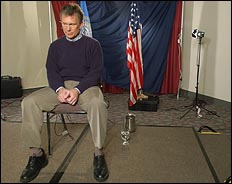 It just doesn't get any better than this, guys.
Really. I mean, really.
Update! Well, okay, it gets a little better.
Via Field Director Alarming News, a tidbit from Drudge:
BUSH BREAKS ALL-TIME POPULAR VOTE TOTAL, SURPASSING REAGAN...
Alarming News has a question: Who's the only president to capture an absolute majority of the vote in the past 16 years?